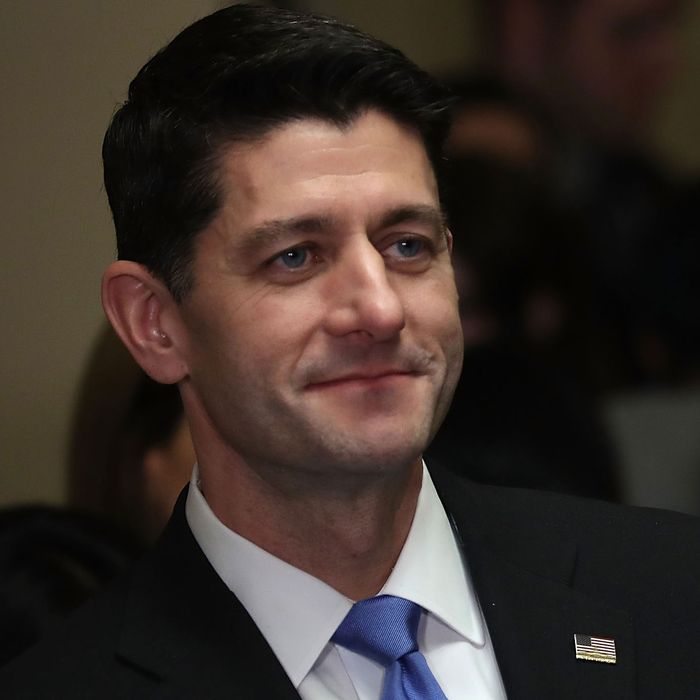 When in doubt, procrastinate.
Photo: Chip Somodevilla/Getty Images
The party is over for House Republicans. On Wednesday night, they celebrated the culmination of their months-long quest to slash taxes on rich people and corporations. On Thursday morning, they woke to the long list of wrenching policy problems that they've been putting off: The government is about to shut down for lack of funds; the Trump administration broke Obamacare's ribs — and then the tax bill kicked its teeth in; 800,000 dreamers are on the cusp of losing their legal status; the Children's Health Insurance Program (CHIP) has expired; the White House is demanding budget-busting increases to military spending that Republicans will need Democratic votes to pass, but which Democrats will refuse to support unless they're paired with dollar-for-dollar increases in domestic spending — even as House conservatives demand a budget bill that slices the safety net to ribbons.
Fortunately, Paul Ryan found a solution to all of these vexing issues: Do the minimum amount possible now, and punt the rest until after vacation.
On Thursday, the House passed a continuing resolution that will keep the government's lights on through January 19; keep CHIP funded through March; extend the Foreign Intelligence Surveillance Act program; and throw $4.7 billion to the Defense Department for ship repair and missile defense. Critically, the legislation also waives the "pay as you go" law, which would otherwise require the government to enact immediate, sweeping, across-the-board spending cuts to finance the deficit-swelling tax cuts that Republicans just passed.
The House subsequently passed a separate, $81 billion disaster recovery bill to aid Americans hurt by the recent spate of hurricanes and wildfires. While the Senate is expected to pass the continuing resolution by week's end, the upper chamber plans to add the disaster recovery bill to Congress's overcrowded January calendar.