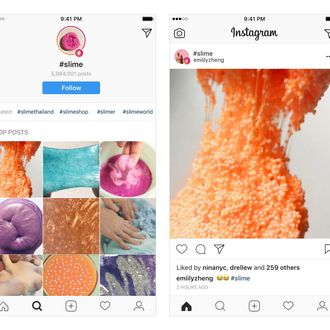 If you've ever said to yourself, "Man, I wish my Instagram feed featured more random photos from people I don't know!" Then this one's for you: Instagram's latest update will let you follow hashtags.
Though hashtags seem to primarily be used on the app as a way for influencers to gain followers, this move seems to indicate that Instagram wants them to become something more (#inspiring?). You can follow a hashtag by simply searching for it and clicking the "Follow" button. Posts featuring the tag will instantly begin to appear in your feed, as will some of the latest stories.
Thankfully, following a hashtag won't move every post using that tag into your feed, just the "best" ones (a.k.a. the nine most popular posts from that period). This is particularly nice, because accidentally populating your feed with every photo including #lit would probably count as a human-rights violation. (In my professional opinion.)
P.S.: Before you go ahead and follow 25 super-embarrassing hashtags about, I dunno, anime or something, please be aware that everyone can see your Hashtag Follows — just like your regular ones — on your profile.