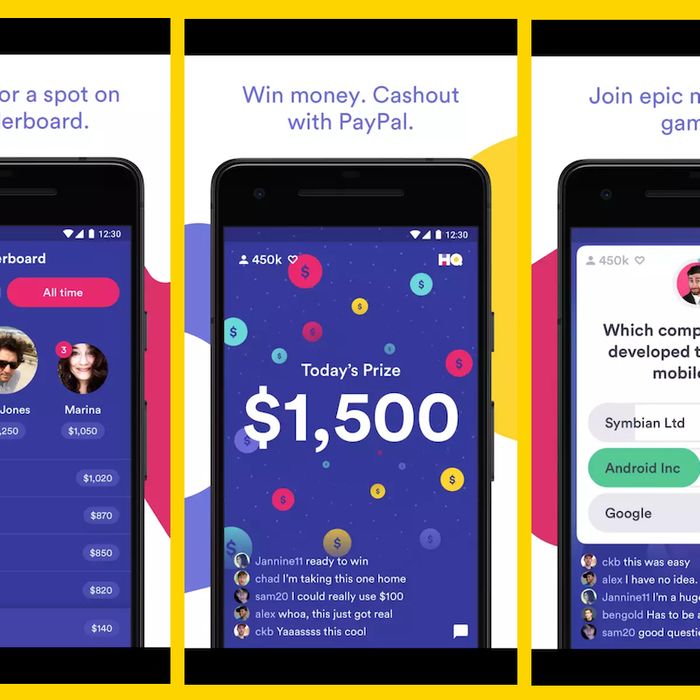 For Android users longing to get in on HQ Trivia, a free trivia app that allows you to win real money at 3 p.m. and 9 p.m. ET most days, you officially need to wait until January of next year.
But waiting is for suckers; you can start playing HQ Trivia on your Android phone today. All you need to do is sideload the APK (Android Package Kit) for the app and you can get in on the action. Here's how to get started.
Enable sideloading APKs on your phone
By default, nearly every Android phone only allows you to load apps from the Google Play storefront. To set up your phone to allow for sideloading APKs, do the following:
1. Go to the Settings menu.
2. Go to the Personal subheading, and tap Security.
3. Under "Device administrators" there should be a toggle switch for "Unknown sources." Turn it on.
Install a file manager
You'll be downloading a file to your phone and then installing it, and by default most Android phones don't have a great file manager. So you'll need to grab one from the Google Play store. I like Total Commander and Amaze File Manager; both are free and very intuitive to use.
Download the HQ Trivia APK file. Head over to APK Mirror and download the HQ Trivia APK. APK Mirror is perhaps the most trusted source for APK files, matching up signatures of APK to the developers, and generally keeping out most malware. (However, it should be said that sideloading any APK is always a little bit risky.)
Install HQ Trivia
Use your file manager to find the HQ Trivia APK file. Tap it to install, and agree to the permissions requests. Open up the file, put in your phone number, and you're good to go. I've tested this out on an LG 5 running Android 7.1 and a OnePlus 5T, and both worked perfectly.
Have Android 8.0 or above? You don't need to do most of this.
If you've got a Pixel or other phones that have already received the Android 8.0 update, most of the above steps are unneeded — Android 8.0 handles sideloading much more gracefully — no need to muck around in settings or install a file manager. Just head over to APK Mirror (or search "APK Mirror HQ Trivia" on your phone), download the file, allow Chrome (or your web browser of choice) to install applications, and you're good to go.
Now, you're ready to join iOS users in frantically Googling answers and groaning in pain as host Scott Rogowsky fills time with endless riffing. And hey, if you're feeling appreciative, feel free to use my referral code, "jsweari," and give me a few extra lives. I need all the help I can get.