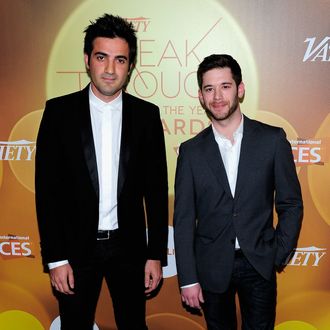 Rus Yusupov and Colin Kroll.
Photo: Steven Lawton/Getty Images for Variety
HQ, the darling trivia app where people can play twice daily to win real money, has had quite a rise in recent weeks. People are obsessed with playing the game, so much so that some are trying to cheat by using Google. People are obsessed with the game's host, Quiz Daddy Scott Rogowsky. People are obsessed with this guy who won $1,500 in a single game.
But — pause here for a why am I not surprised that something had to be bad about this app sigh — it seems that HQ might be having some problems beneath the surface. According to a report from Recode, co-founders Rus Yusupov and Colin Kroll — the two also co-founded Vine, which was purchased by Twitter only to be shuttered shortly after — have run into some trouble raising funds based on their past behavior. Namely Kroll's "creepy" treatment of female colleagues at Twitter. Kroll was fired from Twitter 18 months after the acquisition "for being a bad manager." His colleagues described him as "abrasive and disinterested, and said he could be verbally abusive to colleagues."
From Recode:
At least three prominent investors have decided against funding the startup after finding troubling conduct on the part of the founders they uncovered during due diligence, multiple sources say.




These investors were particularly concerned about how HQ's founder Colin Kroll managed people during his time at Twitter, as well as a reputation he's garnered for exhibiting inappropriate behavior toward women, according to the sources.
The allegations of creepiness do not involve Yusupov, though he's had his own issues lately. The co-founder threatened to fire host Scott Rogowsky in an interview with the Daily Beast after Rogowsky said, in an earlier interview with the outlet, that he enjoys eating Sweetgreen salads. You read that right.