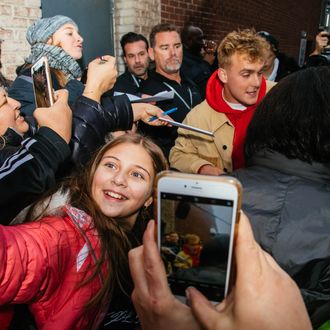 A fan takes a selfie with Jake Paul outside his pop up store in New York City.
Photo: Victor Llorente
"Are you filming me?" I asked ten-year-old Daniel, whose front-facing iPhone camera was clearly trained on my face. "Yeah, of course," he said. "I'm vlogging."
Daniel, his dad, and three friends had been standing on a curb on West 37th street in 30-degree weather for several hours waiting to get into a pop up store hosted by internet star Jake Paul and his social media incubator, Team 10. Daniel and his pals were among the lucky ones; they had been able to purchase tickets guaranteeing their entry to the store when it opened on Friday afternoon. Not everyone waiting on the street could say the same. After last minute changes to the location and time of the event, Paul announced late Thursday via Instagram Stories that if you wanted to get in on Friday, you'd have to buy a $10 ticket. Quantities were limited, sold out quickly, and, as a friendly security guard kept shouting into the growing crowd, "NO TICKET! NO ENTRY!" More than a few tears would be shed over Paul before the store closed for the day by fans who couldn't get inside.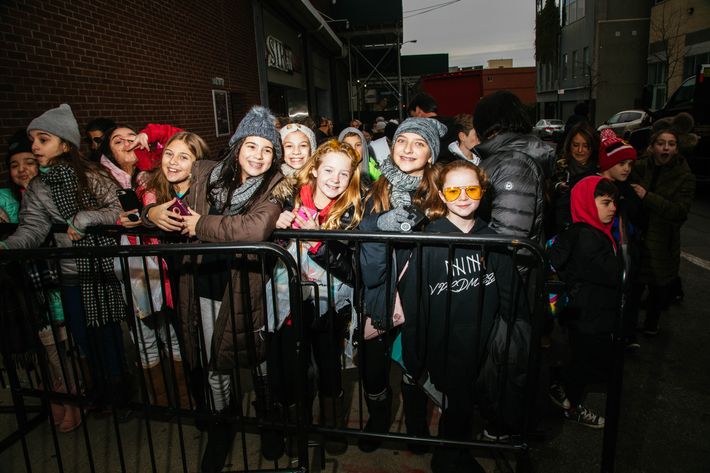 "I like that he [Paul] has a Lamborghini," Daniel's friend Sophia, also 10, said. "I like that he names his cars," seven-year-old Mia added. Each of the four kids was already decked out in Jake Paul gear, included Team 10 hooded sweatshirts and Paul's signature yellow-tinted aviator sunglasses AKA Yellars. I was quickly informed my pronunciation of "Yellars" was wrong; Daniel mentioned something about really needing to lean into the final "r" sound. All four said they are aspiring YouTubers inspired by Paul. Sophia – "I play hockey so I do videos about that" – had the most followers of the group … 30. "I bet I could sell these tickets and make some real money right now," Daniel's father told the kids. "You absolutely will not," Daniel told him. "I have to get inside."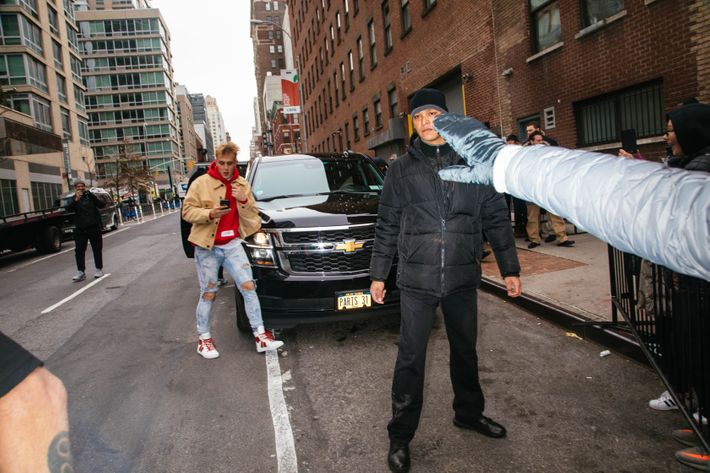 "Somebody was selling a ticket for $200," 11-year-old Isabella said. "Even though they're only $10." A spokesperson for Paul said the funds raised via Friday's ticket sales are going to charity. (Fans were also asked to bring a gift for a toy drive sponsored by the NYPD.) Shop hours on Saturday and Sunday will not be ticketed and people will be let in on a first come, first serve basis. (Team 10's pop up store in Los Angeles earlier this December was relocated and ultimately shut down after crowds got out of control.) Of course, this is little consolation to anybody from out of town who lined up on Friday only to be turned away. "Do you think I should try to bribe the security guard," one mother asked. "Do you think that would work?" It didn't.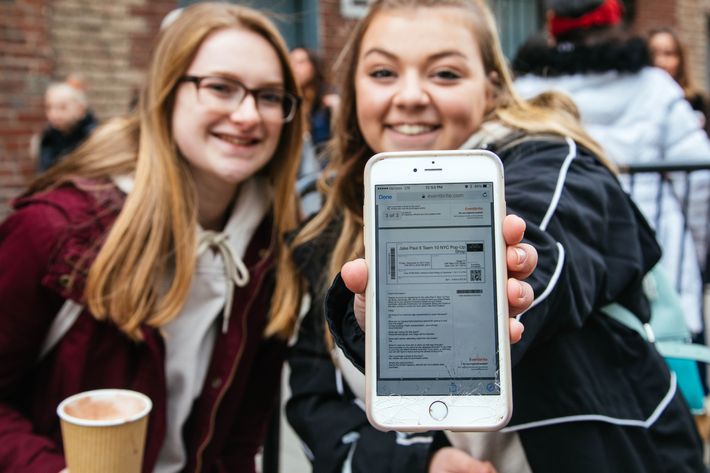 Daniel and his group hailed from New York, but Jake Paulers – Paul's fandom's preferred name – from all around the country gathered outside the shop on Friday. Some arrived as early as 9AM on Friday, standing outside completely unaware they needed to pay in advance – by that point the day's 2,000 tickets were already sold out – to get inside. Many skipped school to come to the event. "She's missing a science test for this," one mother said, pointing at her 12-year-old daughter. "Anything for Jake Paul," the daughter replied. The rest of the crowd was a mixed bag of "we're playing hooky," "we had the afternoon off for Superintendent's day," and, for the Catholic school contingent, "today is the Feast of the Immaculate Conception so no class."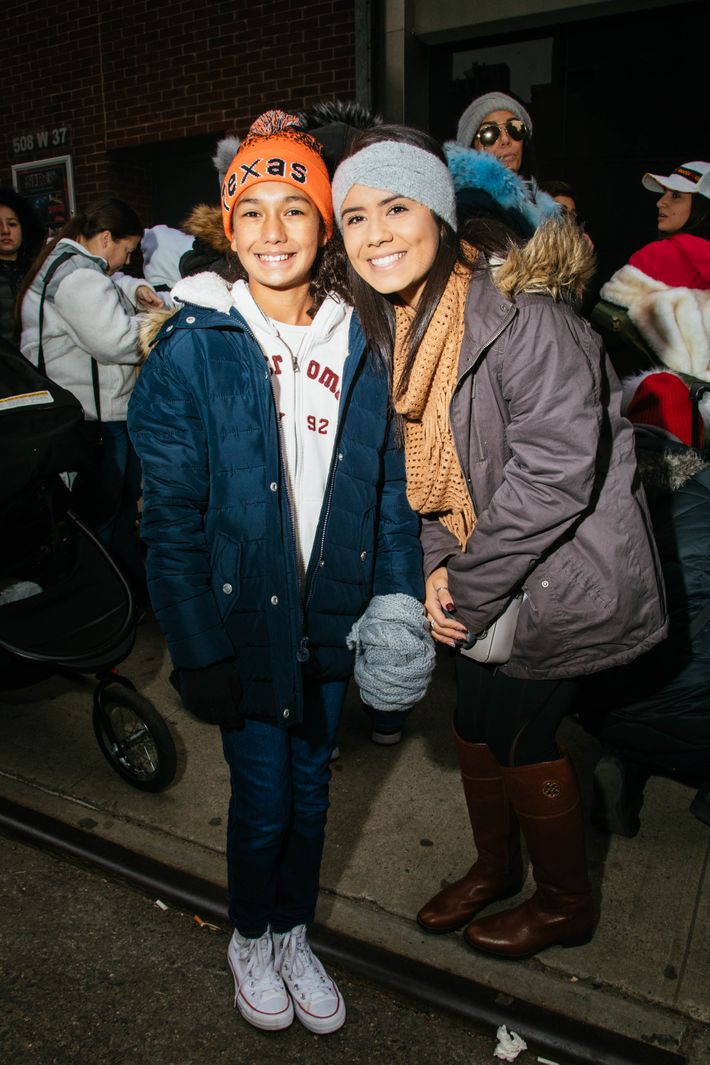 A family of four from Indiana said they made the trek to Manhattan just to see Paul. An aunt treating her two nieces from Texas to a Christmastime trip to the city told me they'd reorganized all their weekend plans around Paul. Fans from Florida. Fans from Illinois. From Pennsylvania, Connecticut, California, and New Jersey. Team 10 has been very clear that there is no guarantee a visit to the shop means you'll see Paul or any other member of his squad, meaning these kids – and the adults who brought them – flocked to West 37th Street mostly to drop some cash on Paul merchandise with only the hope of catching a glimpse of Paul. "I brought $200 with me that I'm going to spend today," one kid said. Another fan proffered up a $100 bill. Friday's hot ticket item, according to the crowd, was Paul's "cotton candy hoodie" for about $60. It is entirely sold out online.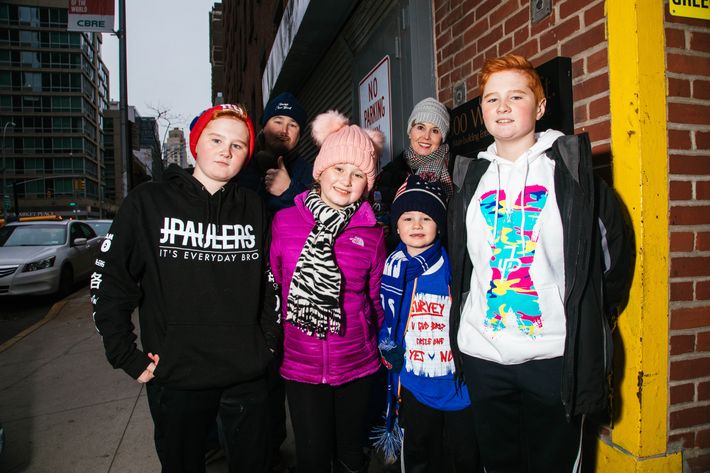 I had to stop asking fans how frequently they watch Jake Paul's content. There's only so many times you can have a gaggle of preteens yell "it's everyday, bro" at you before you start to understand just how literally these kids take Paul's catchphrase. They get alerts any time Paul posts something new and they watch it immediately and repeatedly. I also lost count of the number of times I heard "It's Everyday Bro," Paul's song which charted at spot number 94 on the Hot 100 list last May. Alex, a 12-year-old with diamond studs in both ears, blasted the song from a blue, wireless speaker he'd brought with him. Holding it above his head like a truly terrible 2017 remake of Say Anything, he was quickly joined by several other kids who also knew every single word. Later a young woman named Paris would perform it for me a cappella when asked how big of a Jake Pauler she considered herself. Her mother chimed in with a few lyrics during the chorus.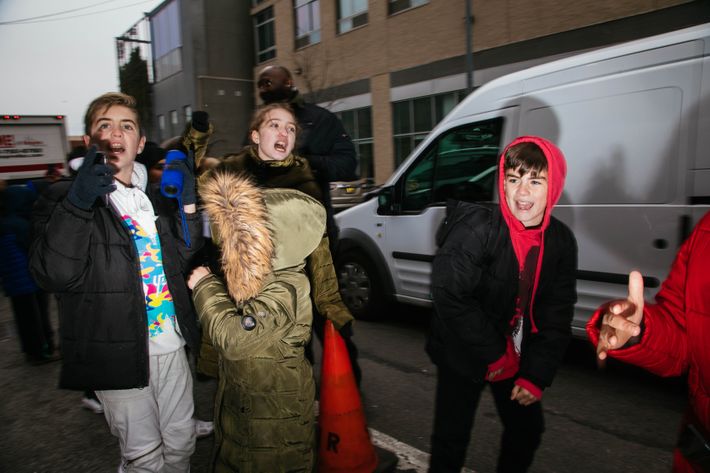 Paul's young fans think their Lambo-driving, prank-pulling hero can do no wrong. Kids told me the Martinez twins, a set of Spanish brothers who recently pulled out of Team 10 after alleging they'd been bullied by Paul, had nothing to complain about. "Jake wasn't actually mean to them." "They were just using Jake." "He treated them like brothers." Paul has since apologized to the Martinez twins. More than a half dozen kids told me they were "inspired" by Paul's relief trip to Texas following Hurricane Harvey. (During the trip, Paul was mobbed by fans in the parking lot of a San Antonio Wal-Mart and emergency services and the fire department had to be called to control the scene.)
"He never gives up. He has a big spirit and no matter if people hate on him he fights back," Alex, the kid with the speaker, told me. They were likewise unfazed by stunts, like lighting a large fire in his empty swimming pool, which prompted Paul's neighbors to complain to the city until the influencer moved out. "He's Jake Paul … he can do that stuff." "He's just a savage," another fan said. "He's savage!" I asked what "savage" meant to them. "It means you're cool." "More than cool." "You're like crazy and lit all the time."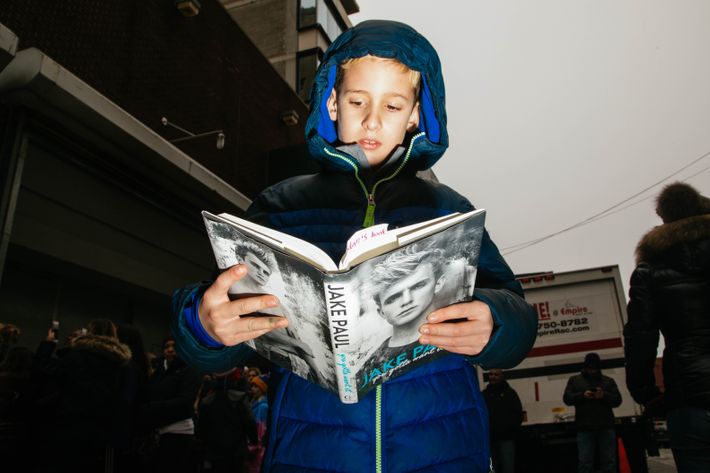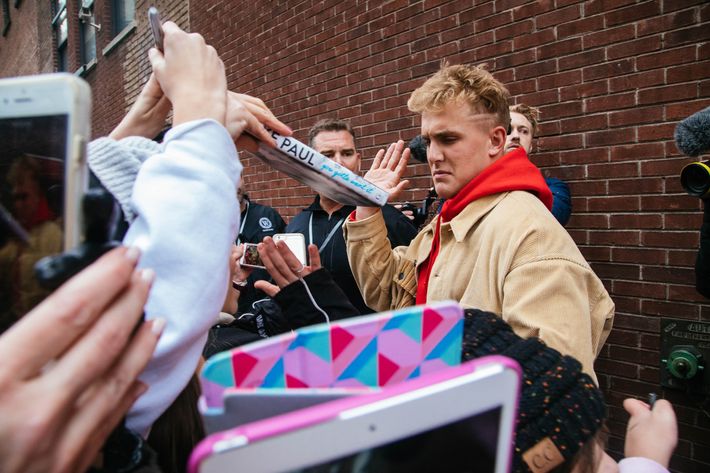 About half an hour before the shop opened, Paul emerged to greet the crowd. Even if you couldn't see him stepping outside the sound would have clued you in instantly. Screaming. Cheering. Chanting. Audible crying. A wall of phones and tablets were suddenly raised skyward for pictures and videos. Paul took selfies and signed everything fans shoved at him before getting into an SUV and driving away. The whole thing couldn't have lasted more than 20 minutes. If you were close enough to grab a picture, you might have noticed Paul has the number "10" shaved into the back of his head. It was for a vlog, New York teens Marissa and Olivia explained. He also shaved "LIB" – short for the ubiquitous internet phrase "Link In Bio" – into another member of Team 10's head, the girls said. "It was a prank." Marisa and Olivia said they were hopeful Paul might make a reappearance, "maybe like in a different outfit," before the store closed Friday night.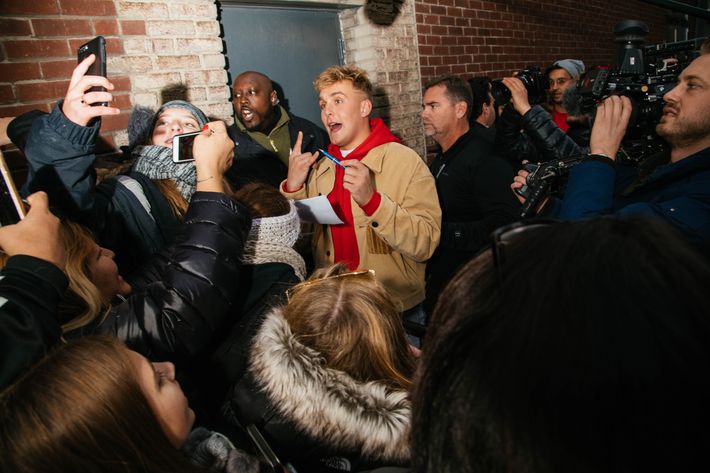 The girls were in luck. Paul came back later in the evening, along with some other members of Team 10. (A spokesperson for Paul said they'll be staggering meet and greets on a rotating schedule all weekend to keep things from getting "too crazy.") But if you had tickets for a time slot between Paul's visits or didn't stick around on the blind faith that Paul would return, there's a good chance you missed him entirely. And while many of the kids present were content with a selfie or a Sharpie scribble on their shirt, their parents and chaperones were generally less thrilled. "Are you going to talk to Jake," one father asked. "Tell him Maggie's dad thinks he's a weasel [for not staying the whole time]."
Another dad proclaimed Paul both "an idiot" and a "marketing genius." "My son, Max, is Jake's number one fan and I think it's really messed up that last minute they're doing this ticket thing and I think that's wrong," another mother, who wasn't able to get into the pop up with her son, complained. Max wants to be a YouTuber and, taking off a Jake Paul mask so I could actually hear him, said his parents are getting him camera with a microphone so he can start filming videos. Max is nine.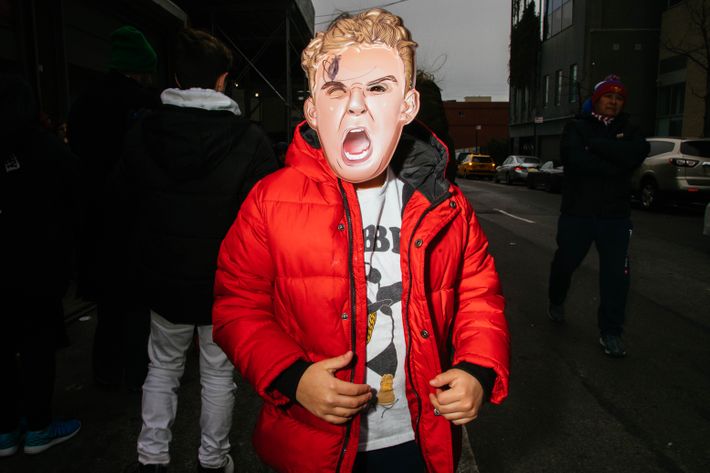 While maybe not so much as their diss track-chanting kids, these parents are Jake Paulers in their own right, mostly because many of them pre-watch Paul's content, or watch it with their kids, to make sure it's appropriate. "My mom has to watch the things we watch before we're allowed to so she has to watch Jake Paul too," Isabella said. "My son is crazy about Jake Paul. Paul is honestly one of the only YouTubers my son watched that I can actually stand," Rhiannon, a mother waiting with her son, told me. "The cursing is a little over the top, but honestly it's nothing probably more than my son hears from me."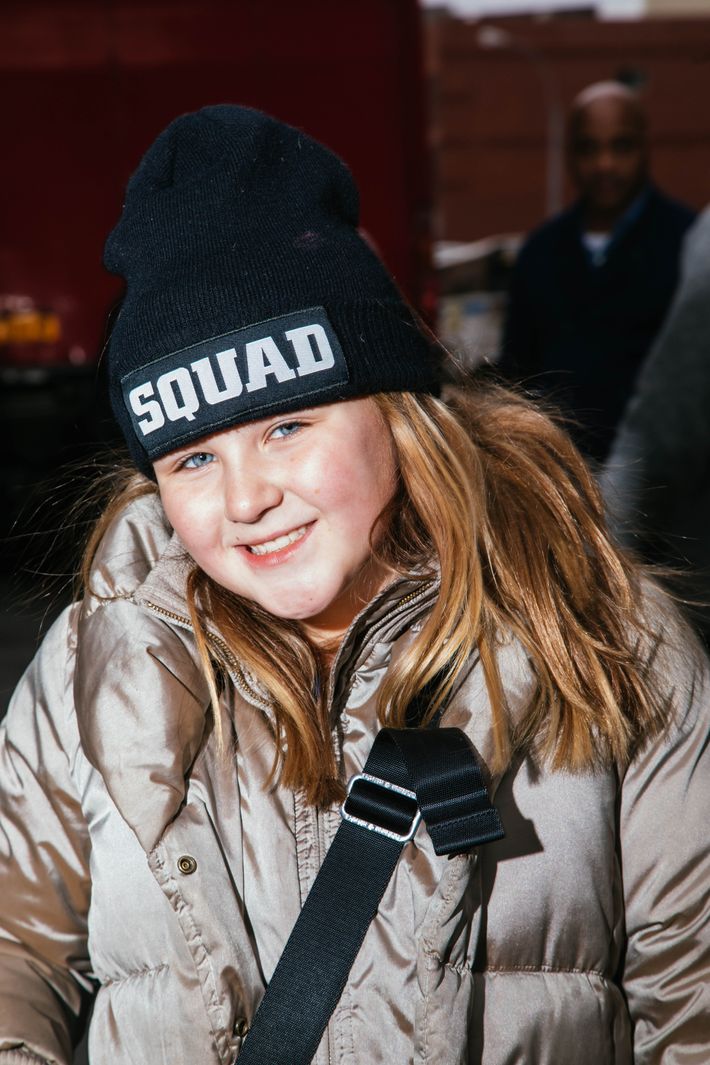 Rhiannon said she'd already spent "easily $500" on Paul merchandise for her son. "Every time something new comes out he gets it." Other parents echoed similar, if not higher, tallies. "At least $1,000 between both my daughters," said one mother. "I dropped at least $750 on merch," another said. "Everything they are getting for Christmas is Jake Paul." A third quoted a $1,500 figure. A quantitative reminder that for all the charms effused by the 20-year-old blonde from Los Angeles, this is very much a business for Paul. And a lucrative one at that. A spokesperson declined to answer how much business Paul and Team 10 were expecting to do during the shop's three day run, but noted the merchandise is entirely exclusive to the NY pop up and that there are over a dozen points of sale within the store.
"Please let me give you my money," one mother yelled from the corral for people who decided to stick around despite being told they wouldn't be allowed to shop without tickets. "Please."