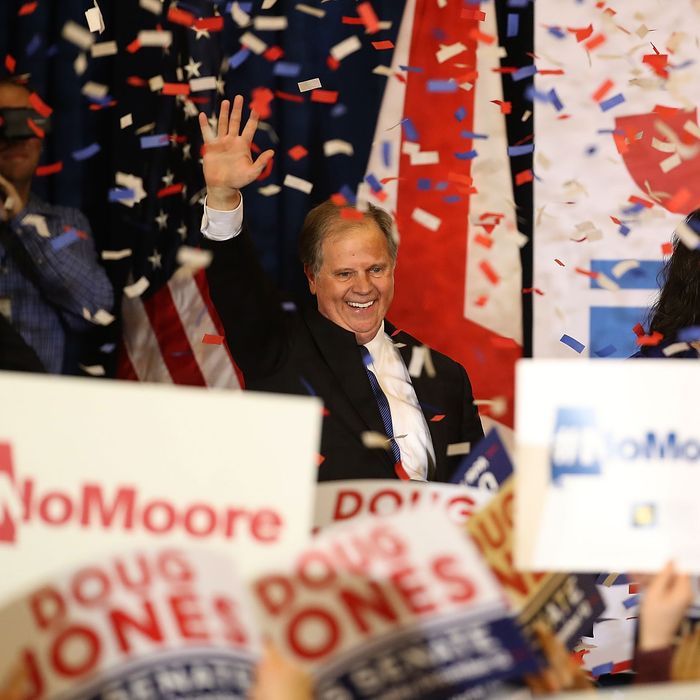 Democratic Senator-elect Doug Jones of (believe it or not) Alabama.
Photo: Justin Sullivan/Getty Images
A sharply polarized Alabama electorate gave Democrat Doug Jones a surprise victory over Republican Roy Moore for a U.S. Senate seat long held by Republicans, most recently by Attorney General Jeff Sessions. Jones won by running up big margins in urban areas with a coalition of African-Americans, independents, and just enough Republican defectors to offset rural and suburban Moore supporters. While both candidates did well in their base areas, turnout among African-Americans outpaced turnout among white conservatives. It's now clear that Moore's strategy of drifting to victory on the strength of his Republican identity and backing from the president was no match for Jones's well-funded and peripatetic campaign effort.
Total turnout was over 1.2 million, more than a third of registered voters — much higher than the 800,000 votes and 20 percent turnout predicted by Alabama secretary of State John Merrill. Those numbers in a December special election illustrate the interest this race stimulated and the success of Democratic get-out-the-vote efforts, which produced near-presidential-election levels of turnout in some African-American areas. Exit polls indicated that nonwhite voters represented over a third of the vote.
Jones won over 70 percent of the vote in the core urban areas of Jefferson County (Birmingham) and Montgomery County along with 57 percent in Mobile County, and handily won the swing counties of Madison (Huntsville), Tuscaloosa, and Lee (Auburn). His percentages in majority-African-American "black-belt" counties ranged from over 70 percent to over 80 percent.
To some extent, the Jones campaign reshaped the Alabama electorate in its favor, but it also won some converts. Exit polls showed voters evenly split between pro-Trump and anti-Trump voters; Jones won 23 percent of voters who "somewhat approved" of Trump, and 21 percent of moderate-to-liberal Republicans. While write-in votes amounted to less than 2 percent of the ballots, they probably represented Republicans who shared the low opinion of Moore expressed by senior senator Richard Shelby.
The results were a triumph for Alabama Democrats, who haven't won a Senate race since 1992, and for Southern Democrats in general, who have been down to three senators (Florida's Bill Nelson and Virginia's Tim Kaine and Mark Warner) since 2014. For national Democrats, the win significantly improves the odds of the Donkey Party reclaiming the Senate in 2018 and wrecking Donald Trump's ability to impose his will on the federal judiciary and avoid hostile investigations.
And speaking of Trump, the results represented his second humiliating defeat in this Senate race; his original preferred candidate, Luther Strange, lost badly to Roy Moore in the primaries. Given his manifest unhappiness with Jeff Sessions, whose seat will now be occupied by a Democrat, you have to figure Trump will forever regret choosing a Cabinet member from this state, which he won so handily just last year.
Most obviously, Jones's win is a blow to Trump's party as well, which will now race to get its legislative business (including an unpopular tax bill and a year-end spending measure) done before Jones arrives in Washington (which he won't do until final certification of the vote, at least ten days away). Worse yet for Republicans, the Alabama results — like those in Virginia last month — show that Trump's presidency is stimulating strong turnout among Democratic constituencies, while discouraging some elements of his own party's base. It's an important omen for next year's midterm elections, in which Democrats would normally expect a vote falloff because young and minority voters tend to skip non-presidential elections. That's probably not going to happen in 2018, so long as Donald Trump is in the White House.
As Doug Jones goes to Washington, Roy Moore — who gave up his Alabama Supreme Court position (from whose duties he had been suspended for refusing to acknowledge same-sex marriage rights) to run for the Senate — will return to his fever swamps. He will long remain a hero to hard-core theocrats, but his days as a politician seem numbered. And the women whose accusations of predatory behavior helped take Moore down will have the satisfaction of knowing that when he visits the malls and restaurants of Alabama, it will be as a private citizen and a defeated old man.