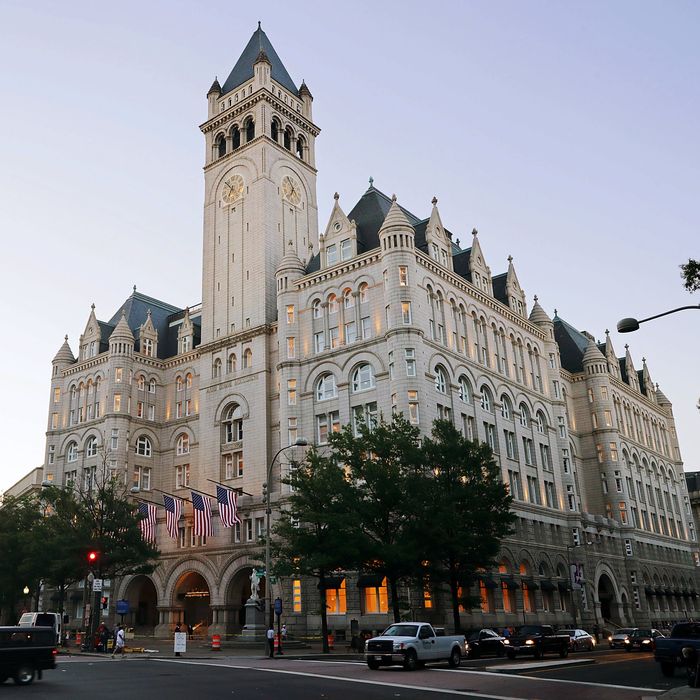 D.C.'s Trump International Hotel.
Photo: Chip Somodevilla/Getty Images
A federal judge has dismissed a lawsuit accusing President Trump of violating the Constitution's emoluments clause, which forbids federal officials from accepting payments and gifts from foreign governments. The organization that brought the suit, Citizens for Responsibility and Ethics in Washington (CREW), argued that Trump's refusal to divest himself from his company has allowed him to profit from foreign powers — like, for example, when diplomats stay at his hotels in order to curry favor with him. CREW was joined by a group of restaurateurs and people in the hospitality industry, who alleged that Trump's businesses have benefited from an unfair competitive advantage. U.S. District Judge George Daniels said he had decided to throw out the case because the plaintiffs did not have standing to sue.
Daniels ruled that the plaintiffs had failed to show that Trump had done anything specific to cause them or their businesses to suffer. "It is only natural that interest in his properties has generally increased since he became president," he said. The judge also wrote that because the emoluments clause allows Congress to give the president permission to accept money (and whatever else) from foreign governments, it's up to Congress to decide whether Trump has violated the Constitution: "This case involves a conflict between Congress and the president in which this Court should not interfere unless and until Congress has asserted its authority."
CREW called the ruling "a setback" before vowing to "not walk away from this serious and ongoing constitutional violation." The Justice Department, whose lawyers have been charged with defending Trump's right to profit from the presidency, said that it "appreciates the Court's ruling and its conclusion."
Meanwhile, two other suits claiming that Trump has violated the emoluments clause — one brought by the attorneys general of Maryland and D.C. and another filed by congressional Democrats — have yet to be ruled on.