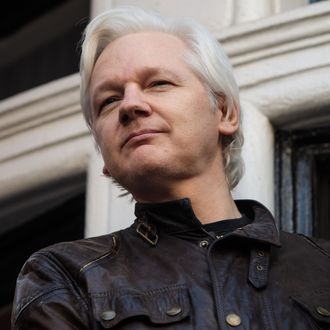 Julian Assange.
Photo: Jack Taylor/Getty Images
Once again, Julian Assange has gotten himself in hot water over publishing files that don't belong to him. But this isn't classified military documents or CIA cyberwar tools … it's a video of a dog seeing snow for the first time. Assange is following in the footsteps of millions of other freebooters — online posters who rip popular videos and reupload them so that they can score some engagement off of someone else's work.
Assange posted the video, but he definitely didn't record it himself. For the last five years, Assange has been trapped in a cupboard at the Ecuadorian embassy in London, avoiding extradition on rape charges.
The woman who did actually record the video, Jo Ellery, fought back by reporting Assange's upload to Twitter, where it was disabled.
You can watch the actual video, which went megaviral last month, below.