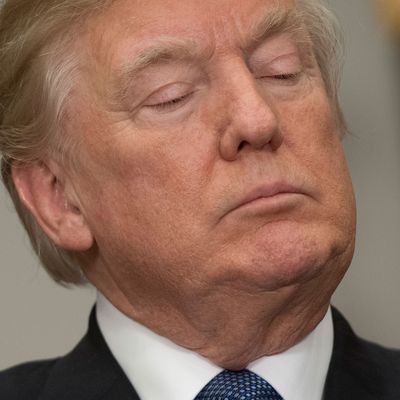 The Ninth Circuit again??
Photo: Saul Loeb/AFP/Getty Images
An appeals court ruled against the third iteration of the Trump administration's travel ban on Friday, but the decision merely served as an appetizer to the main judicial course, which will arrive when the Supreme Court almost certainly takes up the case.
A three-judge panel of the United States Court of Appeals for the Ninth Circuit in Seattle ruled unanimously that the ban exceeds the constitutional authority of the executive branch, and that the Trump administration has failed to prove that "nationality alone renders entry of this broad class of individuals a heightened security risk or that current screening processes are inadequate." The decision upheld the ruling of a federal judge in October.
But earlier this month, the Supreme Court allowed the travel ban to take full effect while two challenges to the case wound their way through appeals court. (The Fourth Circuit in Maryland is expected to rule on a similar case soon.) This means that travel to the United States is blocked, with some exceptions, from eight countries: Iran, Chad, Yemen, North Korea, Somalia, Syria, Libya, and Venezuela. The Supreme Court is expected to rule on the case definitively in 2018.
The Trump administration had lightly modified the list of countries from the first two versions of its ban, in what appeared to be an attempt to to avoid the appearance of a Muslim ban, which the candidate had touted on the campaign trail. But the Ninth Circuit said that the president had engaged in unconstitutional "nationality discrimination."
Unlike previous versions, the ban is not time-limited, which the court also took issue with. It said that "the proclamation's duration can be considered definite only to the extent one presumes that the restrictions will, indeed, incentivize countries to improve their practices. There is little evidence to support such an assumption."