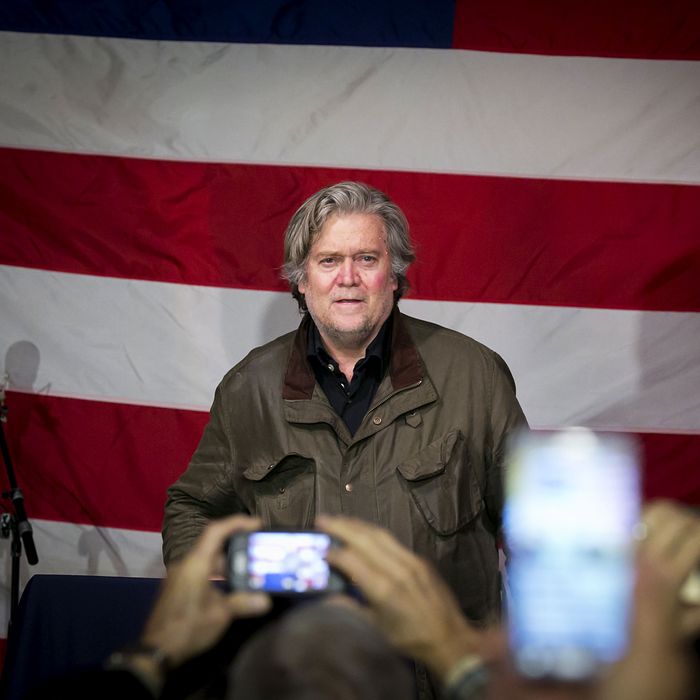 Blameless.
Photo: Nicole Craine/Bloomberg via Getty Images
Here's a sentence I'd never thought I'd type: Alabama just elected a pro-choice Democrat to the Senate — and now, people are being way too hard on Steve Bannon.
The ex–White House strategist (and current wearer of multiple shirts) has taken the brunt of the blame for the GOP's Dixie disaster. Mitch McConnell's former chief of staff, Josh Holmes, congratulated Bannon for achieving "what was previously regarded as absolutely impossible for Senate Democrats" — and advised Chuck Schumer to start "funding Breitbart's efforts." The head of the Senate Majority Leader's super-PAC derided Bannon for costing the GOP "a critical Senate seat in one of the most Republican states in the country" — and dragging "the president of the United States into his fiasco." Congressman Peter King, meanwhile, branded the "populist" propagandist a "disheveled drunk." Type "Steve Bannon" into Twitter's search bar, and you'll find an infinite supply of similar sentiments.
But these attacks are deeply unfair. Steve Bannon may be a disheveled drunk. He may have the moral compass of Joseph Goebbels and the insufferable pretensions of a freshman film major — but he is far too irrelevant to bear responsibility for his party's embarrassment in Alabama.
It's true that Bannon backed Roy Moore over Luther Strange in Alabama's Senate primary in September, and that (virtually) any Republican who hadn't (allegedly) been banned from a mall for creeping on middle-school girls would have won last night's election. It's also true that Bannon claimed responsibility for Moore's primary victory, and framed it as the opening salvo in his war against the GOP Establishment.
But one must remember: Much like the president he once worked for, Steve Bannon loves to slap his name onto things he had nothing to do with.
Moore won his primary against Strange by nine points. To blame Bannon for Moore's nomination, you need to believe that the endorsement of a digital media executive — who rambles incoherently about the films of Sergei Eisenstein, all the elite private colleges he got into, and "the fourth turning" — gave Moore a decisive, nearly double-digit boost among Alabama's primary voters, even as Donald Trump's endorsement of Strange had virtually no impact on their voting behavior.
That's a concept so crazy, Roy Moore is probably about to proclaim it as God's written truth.
In reality, Bannon deserves little blame for the outcome of Alabama's special Senate election — while the leadership of the Republican Party deserves a whole lot.
The GOP would still have 52 Senate votes right now, if Donald Trump hadn't picked Jeff Sessions for attorney general; or if (former) Alabama governor Robert Bentley hadn't appointed Luther Strange — which is to say, the state attorney general who was investigating him for an ultimately fatal scandal — to Sessions's old seat; or if current governor Kay Ivey hadn't decided to hold the special Senate election this December, when Alabama law would have allowed Strange to stay in the Senate on an interim basis until November 2018; or if Mitch McConnell hadn't spent money against GOP congressman Mo Brooks in September's primary, turning that contest into a two-man race between an uncharismatic incumbent tainted by the ex-governor's scandal and a theocratic demagogue with a small but intense base of support among Alabama's white Evangelicals.
Those decisions by the president, Senate Majority Leader, and governors of Alabama made last night possible. Steve Bannon's actions over the past few months, by contrast, were totally irrelevant. Roy Moore didn't need Bannon to win a low-turnout special election against Luther Strange. And Doug Jones certainly didn't need him to win on Tuesday night.