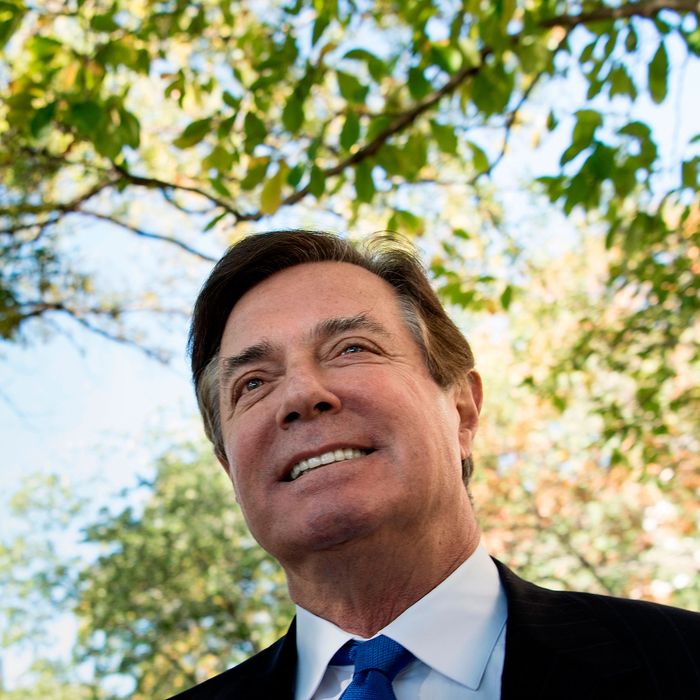 While you pine for the pardon of a friendly prez, for the holidays, you can't beat home, sweet home.
Photo: Brendan Smialowski/AFP/Getty Images
In the latest episode of Paul Manafort Would Like to Speak With the Manager Regarding His Ankle Monitor, counsel for the former chairman of Donald Trump's presidential campaign filed a motion in district court on Monday requesting permission for him to spend Christmas in the Hamptons.
"With the holidays fast approaching," the motion states, Manafort has asked to travel for "the extended Christmas weekend in New York, from December 22, 2017, until December 26, 2017" — specifically, to his home in Bridgehampton, and to East Hampton, where "certain individuals" in his family reside.
Special Counsel Robert Mueller indicted Manafort in October as part of his investigation into the Trump campaign's potential collusion with the Russian government; Manafort pleaded not guilty to alleged crimes related to the transfer of money he earned via lobbying on behalf of foreign powers through offshore shell companies. His trial isn't set to begin until May of next year, and since October, he has been condemned to electronic GPS monitoring and confined to his condo in Alexandria, Virginia.
House arrest seems to greatly offend Manafort's sensibilities. His attorneys and those representing Rick Gates — Manafort's protégé and fellow Trump campaign official, who was indicted alongside him — have filed several motions seeking to end or modify the terms of the house arrest. They have requested that Gates be allowed to attend church and his kids' sporting events, for instance, and sought to have Manafort's ankle device removed altogether, offering his Trump Tower apartment as collateral. Last week a federal judge cleared the way for Manafort to relocate to his property in South Florida, and move a bit more freely — though he'll have a curfew and be restricted to Broward and Palm Beach counties.
For now, he just wants to spend Christmas on Long Island. "The Manafort family has celebrated this religious holiday together for many years despite the significant physical distances between them," according to the motion, and "family members from California, Illinois, Connecticut and New York will be traveling to Bridgehampton to celebrate the holiday." In his indictment, Manafort's Bridgehampton home was used, along with his Buzz Bissinger shopping habits, to paint a portrait of his excess; he allegedly spent more than $820,000 on landscaping at the property over the course of six years.
Manafort's attorneys said they "conferred" with Mueller, "and the government has no objection" to the Hamptons holiday excursion. A federal judge granted Manafort's motion, stipulating that he must provide "a detailed and complete itinerary" of his Christmas plans. The judge said he must remain in his Bridgehampton home at all other times, and "continue to be subject to GPS monitoring." So a polar bear plunge into the frigid waters near his oceanside home is out of the question.