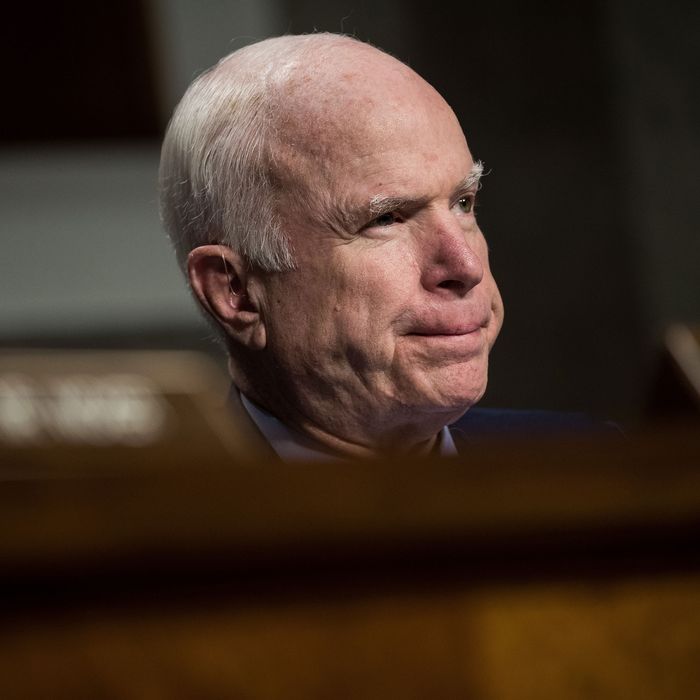 McCain.
Photo: Drew Angerer/Getty Images
CBS News reported that Senator John McCain will miss the Senate's vote on massive tax cuts this week, returning to Arizona instead to recuperate from cancer treatment.
McCain, who was diagnosed with brain cancer earlier this year, was admitted to a Maryland hospital on Wednesday and treated for several days for side effects from chemotherapy.
On Sunday morning, McCain's son-in-law Ben Domenech, a conservative writer, said on Face the Nation, "I'm happy to say that he's doing well," but acknowledged that McCain was dealing with symptoms from his treatment.
The Senate already passed the tax bill once, but must do so again now that the bill has been joined with the House's version.
As CNN explains, Senate Republicans only need to carry a majority of senators present on the floor for the bill to pass. If the count is deadlocked, Vice-President Mike Pence would cast the tie-breaking vote in favor of Republicans. This means that, even with McCain's absence, the GOP can suffer one more defection and still get the bill through.
Bob Corker, the only Republican to vote "no" the first time the Senate considered the bill, announced on Friday that he would support the final version, even though his original concerns regarding the deficit were not addressed in any way. (On Sunday, Corker claimed not to know that a last-minute provision had been added to the bill that would benefit him personally.) Marco Rubio, who had demanded that the bill include a boosted child tax credit, also came onboard Friday after securing a moderate concession on the issue. Nominal moderate Susan Collins has not made a final decision on the bill, but has indicated that her concerns about health care have been allayed — even though they haven't.
A source told CNN that Senate majority leader Mitch McConnell had been planning for a scenario in which McCain was unable to vote. Barring some unexpected crises of conscience, McCain's absence won't prevent the party from doing what it was born to do: Hand a gigantic tax cut to the rich.