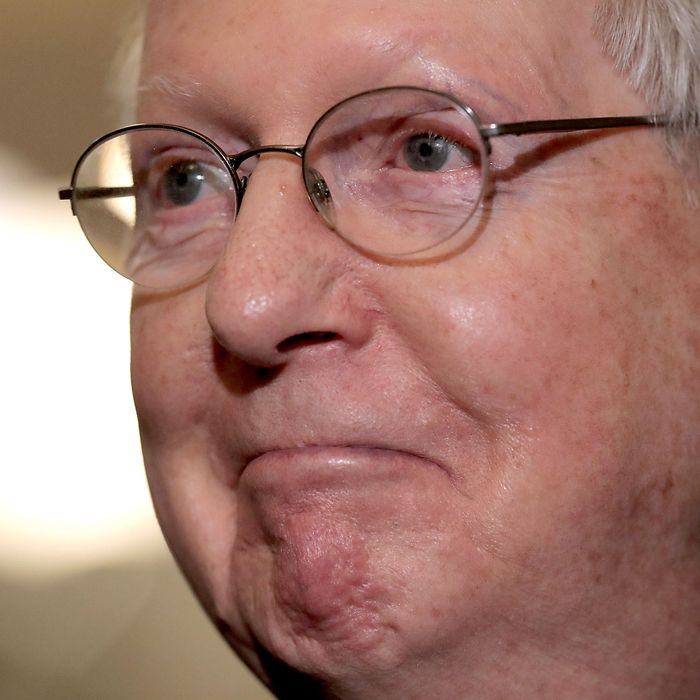 Tribal leader Mitch McConnell.
Photo: Chip Somodevilla/Getty Images
Senate majority leader Mitch McConnell is no longer calling for Roy Moore to drop out of his Senate race, declaring instead on Sunday that it was up to Alabama voters to decide whether or not they want to be represented by the alleged sexual predator.
Last month, McConnell was the highest-ranking Republican to call for Moore to step aside after multiple women accused the Alabama judge of sexual misconduct against them when they were teenagers. "I believe the women," McConnell said on November 13, predicting that Moore would face an ethics investigation and expulsion proceedings if he won. "He's obviously not fit to be in the United States Senate, and we've looked at all the options to try to prevent that from happening," McConnell told reporters at the time.
His comments did not go over well with the antiestablishment wing of the party, and may have actually boosted support for Moore in those circles.
Now, with just over a week to go before the special election, polls have shown a tightened race amid ongoing attempts on the right to discredit the allegations against Moore — and McConnell has suddenly adopted the White House line that it should be the voters who get to be the judge.
Appearing on ABC's This Week and CBS's Face the Nation on Sunday morning, McConnell stopped very short of condemning Moore again. Asked by This Week host George Stephanopoulos whether he still believed Moore should be in the Senate, McConnell responded:
I'm going to let the people of Alabama make the call. This election has been going on a long time. There's been a lot of discussion about it. They're going to make the decision a week from Tuesday.
"It's been a pretty robust campaign with a lot of people weighing in … But in the end, the voters of Alabama will make their choice," he told Face the Nation's John Dickerson.
Asked whether he still expected the Senate Ethics Committee to take on Moore if he wins, McConnell seemed to punt.
"We'll swear in whoever's elected and see where we are at that particular point," he said on CBS, after noting that two Democratic senators, Al Franken and Bob Menendez, were also facing ethics investigations. "The ethics committee will have to consider the matters that have been litigated in the campaign should that particular candidate win," he added on ABC, then dodged a question about whether or not he would recommend that Moore be investigated — though he did still seem to think the investigation would happen regardless.
Unsurprisingly, McConnell additionally brushed off a question from Stephanopoulos about whether he also believes the women who have accused President Trump of sexual misconduct. Indeed, though it's possible McConnell and others will try to expel Moore if he wins, Republicans' growing tolerance of the troubling candidate continues to mirror how they eventually stopped caring about Trump's Access Hollywood tape.