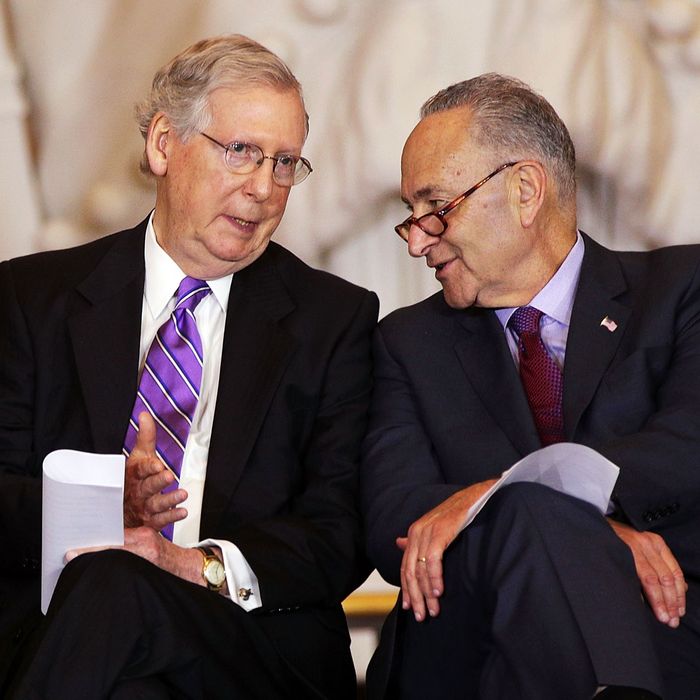 Hey, Chuck, could you help me get a final vote or two for my tax bill?
Photo: Alex Wong/Getty Images
Part of what is making it so tricky for the GOP to pass their tax bill is that undecided Republican senators wanted concessions that might upset the overall math of the bill needed to keep it within the constraints of the budget rules under which it is proceeding to a vote with zero Democratic support.
But in his hour of extreme need, it seems Mitch McConnell is doing something even trickier: promising senators concessions that are not in the tax bill and which in fact would require Democratic support.
The most obvious outside-the-lines concession was revealed by Jeff Flake in his statement announcing his support for the bill:
The DACA "solution" is not, obviously, going to be in this tax bill. It is, in fact, a Democratic demand that Chuck Schumer and Nancy Pelosi are considering making a take-it-or-leave it demand in conjunction with spending negotiations with Republicans and the administration that will reach a crisis point next week, when September's stopgap funding measure expires. Indeed, just yesterday Senator Dick Durbin said he'd vote against any spending measure, even another short-term "stopgap," if relief for Dreamers (under the threat of Trump's order ending their protection from deportation in March) isn't provided.
So while the assurances Flake received on DACA were weak tea, it's a dangerous subject to be bandied about in a tax-bill negotiation, with the Democrats who would have to be deeply involved in any deal presumably excluded.
But McConnell's assurances to Flake on DACA aren't the only check he seems to have written that he will not be able to cash unilaterally. Earlier this week he promised another Republican who was undecided on the tax bill, Susan Collins, that he would secure action on two health-care bills she considered essential to offset the baleful effects of the elimination of the Obamacare insurance-purchasing mandate:
Collins told reporters Wednesday that she has a commitment from Republican Senate Majority Leader Mitch McConnell that both Alexander-Murray and Collins-Nelson bills are "must-pass" bills this year.
She also indicated after a meeting with the president that Trump was onboard with these bills as well, even though Trump had earlier opposed Alexander-Murray, the bipartisan legislation designed in part to reverse his destructive decision to halt payments to insurers, reimbursing them for costs they incurred protecting poor people from big out-of-pocket expenses (the administration had no announced position on the Collins-Nelson legislation that would set up a reinsurance scheme for high-cost patients).
Again, McConnell's promise to Collins would almost necessarily make the two health-care bills a subject for inclusion in spending legislation that is very much up in the air; there's no other vehicle in sight for "must-pass bills this year." And even if Democrats went along with these measures as a way to help stabilize Obamacare, opening up spending bills to such legislation is going to inspire all sorts of demands from Republicans as well as Democrats under circumstances where one false step could shut down the government, possibly in the middle of the holidays. One key choke point on a spending bill is obviously the Senate, where Democratic support will be necessary to overcome what will otherwise be a 60-vote threshold for passage. So is Mitch McConnell sure Chuck Schumer will help him out?
It's one thing to make promises you aren't sure you can actually keep. It's another altogether to make promises your bitter partisan opponents — the ones that McConnell, Ryan, and Trump were together attacking in a White House appearance just the other day — will have to keep for you.