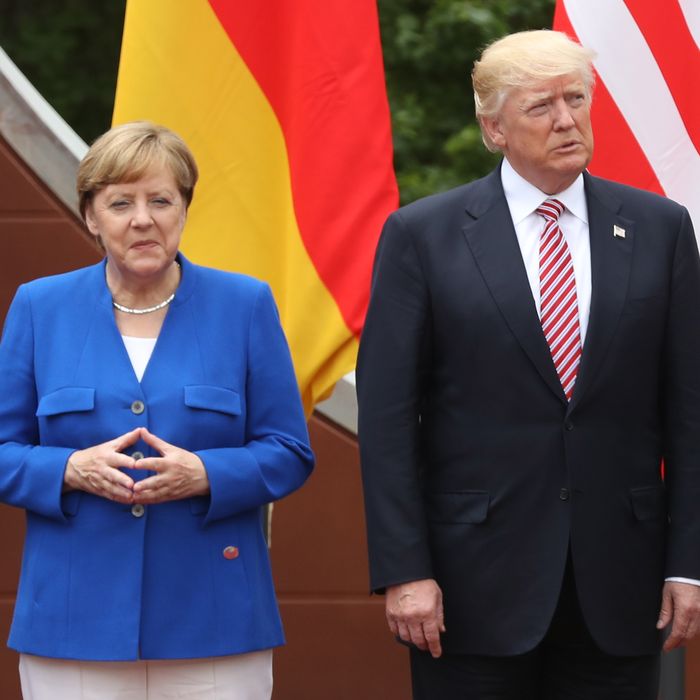 It's complicated.
Photo: Sean Gallup/Getty Images
A year ago, as many in the world awaited Donald Trump's swearing-in with great anxiety, reports that President Obama planned to spend a bit more time tutoring his successor sparked fleeting hopes that the pair might forge an unlikely friendship.
Months later, Trump was accusing Obama of wiretapping him, but it seems German chancellor Angela Merkel held out hope that America's inexperienced new president would be receptive to an ally offering to guide him through the confusing world of international diplomacy. By all accounts, her efforts did not go well.
A New York Times report on how Trump has changed U.S. foreign policy sheds new light on Merkel's overtures to Trump. In January a Merkel spokesperson said that during a phone call with the president, Merkel had "explained" the international community's obligations toward refugees under the Geneva Convention. In a call around this time, the chancellor also tried to give Trump a lesson on Ukraine's history and strategic importance. According to the Times, "German officials were alarmed by Mr. Trump's lack of knowledge, but they got even more rattled when White House aides called to complain afterward that Ms. Merkel had been condescending toward the new president."
The Germans tried to proceed more delicately when Merkel visited the White House in March. According to Politico, in an effort to express her concerns about Russia while accommodating Trump's preferred learning style, she came equipped with a map of the Soviet Union from 1982, and an overlay showing that Russian president Vladimir Putin is active in many former-Soviet nations.
"Azerbaijan, Armenia, Georgia, Moldova, Belarus, and Ukraine — he is either trying to get those countries back into his realm or, if he's not able to, he at least makes sure those countries are totally unattractive to the West," said an official privy to the German presentation.
Shortly after the meeting, a senior German official told the Times of London that Trump also tried to pursue a bilateral trade deal with Germany. "Ten times Trump asked [Merkel] if he could negotiate a trade deal with Germany. Every time she replied, 'You can't do a trade deal with Germany, only the E.U.,'" the official said. "On the eleventh refusal, Trump finally got the message, 'Oh, we'll do a deal with Europe then.'"
Now the Times reports that Merkel tried to be delicate to avoid humiliating Trump again.
Rather than exposing Mr. Trump's ignorance, Ms. Merkel said the United States could, of course, negotiate a bilateral agreement, but that it would have to be with Germany and the other 27 members of the union because Brussels conducted such negotiations on behalf of its members.




"So it could be bilateral?" Mr. Trump asked Ms. Merkel, according to several people in the room. The chancellor nodded.




"That's great," Mr. Trump replied before turning to his commerce secretary, Wilbur Ross, and telling him, "Wilbur, we'll negotiate a bilateral trade deal with Europe."
German officials were reportedly relieved at how Merkel handled the situation, while White House officials still found it "humiliating."
Presumably, the feeling was mutual. At the same meeting Merkel's would-be diplomacy student refused to shake her hand, claiming later that he couldn't hear requests from her or photographers.