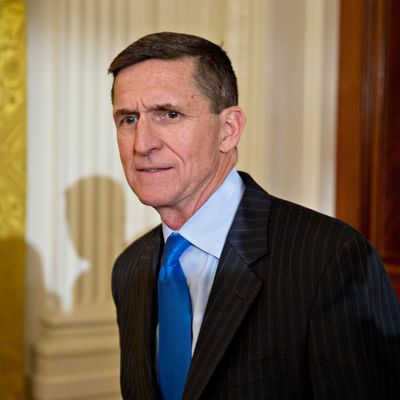 Happy Friday.
Photo: Pool/Getty Images
Retired general Michael Flynn, who was President Trump's national security adviser before resigning in February, pleaded guilty on Friday to making a false statement to the FBI.
Special counsel Robert Mueller charged Flynn with "willfully and knowingly" making "false, fictitious, and fraudulent statements" to the agency about his conversations with Russia's American ambassador, Sergey Kislyak.
Significantly, Flynn admitted as part of his plea that Trump transition-team officials had directed his contact with Russians. It is not known which officials were involved, or what, exactly, they told Flynn to do. The charges drawn up by Mueller describe Flynn discussing sanctions imposed on Russia by the Obama administration during the presidential transition period and lying to the FBI about conversations he had with Kislyak involving sanctions.
Flynn was taken into custody Friday morning. In a statement, he said, "It has been extraordinarily painful to endure these many months of false accusations of 'treason,'" but that "the actions I acknowledged in court were wrong."
White House lawyer Ty Cobb also released a statement, which claimed that "nothing about the guilty plea or the charge implicates anyone other than Mr. Flynn." He referred to Flynn as a "former Obama administration official."
Speculation had been mounting for weeks that Flynn, whose dealings with Russia and Turkey had long drawn scrutiny from Mueller, would cooperate with the special prosecutor in exchange for lenient treatment for him and his son.
The relatively minor false-statement charge suggests that Flynn is divulging information to Mueller that could implicate figures even further up the chain of command.
Flynn served as the director of the Defense Intelligence Agency under President Obama until his firing in 2014. He emerged last year as an ardent supporter of President Trump, and was among Hillary Clinton's most vicious critics during the presidential campaign, memorably telling a Republican National Convention crowd, "If I did a tenth of what she did, I'd be in jail today!" and joining in a "Lock her up!" chant.
Flynn was forced out of the Trump administration, purportedly because he misled Vice-President Pence about his conversations with Kislyak.
In March, President Trump suggested in a tweet that Flynn should seek immunity from the Russia-investigation "witch hunt."
This is a developing story — check back for updates.