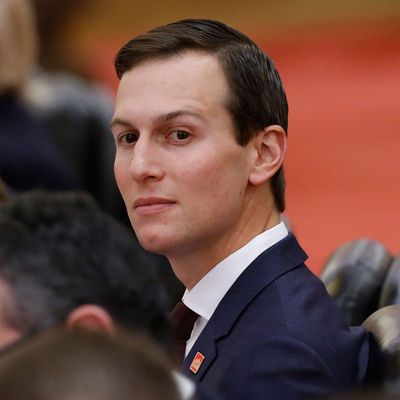 Jared Kushner.
Photo: Thomas Peter - Pool/Getty Images
Special Counsel Robert Mueller's investigation into Russia's influence on the 2016 election has begun to zero in on the joint digital operation that got Donald Trump elected, Yahoo News reports.
Mueller's team is trying to determine if members of the Trump campaign and Republican National Committee, who worked together on the digital arm of Trump's campaign, provided assistance to Russian trolls attempting to influence voters. It's the latest scare for Trump son-in-law Jared Kushner, who managed the digital campaign and has already come under scrutiny by the special counsel for his foreign contacts.
Mueller's move appears to concern the disproportionate targeting of swing districts by Russian trolls during the presidential campaign. CNN reported in October that ads placed by Russia-linked Facebook accounts targeted Michigan and Wisconsin in particular, with many "geared at swaying public opinion in the most heavily contested battlegrounds."
Experts don't think the trolls behind Russian Facebook accounts could have determined who to target on their own, but the question is whether the help they got came from Trump's orbit. The leading suspects at this point are Kushner and Brad Parscale, the campaign's digital media director.
For months, the House Intelligence Committee has been probing this question. "Obviously, we're looking at any of the targeting of the ads … to see whether they demonstrate a sophistication that would be incompatible with not having access to data analytics from the campaign," Representative Adam Schiff said on CNN in October. "At this point, we still don't know."
Now, Mueller is probing the same issue and interviewing RNC staffers about the finer points of the campaign's digital operation, Yahoo News reports. Whether that leads to any more clarity on the issue is an open question, but if there is evidence that the campaign handed over data to help Russian trolls target voters, expect to hear a lot of people using the "C-word."