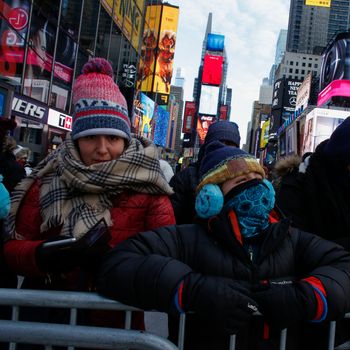 These folks have been in Times Square since Sunday morning.
Photo: Kena Betancur/AFP/Getty Images
The large crowds already gathered in Times Square are going to get a long dose of one of the city's coldest New Year's Eve celebrations on record, according to the National Weather Service.
The temperature is expected to reach as low as nine degrees Fahrenheit with a wind chill as much as ten-below overnight Sunday in New York City. The forecast for midnight in the city is a little warmer — as low as ten degrees with a wind chill of four-below — which would still make it the second-coldest ball drop on record, pushing 1962's 11 degrees to third place.
New York authorities are obviously advising revelers to bundle up and cover exposed skin. They additionally suggest that people lay off the booze if they are going to stay outside, since drinking alcohol can cause faster body-heat loss. As always, native New Yorkers are also warning non-drunk non–New Yorkers to stay away from Times Square in the first place, since it was already a bad idea to head there on New Year's Eve, regardless of what happens with the cold or Mariah.
But for those that do go, the good news is that it won't be anywhere near as cold as it was approximately 100 years ago. In 1917, it was one degree with a wind chill of 18-below in Times Square at midnight. 2017 was not undoubtedly worse than 1917 in every other way, either: America entered World War I that spring.
If current forecasts hold for the next week, it's also possible that New York City could end up experiencing a near-record number of consecutive days with below-freezing temperatures, so hurrah for Arctic blasts.
New York won't be alone in the cold. Nearly two-thirds of the U.S. — home to some 150 million people — face wind-chill advisories, watches, and warnings on Sunday night, and cold-weather records are already being set across the country. Some New Year's Eve fireworks shows have been cancelled in the Midwest, and everything but the fireworks has been cancelled in Boston, where it will be about two degrees by the time midnight strikes. Even in Maine, the annual New Year's Day Lobster Dip in Old Orchard Beach had to be rescheduled for the first time in the event's 30-year history, since organizers were worried about swimmers' safety. (Other polar plunges across the Northeast have also been cancelled or rescheduled.)
And, no, it being super-cold on New Year's Eve does not disprove the science of climate change. As Weather Underground meteorologist Bob Henson explained last week in response to one of the year's final dumb tweets from the president, the U.S. is not the world; climate change doesn't eliminate cold waves (and could actually make them worse in the eastern U.S.); and 2017 was the third warmest year on record in the country.