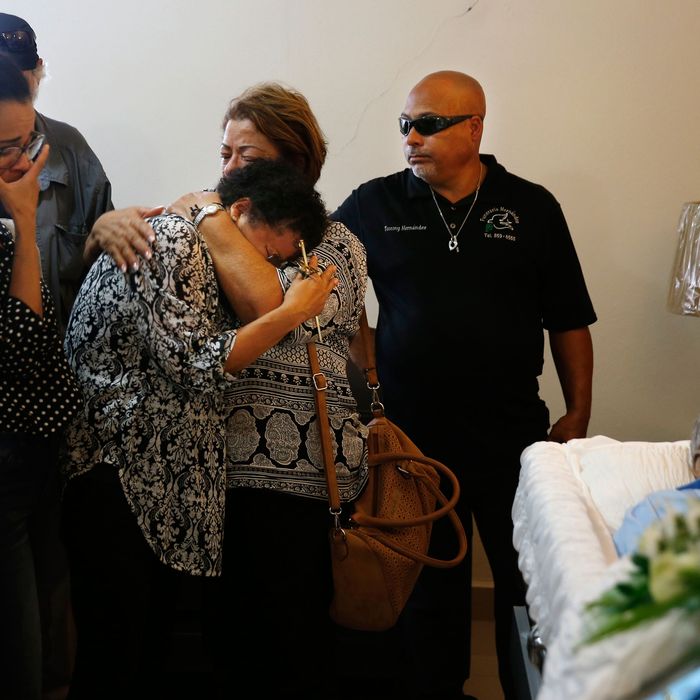 A funeral in Puerto Rico.
Photo: Jessica Rinaldi/Boston Globe via Getty Images
Two weeks after Hurricane Maria hit Puerto Rico, the official death toll from the storm was surprisingly low, at only 16. President Trump said on a visit to the island that the small toll was a sign that the storm was not a "real catastrophe."
Not long after Trump left the U.S. territory, the number was revised upward and as the more pressing concern of saving lives gave way to counting those that were lost, Puerto Rico's official death toll from Maria settled in at 62.
But there's long been reason to question that number. In late October, BuzzFeed and CNN published reports about the bodies hastily cremated in the weeks following the storm. The proper officials were never able to examine many of the bodies, preventing them from being added to the death toll. Add the disputes over which deaths should even be counted, and some concluded that Maria's true death toll would never be known.
And while that seems very likely, it doesn't mean there's no way to get a more accurate estimate than the official total of 62. One way to do so is to compare the island's daily mortality data following the storm to the years prior. By doing that, the Center for Investigative Journalism found that 1,065 more people died in the 42 days following the hurricane than in the same span in 2016. By its own count, the Times put the number at 1,052. In either case, the death toll is around 1,000 more than the official figures say.
One particularly deadly day, September 25, shows how much the hurricane changed things. Five days after Maria made landfall, 135 people died on the island, which was 60 more than died on that same date in 2016. Here's how the Times describes the conditions that day:
It was over 90 degrees, and power was out on most of the island, even in most hospitals. Bedridden people were having trouble getting medical treatment, and dialysis clinics were operating with generators and limiting treatment hours. People on respirators lacked electricity to power the machines.
If one assumes that the increased deaths in 2017 are due to the hurricane, and there's little reason to assume otherwise, then, man, most if not all of those 60 additional people who died on September 25 should be part of the official tally.
The Center for Investigative Journalism says most of the people who died in the aftermath of the storm were older than 50 and in hospitals for conditions such as diabetes, hypertension, and pneumonia. The near-universal loss of power on the island hit these patients hard and, as one expert told CNN earlier this year, if they "might have lived another day," they should be counted among those dead due to the hurricane.
These numbers matter, Robert Anderson of the National Center for Health Statistics told the Times, because "If we have a lack of information, we can't adequately prepare for the next disaster."