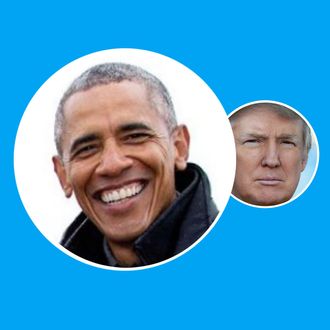 We're getting to that fun time of the year where we look back on the last 365 days and get to relive all the hell for a second time in the name of perverse nostalgia. Today's category is Twitter, which released a list of the most retweeted and most liked tweets around the world in 2017. Nobody tell President Trump, but it would appear that people aren't really all that into his tweets. His predecessor, however, is another story. Obama tweeted three of the top ten most retweeted tweets in 2017. One in the wake of the violence in Charlottesville and two about leaving office.
Obama's Charlottesville tweet was also the most liked tweet of the year. A tweet from him about John McCain took third place. (The second-place tweet was from Ariana Grande following a suicide bombing at one of her concerts earlier this year.)
Still, Donald Trump shouldn't be too embarrassed by his Twitter performance. (Or maybe he should.) When you get down to it, everybody this year was beat out by a kid — Carter Wilkerson — asking Wendy's for free chicken nuggets. A tweet that not only holds the top spot for retweets in 2017, but is the most retweeted tweet of all time.