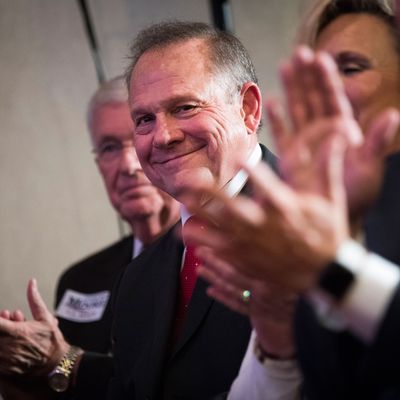 The Trump method really works!
Photo: Drew Angerer/Getty Images
As the old saying goes, fool me once, shame on you. Fool me twice … Republicans officially have no shame?
After Donald Trump bragged about serial sexual assault on tape, a number of high-profile Republicans declared that they could no longer support his presidential bid. Despite rumors that the Republican National Committee was exploring ways to drop Trump, chairman Reince Priebus settled for issuing a weak statement saying "no woman" should be discussed in such vulgar terms. Trump apologized, downplayed the tape as "locker-room talk," and remained adamant that the 16-plus women who'd accused him of sexual assault were lying. Eventually most Republicans wound up rallying behind their candidate, even if it meant never looking their teenage daughter in the eye again.
When several women accused Alabama GOP Senate candidate Roy Moore of sexual misconduct last month, some believed that this time might be different. Suddenly powerful men are facing serious repercussions for abuse allegations, and the Moore allegations involved children; one woman said he molested her when she was 14, and another said he assaulted her when she was 16. Senate Majority Leader Mitch McConnell said Moore should quit the race, every other GOP senator backed away from Moore, and the RNC pulled out of its joint fundraising agreement with the candidate. The White House said Trump believed "if these allegations are true, Judge Moore will do the right thing and step aside."
But Moore ignored these calls and adopted Trump's playbook. He suggested he was being targeted because he dared to challenge the GOP Establishment, and cast himself as the victim of a liberal-media conspiracy. As with Trump, the strategy worked. A recent poll found 71 percent of Alabama Republicans think the allegations are false. After failing to find any workable ploy to replace Moore or cancel the election, McConnell stopped condemning him on Sunday, saying, "I'm going to let the people of Alabama make the call."
Then on Monday, President Trump made his endorsement of Moore official with a tweet and a phone call to the candidate. Later in the day — even as one of Moore's accusers produced physical evidence bolstering her claim that she dated Moore when he was 34 and she was 17 — the RNC resumed its support for Moore. There was no official announcement and the details of the arrangement are unclear, but the news was confirmed by the Washington Post and an RNC official told Breitbart, "We stand with the president."
Moore will get an additional $1.1 million boost from the pro-Trump group America First Action, according to the Post.
Several Republicans remain unwilling to welcome a man accused of preying on underage girls into their midst. A spokesperson for Senator Mike Lee said he's called for Moore to step down and "nothing has changed." Former GOP presidential nominee (and potential 2018 Senate candidate) Mitt Romney reiterated his condemnation of Moore, and Senator Jeff Flake echoed his remarks:
Moore used this as more fodder for his argument that he's on Trump's side, not that of the Establishment.
Moore is still likely to face an immediate ethics probe if he's elected to the Senate on December 12, but some senators are softening their position on him.
Senator John Cornyn, the second-ranking GOP senator, said he'd like to see that ethics probe if Moore wins, but added, "None of us get to vote on who's the senator from Alabama. Just Alabama voters do. So I think we have to respect their decision — whatever it is."
Senator Orrin Hatch agreed, and noted that he hasn't been accused of molesting any girls recently. "Many of the things he allegedly did are decades ago. So it's hard to — that's a decision that has to be made by the people in that state," said Hatch. "If they make that decision, who are we to question them?"