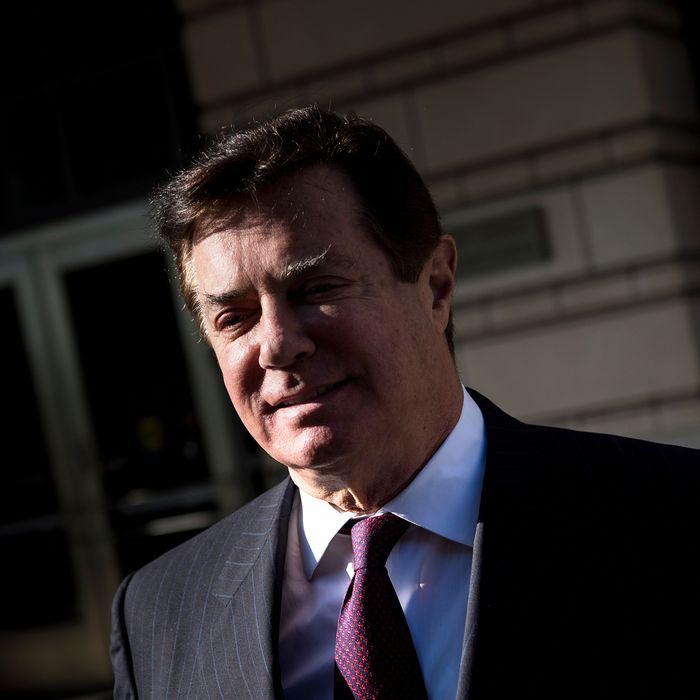 Florida bound.
Photo: Brendan Smialowski/AFP/Getty Images
A judge on Friday said former Trump campaign manager Paul Manafort will soon be released from house arrest in Virginia and allowed to relocate to his home in Florida. But Manafort, who was indicted in October on several charges including "conspiracy against the United States," will not be allowed to leave the Sunshine State without permission and be required to abide by a 11 p.m. curfew.
Under the bail deal, which Manafort's lawyers struck with special counsel Robert Mueller, the 68-year-old has agreed to forfeit four homes if he doesn't show up for court. Located in Virginia, Florida, Bridgehampton, and Manhattan, the homes would be sold if Manafort flees, and if their sales net less than $10 million, his wife and daughter would be on the hook for the difference.
U.S. District Judge Amy Berman Jackson denied a request by Manafort's lawyers that he be allowed to travel between his three homes in Florida, Virginia, and Manhattan once released from house arrest. Jackson "expressed discomfort with allowing Manafort to travel so freely," BuzzFeed reports.
Once Manafort arrives at his South Florida home, his movement will still be restricted. He'll have to wear a GPS monitoring bracelet, remain in his home from 11 p.m. to 7 a.m., and secure the permission of the court if he wants to travel any further than Broward or Palm Beach counties. Lucky for him, that means he'll still be able to drive the 15 miles to Mar-a-Lago to play a round with President Trump.