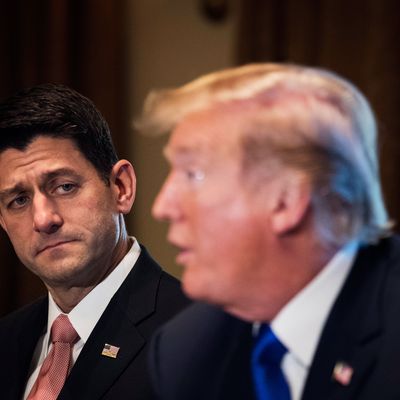 "I'm focused on Congress," Ryan said.
Photo: Drew Angerer/Getty Images
In an interview on NPR's Morning Edition Friday, House Speaker Paul Ryan reiterated his stance on Alabama Senate candidate Roy Moore, who has been accused of sexual misconduct by several woman. The allegations against the former judge are credible, Ryan said, and he should withdraw from the race this month's special election.
But then interviewer Steve Inskeep hit Ryan with a question he was clearly not expecting: What is the difference between Moore and President Trump, who has also been accused of sexual misconduct and has also denied it?
"I think that Roy Moore— I don't if, uhhh. I'm focused on Congress," Ryan said. "Roy Moore is trying to come to Congress. My job here as Speaker of the House is to help make sure that Congress is an institution that we're proud of and that's what I'm focused on. He's running for Congress and I think the allegations against him were very, very credible."
Asked if there's a difference between the two cases, Ryan said, "I don't know the answer to that. I haven't spent my time reviewing the difference in these two cases."
Ryan went on to defend Trump, who is "fighting for the things that I'm fighting for." Translation: Ryan doesn't need Roy Moore in the Senate, where Republicans are already in the majority, to get closer to his dream of incinerating the social safety net. But he does need Trump, so Ryan will gladly dismiss the 16 women who have accused the president of sexual misconduct.