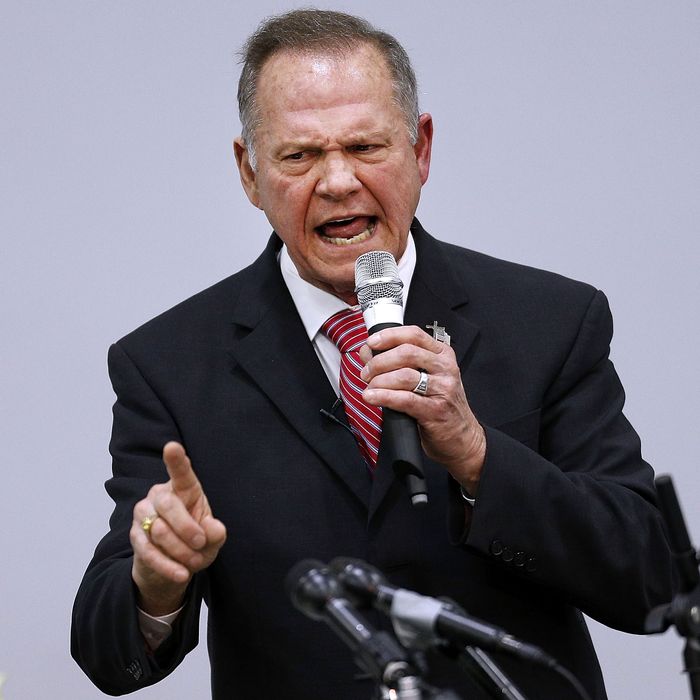 It's all a conspiracy!
Photo: Jonathan Bachman/Getty Images
A CBS poll on Sunday showed that alleged sexual predator Roy Moore is leading Doug Jones by five points in the race for the Alabama Senate special election on December 12. The poll came the day after the Washington Post released a survey with Jones up by three points, which was the first result in several days to show the Democrat leading. After a week of plummeting numbers, Moore appeared to have rebounded with voters from several allegations that he had engaged in sexual relationships with teenage girls, including one who was 14. Moore has repeatedly denied that any of the incidents took place.
RealClearPolitics now has Moore up 2.5 points in its polling average, but the truth is that with most national polling outfits staying away, the unusual timing of the election, and the general shakiness of state surveys, nobody really knows what's going to happen next Tuesday.
Still, the most eye-popping statistic from the CBS poll is likely a reliable indicator of the Republican base's mentality: Seventy-one percent of Republican voters don't believe the allegations against Moore are true, despite a preponderance of very credible evidence.
Ninety-two percent of voters who don't believe the charges think they were dreamed up by Democrats, while 88 percent say the media and newspapers are the culprits. (Presumably 4 percent of people don't believe Democrats and the media collude on a regular basis.)
This blanket denial is in contrast to national Republican lawmakers, many of whom disavowed Moore in the days after the initial Washington Post report came out, telling the public that they believed the women who had come forward. The notable exception was President Trump, who of course navigated his own sexual-assault story line last year on the way to the presidency. Trump, who lives in his own plane of reality, has made it clear that he doubts Moore's accusers, and though he's not campaigning for the candidate directly, he is holding a rally in Florida this week that may as well serve that purpose.
As many have noted, the rhythms of the Moore story are eerily similar to the Access Hollywood tape arc last year. Like Trump, Moore has not given any ground, instead attempting to poke holes in picayune details surrounding the accusations against him. He has continued to maintain that the liberal press is smearing him. (On Sunday afternoon, he retweeted the CBS poll.) He is depending on an unwavering Republican base conditioned over decades to loathe the mainstream media and prize partisan loyalty over all else.
The accusations against Moore are much more serious than those against Trump, and, because of his long history as a divisive figure in Alabama, he was already facing a possibly competitive race before the allegations came out. But his rigidly defiant game plan might just work.
On Sunday, Senate majority leader Mitch McConnell muted his previous criticism of Moore, knocking down speculation that he might try to expel him from the Senate if he wins. If Alabama voters want Roy Moore, they're going to get Roy Moore.