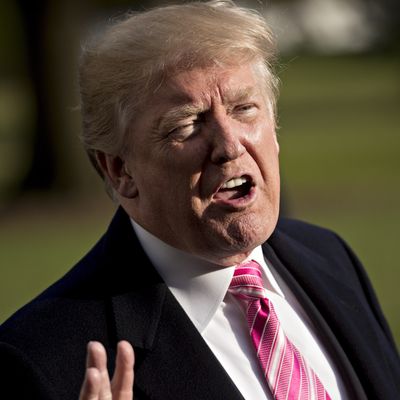 Shock me, shock me, shock me with that unpresidential behavior.
Photo: Andrew Harrer/Bloomberg via Getty Images
Picture it: Hours after FBI Director James Comey reveals that the bureau is reopening its investigation into Hillary Clinton's private email server days before the 2016 election, President Obama launches into a public tirade. He calls Comey a liar, suggests that there's a widespread conspiracy within the FBI to get Donald Trump elected, and laments that the FBI's credibility is now garbage.
Now imagine the reaction from Republicans in Congress. Is the harshest criticism a warning that President Obama should choose his words more carefully, for his own sake?
Of course, President Obama said no such thing, and if he had he would have been denounced by Republicans, and probably many Democrats, for threatening the independence of the FBI. Yet, unsurprisingly, GOP lawmakers had little to say after Trump attacked the bureau in a series of tweets on Sunday morning.
As the L.A. Times notes, it appears Trump was tweeting along with a Fox & Friends discussion of the news that Peter Strzok, as the FBI's deputy head of counterintelligence, was removed from Special Counsel Robert Mueller's team last summer after he and another agent exchanged texts that expressed negative views about Trump. Strzok played a significant role in both the Clinton email investigation and the probe of potential links between the Trump campaign and Russia. Per the Times, the team at Fox News suggested this was proof that Comey colluded with Strzok to make sure Clinton would be cleared, and Trump's associates would be indicted … months after both Comey and Strzok ended their involvement with the probe.
The morning show team also suggested that Strozk's alleged bias was evidence that he and Comey had colluded to improperly clear Clinton of criminal charges in the email probe while somehow implicating the president's associates in wrongdoing related to the special counsel's Russia investigation. 




Co-host Pete Hegseth summarized his concerns, saying: "Comey's being briefed on Hillary Clinton's email investigation by a guy who's in the tank for Hillary Clinton, which is the greatest fear that we all have: that the deep state has infiltrated the so-called Justice Department or the FBI."
The only notable Republican rebuttal on Sunday came from Senator Lindsey Graham, who said that while he thinks some of Comey's decisions as director were "very, very wrong" he does not agree that the FBI has no credibility. Then he offered a warning to the president: "There's an ongoing criminal investigation. Comey may be part of it. You tweet and comment regarding ongoing criminal investigations at your own peril."
Graham was probably referencing Trump's earlier tweet that suggested he knew Michael Flynn had lied to the FBI when he fired his national security adviser, then urged Comey to go easy on him. Understandably, Trump potentially admitting to obstruction of justice in a tweet was the main topic of debate on Sunday, but former Justice Department officials — many of whom were fired by Trump — remained hung up on the president attacking the FBI's integrity:
"Every day, FBI Special Agents put their lives on the line to protect the American public from national security and criminal threats," said a statement from Thomas O'Connor, president of the FBI Agents Association, which represents 14,000 current and former agents.
"Agents perform these duties with unwavering integrity and professionalism and a focus on complying with the law and the Constitution. This is why the FBI continues to be the premier law enforcement agency in the world. FBI Agents are dedicated to their mission; suggesting otherwise is simply false."
The president lashing out at the nation's top law-enforcement agency is the type of thing that should get everyone riled up, not just those he attacked. But to be fair to lawmakers, Trump has been picking fights with the intelligence agencies since before his inauguration and at this point one can't be expected to address all of his threats to the rule of law.