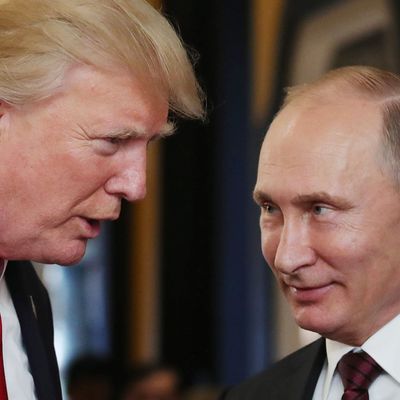 Camaraderie.
Photo: Mikhail Klimentyev/AFP/Getty Images
Russian president Vladimir Putin called President Trump on Sunday to thank the U.S. for providing intelligence that, according to the Kremlin, allowed Russian authorities to stop a major ISIS attack in St. Petersburg. The intel, shared by the CIA, apparently led to the apprehension of a group of suspects planning to bomb the landmark Kazan Cathedral and other targets in St. Petersburg this weekend. Putin, a former KGB agent, asked Trump to pass along his gratitude to the CIA, and vowed that "if the Russian intelligence agencies receive information about potential terror threats against the United States and its citizens, they will immediately hand it over to their U.S. counterparts via their communications channels."
The White House readout of Sunday's call, which came hours after the Kremlin's (and included an unprecedented exclamation point at the end), celebrated the apprehension of the suspected terrorists and prevention of the attack. It also echoed Putin and Trump's repeated proclamations about the value of cooperation and good relations between the U.S. and Russia:
President Trump appreciated the call and told President Putin that he and the entire United States intelligence community were pleased to have helped save so many lives. President Trump stressed the importance of intelligence cooperation to defeat terrorists wherever they may be. Both leaders agreed that this serves as an example of the positive things that can occur when our countries work together.
Sunday's call was also the second unusual telephone exchange between the two leaders in three days, or at least unusual by pre-Trump standards.
During an annual press conference with the Russian media on Thursday, Putin dismissed allegations of collusion between the Kremlin and the Trump campaign during last year's presidential election, echoing Trump's rhetoric on the matter.
"All of it was invented by people who oppose President Trump to undermine his legitimacy," Putin said, adding that the allegations of collusion demonstrate a "lack of respect for [Trump] voters." Putin also noted that he and Trump refer to each other by their first names and praised Trump for singlehandedly inspiring worldwide economic confidence:
We see some quite serious achievements, even in this short period of time that he's been working. Look at the markets, how they've risen. That shows investors' confidence in the American economy. It shows they believe in what President Trump is doing in this area.
Hours later, the mutual admiration continued as Trump thanked Putin on the phone for "acknowledging America's strong economic performance in his annual press conference," according to the White House. That call was reportedly about North Korea, but in the White House's much shorter readout, Trump's "appreciate the congrats" to Putin was listed first.
Intelligence sharing between two countries about potential terrorist threats is quite normal; very public and specific expressions of gratitude about it like Putin's are not. But Putin seems to have decided long ago that the way to Trump's heart and, possibly, America's blindspot, is through the president's ego. Stopping any terrorist attack is always a good thing, but Putin's behavior is also surely an attempt to influence Trump and take advantage of the president's well-known domestic frustrations. More grand displays of acclaim and appreciation are probably on the way.