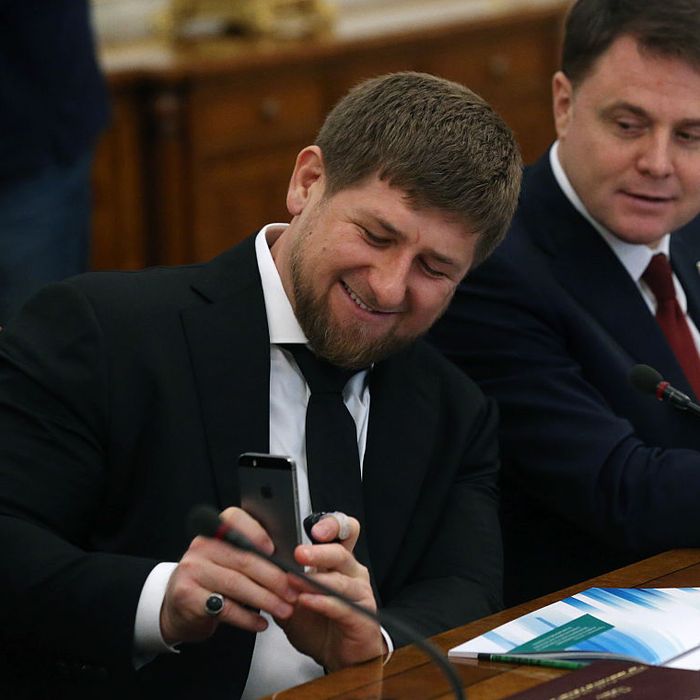 Ramzan Kadyrov, the head of the Chechen Republic, taking a selfie.
Photo: Sasha Mordovets/Getty Images
When Ramzan Kadyrov, the head of the Chechen Republic, was sanctioned by the United States on December 20 under the auspices of the Global Magnitsky Human Rights Accountability Act, he remained defiant on Instagram, his social network of choice.
"I've said before, but I'll repeat for the especially forgetful, that I wouldn't go to the U.S. even if they promised me all the country's foreign currency reserves as prizes," wrote Kadyrov.
By December 23, Facebook had banned Kadyrov from both Facebook and Instagram. Kadyrov was a popular and prolific user of both. Before being banned, he had 3 million followers on Instagram, and 750,000 fans on Facebook. His Instagram had already garnered him media attention due to its odd mixture of pro-Putin rhetoric, pictures of him lifting weights, and one video of him wrestling crocodiles.
On Twitter, which has not removed Kadyrov's account, Kadyrov wrote further:
"Facebook said the deactivation of the account because of the list of 'banned persons of the U.S.' I'm very calm about this U.S. rat race," wrote Kadyrov. "But the question is to Facebook and the Ministry of Finance: Where is your vaunted democracy and the right of citizens to receive information? Or does the opinion of 4 million subscribers not mean anything?"
Facebook has said that it had a "legal obligation" to ban Kadyrov due to the U.S. trade sanctions. But as multiple outlets have pointed out, there are many other individuals subject to U.S. trade sanctions that continue to use Facebook without issue. Venezuelan president Nicolás Maduro was sanctioned by the U.S. in July of 2017, but still remains on Facebook. Russian deputy prime minister Dmitry Rogozin has been sanctioned since 2014, but is also active on Facebook.
Facebook will likely continue to face major headaches as its portfolio of social networks, including Instagram and WhatsApp, function as global communications platforms. Facebook is nominally a U.S. company, but the majority of its users now live outside of the United States. If a country besides the U.S. were to issue sanctions — say, India, which now boasts a larger Facebook user base than the U.S. — would Facebook also follow suit there?