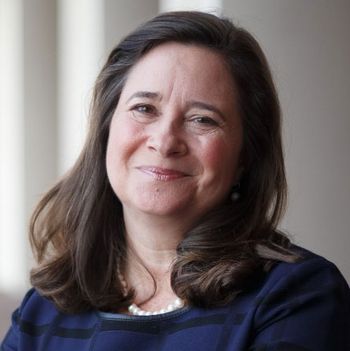 Democrat Shelly Simonds.
Photo: Shelly Simonds for Delegate
The Virginia State Board of Elections will not conduct a random drawing Wednesday to determine the winner of an important state house seat after the Democratic candidate in the race said she's taking the issue to court.
The result of the race will determine control of the Virginia General Assembly, where Republicans will have a one-seat majority if incumbent David Yancey wins. If Democratic challenger Simonds wins, the parties will split power with 50 seats a piece.
A week ago, after a long recount, it looked as if Simonds had secured the win for the Democratic party, which dominated elections in the state in November. But her single-vote victory became a tie when a three-judge panel decided that this ambiguously marked ballot should be counted for Yancey.
Now Simonds is challenging the decision, which her lawyers called "manifestly unjust," in Newport News Circuit Court. The lawyers argue that the panel of judges failed to follow recount rules when considering the disputed ballot and that Yancey's team went on a "fishing expedition to seek out election officials who can be persuaded to challenge a sufficient number of ballots to change the results."
"My opponent didn't like the outcome so he made an end-run around the rules," Simonds told reporters Tuesday.
The Board of Elections seemed glad to cancel the planned drawing, which involved old film canisters and a big bowl. "Drawing names is an action of last resort," the board said in a statement. "Any substantive concerns regarding the election or recount should be resolved before a random drawing is conducted."