This hasn't been the easiest, or the most easygoing, year. The news — natural disasters, corruption, lies, stupidity! — has put us all on a constant involuntary anxiety drip. But every day, something good happened, we promise. We looked, and we compiled. And when we were done, we realized — once again — that things in New York City are going pretty well (at least by comparison). And so here are 344 Reasons to Love this city, one a day, all year long.
Top: Three reasons to love New York (and the three covers for our 2017 issue).
1, Because after 26 years of marriage, Bruce Springsteen and Patti Scialfa still sing love songs to each other nightly in front of 948 people.
2. Because Colin Jost is still Leslie Jones's "sexy vanilla muffin."
3. Because David Hallberg came back from a career-threatening injury and will be Romeo to Isabella Boylston's Juliet.
Photographs by Danny Clinch for New York Magazine.
JANUARY
JFK pop-up protests; No Pants Subway Ride; puppies saved; Gowanus kayaking now A-okay.
Because, nearly a century after it was proposed, the Second Avenue subway opened. Well, three very expensive stations of it, anyway.
Because JFK's new luxury animal terminal, the Ark, opened the Pet Oasis. TSA pat-downs welcome here.
Because Governor Andrew Cuomo announced a plan to make state colleges tuition-free for students whose families earn $125,000 or less.
Because restaurant workers at Chen's Garden, in Canarsie, used soup ladles to fight off a would-be robber.
Because '90s Mets hero Edgardo Alfonzo was named the Brooklyn Cyclones' manager.
Because Rachel "Ruchie" Freier — the first Hasidic woman to win elected office in the U.S. — took her seat this week as a judge in Brooklyn's Fifth Judicial District.
Because there were 8 percent fewer divorces in the city in 2016 than in 2015.
Because it was the annual No Pants Subway Ride.
Because McCarren Park now has an indoor tennis center. Bring your short-shorts!
Because Trajal Harrell werq'd it in his 'Twenty Looks or Paris Is Burning at the Judson Church,' part of the Abrons Arts Center's American Realness festival.
Because the State Department of Health declared the Gowanus Canal safe for kayaking (if not swimming).
Because animal activists pulled all-nighters to shoo a trio of coyote puppies living near La Guardia Airport — Dumbo, Tony, and Floppy — away from traps set to kill them.
Because St. Ann's Warehouse premiered an all-female The Tempest.
Because after right-wing pundit Laura Ingraham tweeted a picture of a lone brandy bottle on an otherwise clean street and captioned it "This is Mayor DeBlasio's New York. Trash everywhere," it became a meme for how out of touch she is.
Because as the bird-flu threat declined, the city began releasing hundreds of cats from quarantine in a facility in Long Island City to be (hopefully) adopted.
Because a report showed that a city program to foster worker cooperatives had helped 27 new businesses open last year.
Because Noëlle Santos addressed the complete lack of Bronx bookstores by crowdfunding one on Indiegogo ("Let's Bring a Goddamn Bookstore to the Bronx!").
Because 20 people were trapped in a Court Street subway elevator for half an hour — but instead of panicking, they used the station's free Wi-Fi to tweet thanks at the firefighters rescuing them.
Because Donald Trump moved out of Trump Tower. Unfortunately, it was into the White House, but still.
Because on Inauguration Day, the Brooklyn Museum held a marathon reading of the 1935 Langston Hughes poem "Let America Be America Again," the art-protest Instagram @dailytrumpet was created, and a plane dragged this banner over the city: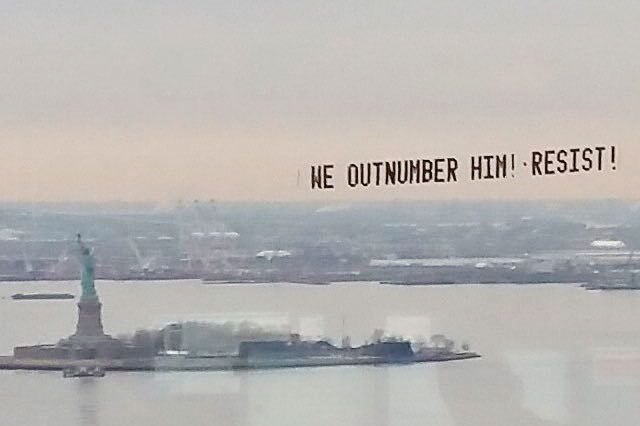 Because 400,000 filled the city's streets for our Women's March.
Because the cops caught a thief who'd hidden in Bloomingdale's after the store closed when he broke through a window "escaping" with stolen goods.
Because Gumbo, an orange tabby cat from Manhattan Beach, survived a 230-mile trip upstate next to the engine block of a car.
Because after a speeding truck carrying 104 puppies overturned upstate, rescuers saved all of them. (Cruella, will you ever learn?)
Because Hayden Planetarium director Neil deGrasse Tyson spoke up about the fears of many scientists under Trump: "If there is no science happening here, other countries … will pass us by, and that's inconsistent with the idea of making America great again."
Because Jeb Bush and John Kerry took tours of the '21' wine cellar while dining separately there on the same night.
Because a Brooklyn cat with the Instagram @oslogot99problems achieved some minor internet fame for looking sad.
Because an anti-Trump protest quickly formed at JFK — mostly thanks to social media — after his abrupt, brutal executive order banning travelers from seven countries.
Because a coalition of attorneys and translators set up a makeshift office at JFK's Terminal 4 to help.
Because Schools Chancellor Carmen Fariña said the city would protect its public-school students, regardless of immigration status.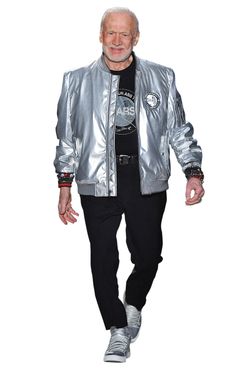 Because Buzz Aldrin, second human to ever walk on the moon, walked the runway during Fashion Week.
FEBRUARY
Kellyanne ban; free-range Queens cow; Bodega Strike; Stephen Colbert wins.
Because the mayor's citywide book club — One Book, One New York — launched with Chimamanda Ngozi Adichie's Americanah. Now discuss it with the person trapped next to you in the broken Court Street elevator.
Because some Yemeni-Americans organized the Bodega Strike, getting over 1,000 delis, groceries, and other stores to close in protest of the Muslim ban.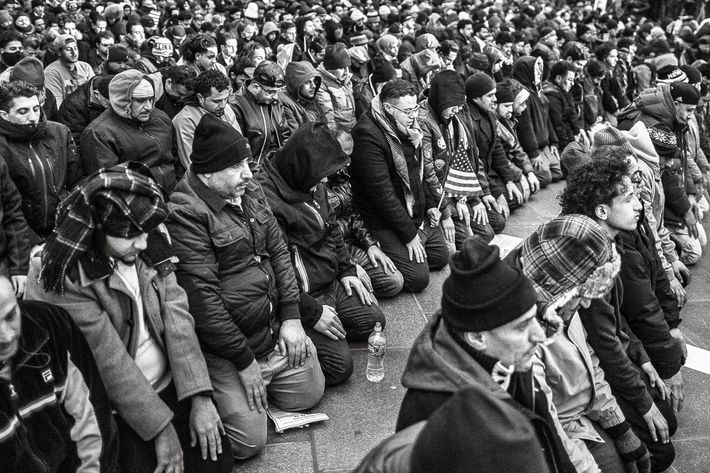 Because both Vanity Fair and The New Yorker canceled plans to sponsor parties for the White House Correspondents' Dinner, with VF's Graydon Carter saying he would go fishing instead.
Because when riders on the 1 train found anti-Semitic graffiti, they wiped it off with Purell and tissues.
Because at Chinatown's Lunar New Year parade, Senator Schumer yelled, "We love immigrants!" Also: We entered the year of the Rooster, which might seem ironic later in the year after Harvey Weinstein.
Because 19 rabbis protesting the travel ban at the Trump International Hotel and Tower were willing to be arrested.
Because Stephen Colbert is No. 1 in late-night.
Because a Raymond Pettibon retrospective opened at the New Museum.
Because it was a snow day for city schools.
Because the NYC Dept. of Ed. said that in 2016, our high-school-graduation rate hit a record high of 72.6 percent.
Because the Hudson Theatre — now with the best intermission lounge on Broadway! — reopened with Jake Gyllenhaal in Sunday in the Park With George.
Because Public School's fashion show featured models sporting "Make America New York" hats (cap proceeds went to the ACLU).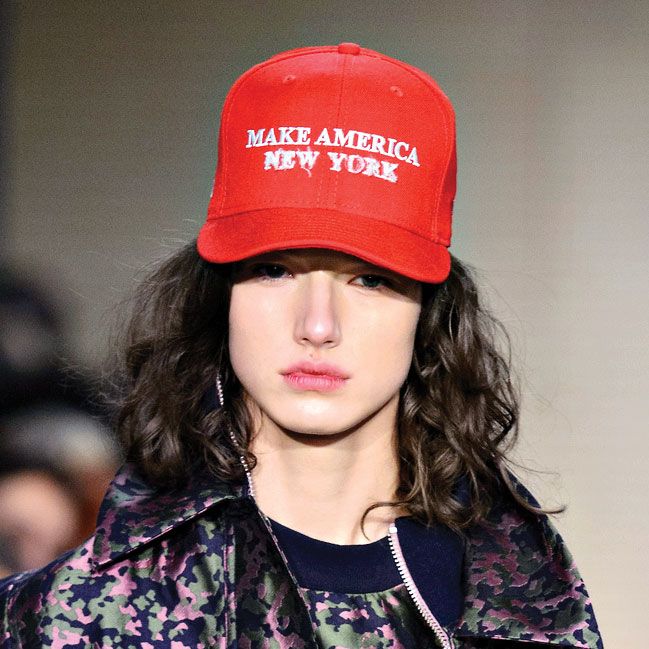 Because Michael Flynn resigned, setting in motion … well, we'll see, won't we?
Because Rumor the German shepherd won Best in Show at Westminster.
Because Morning Joe banned Kellyanne Conway. Mika Brzezinski: "Every time I've ever seen her on television, something's askew, off, or incorrect."
Because it was A Day Without Immigrants, honoring the people who really make America great.
Because at a Fashion Week party, Fran Lebowitz told a reporter, "I know we are supposed to say beauty is inner — but come on. If that was true, there would be no models."
Because the Museum of the City of New York opened the "Muslim in New York" exhibit.
Because you could read George Saunders's first novel, Lincoln in the Bardo.
Because the kids lined up for Supreme-branded MetroCards.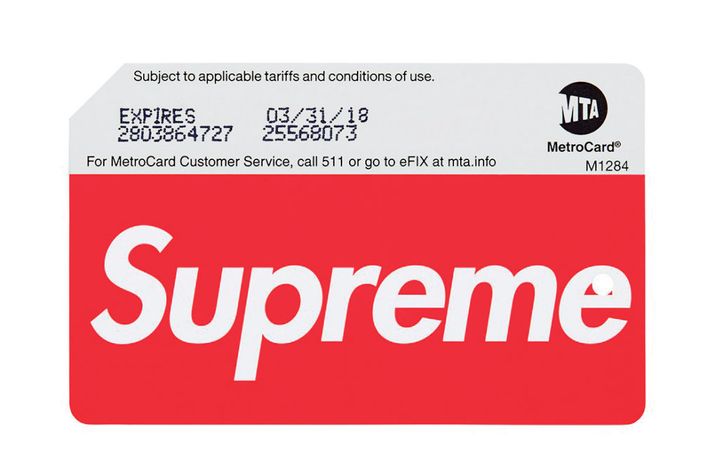 Because a cow escaped a Jamaica, Queens, slaughterhouse to roam the asphalt prairie — for a little while.  
Because a Manhattan judge refused a landlord's request to quash the city's "100 Worst Landlords" list (the landlord was No. 34).
Because residents of the Mitchell-Lama co-op St. James Towers in Clinton Hill voted to stay in the affordable-housing program instead of privatizing and cashing out.
Because crowds of people climbed scaffolding to watch President Obama getting a coffee from the Starbucks on Fifth and 21st.
Because Afropunk paid homage to the tradition of black protest music with the Unapologetically Black concert at the Apollo, featuring a killer performance by Jill Scott.
Because Martha Graham's ballets filled the Joyce with light.
Because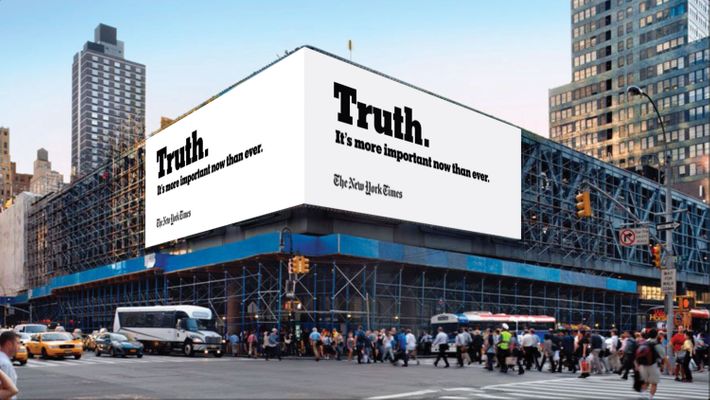 Because the owners of  L'estudio invited the owner of Paris's tiny natural-wines bar La Buvette to do a $50 all-you-can-drink night.
MARCH
Ninja book fairy; "Biggie Night"; Where the Wild Things Are library cards.
Because you could dine at Jean-Georges's new all-veggie spot abcV.
Because the NYPL acquired Lou Reed's archive.
Because of the Daily News front pages.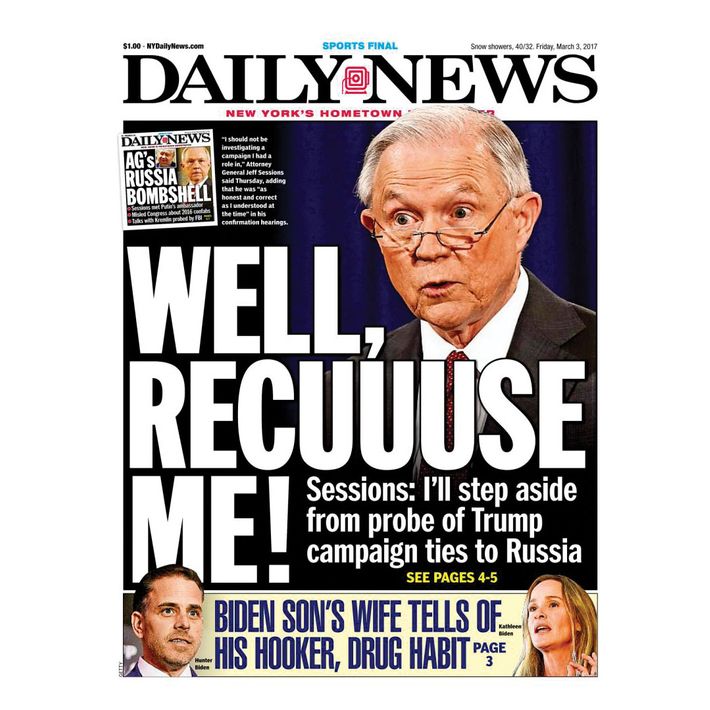 Because to celebrate the opening of its 23rd Street spot, Arby's offered its venison sandwich, normally sold only in "heavy deer-hunting areas." 
Because the Times' public editor took the paper to task for sexism: "Women have skidded down the power structure since Jill Abramson was dismissed as executive editor."
Because bearded retiree David Letterman dispensed some wisdom about Trump to this magazine: "I'm tired of people being bewildered about everything he says: 'I can't believe he said that.' We gotta stop that and instead figure out ways to protect ourselves from him. We know he's crazy. We gotta take care of ourselves here now."
Because the lawyer for a man who faked two MIT Ph.D.s to lease a BMW and a $5,000-a-month FiDi apartment tried a "stage name" defense in Manhattan Supreme Court: "You have Louis C.K., I'm sure he wasn't born with that name, Jay-Z wasn't born with that name."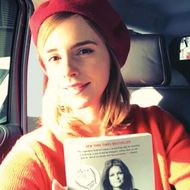 Because "ninja-book-fairy" Emma Watson left copies of books by women — like The Color Purple — in subway stations for International Women's Day.
Because an artist put up doctored versions of the MTA's "See Something, Say Something" subway ads: "What scares me more than an unattended package is an unattended politician."

Because Preet Bharara, the U.S. Attorney in Manhattan, forced the White House to fire him after, he said, he rebuffed the president's inappropriate attempts to cozy up.
Because after taking time off to get sober, SNL's Pete Davidson — Staten Island native; son of a firefighter killed on 9/11 — said, "At least I have dreams now, and I've started waking up with boners again."
Because the Nets ended a 16-game home losing streak with a 120-112 victory over the Knicks on "Biggie Night," commemorating Notorious B.I.G. 20 years after his death. Who knew Biggie's ghost was the Nets' guardian angel?
Because a raccoon broke into a Chase bank in Forest Hills (no, it didn't have your PIN).
Because two ponies escaped on Staten Island during the snowstorm and ran about like, as the Village Voice swooned, the "exquisite, snow-dusted creatures of God they most certainly are."
Because congressional Republicans had to admit that nope, Trump Tower had not in fact been "wiretapped" by President Obama, as Trump had, for some reason, tweeted.
Because the New York Philharmonic lured away Deborah Borda, president of the nation's most adventurous orchestra, the L.A. Philharmonic.
Because on St. Patrick's Day, Hillary Clinton said she was finally "ready to come out of the woods." Oh, but we're all not out of the woods yet.
Because New Yorkers rushed to save $4.50 on a monthly MetroCard before prices rose at midnight.
Because the "Let's Bring a Goddamn Bookstore to the Bronx!" project raised $154,546, on Indiegogo, which made it 125 percent funded.
Because Sesame Street said a Muppet with autism, Julia, would join the show.
Because Jimmy Fallon helped Girl Scout Katie Francis sell her record-breaking 101,106th box of cookies (he got Samoas).
Because the city's only GOP congressman, Staten Island's Dan Donovan, was afraid to vote to repeal Obamacare.
Because this week a woman took a picture of the man who'd tried to rob her on the E train two weeks earlier and sent it to the cops. He was on the E again, but napping.
Because the mayor's ASL translator is starring in the music video for the Future Islands' song "Cave."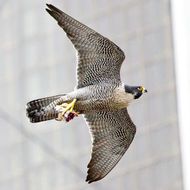 Because Planet Earth aired its first-ever episode about a city, on the return of peregrine falcons to this one. 
Because "BrunchCon" was held at Grand Prospect Hall; people got drunk, then groused afterward about it on social media. ("Feels like we just crawled out of a washing machine full of garbage, guacamole, and 5,000 people.")
Because Jared Kushner would have to testify in front of the Senate Intelligence Committee as part of the Russia investigation, the Times reported.
Because the Brooklyn Public Library introduced Where the Wild Things Are library cards.
Because Bridgegate ended in prison time.
Because a group of people with mirrored cubes on their heads showed up near — where else — the Astor Place Cube. (They were shooting a Tribeca Film Festival short about empathy.)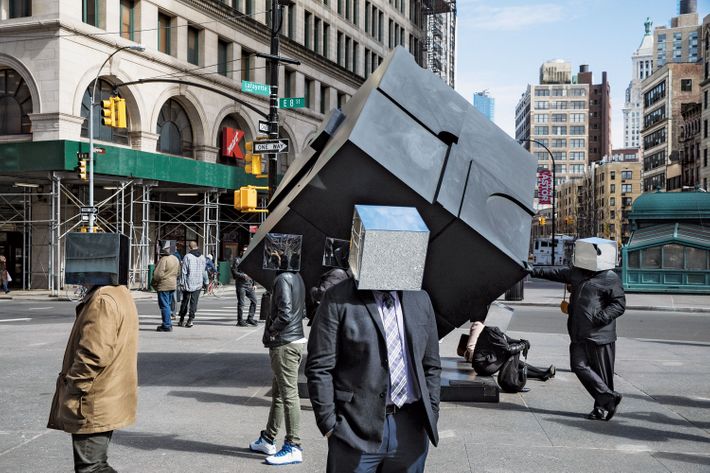 Because Trader Joe's announced plans to open three new city stores.
APRIL
Hello, Dolly!; Du's Donuts; Grannies for Peace; faux–Los Pollos Hermanos.
Because when a man fell on the tracks at the Third Avenue L-train station, ConEd engineer Jonathan Kulig saved him just before the train hit.
Because Brooklyn's Kaws released a limited-edition Jordan sneaker. At a party at the Brooklyn Museum, kids lined up outside to purchase the artist-sanctioned shoes and clothing.
Because 20-year old photographer Humza Deas flew a drone over Columbus Circle to take one of the nine images of city landmarks in the portfolio here.
Because a Brooklyn mother made her son turn himself in after she learned that he stole a luxury stroller.
Because a (hopefully not unsolicited) "Sexting Art Festival" happened for one night at Littlefield, in Gowanus.
Because Brooklyn Steel opened in East W'burg with five LCD Soundsystem shows.
Because Saks Fifth Avenue reorganized its fifth floor — home to Public School, Kenzo, and Delfi — by trend rather than designer, in the hopes of making it better than shopping online.
Because you could mosey along the High Line and see a profoundly weird sculpture by Jon Rafman, L'Avalée des Avales (The Swallower Swallowed).
Because Breaking Bad's Los Pollos Hermanos restaurant became a real pop-up to promote Better Call Saul (no blue meth).
Because Pulitzers went to New Yorkers: Colson Whitehead for The Underground Railroad; Hisham Matar for The Return; Lynn Nottage for Sweat; Du Yun for Angel's Bone; Tyehimba Jess for Olio; Hilton Als for criticism; the Times for feature writing and international reporting; and the Daily News and ProPublica for public service.
Because immigration activists had a Passover Seder in front of 26 Federal Plaza to show solidarity with those facing deportation.
Because the most meme-able line in RuPaul's Drag Race herstory could only have come from an NYC queen: "She could walk out there in a fucking diaper and they'll be like, 'Valentina, your smile is beautiful!' "
Because Port Authority police officers promised not to pull people from overbooked planes.
Because after two years of renovations, the Quad Cinema finally reopened. 
Because demonstrators showed up at the Tribeca AT&T tower to call attention to the supposed NSA activity going on inside and to "exorcise the malevolent energy and information coursing through the AT&T monolith."
Because Girls found its artistic footing in the series' final season.
Because this appeared at Washington Square: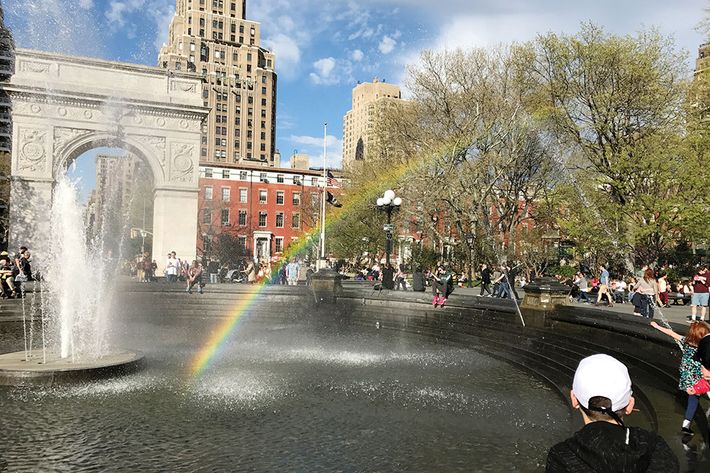 Because octogenarian Granny Peace Brigade protested tax funds going to the military budget at the IRS offices on Broadway.
Because O'Reilly was forced out of Fox.
Because Hello, Dolly! opened, starring Bette Midler.
Because of the Brooklyn Museum's "We Wanted a Revolution: Black Radical Women, 1965–85."
Because the city banned cars from most of Broadway for Earth Day.
Because data from New Yorkers for Parks showed there were at least 146 protests in the city between January and the middle of April — numbers not seen since the '60s.
Because Diana Ross did three nights at City Center.
Because Birdland and Lincoln Center celebrated Ella Fitzgerald's centennial with concerts (plus the Times themed its crossword after her).
Because Wylie Dufresne opened Du's Donuts, with flavors like pomegranate sesame and grapefruit chamomile, in W'burg.
Because the flashy new Kosciuszko Bridge opened over Newtown Creek.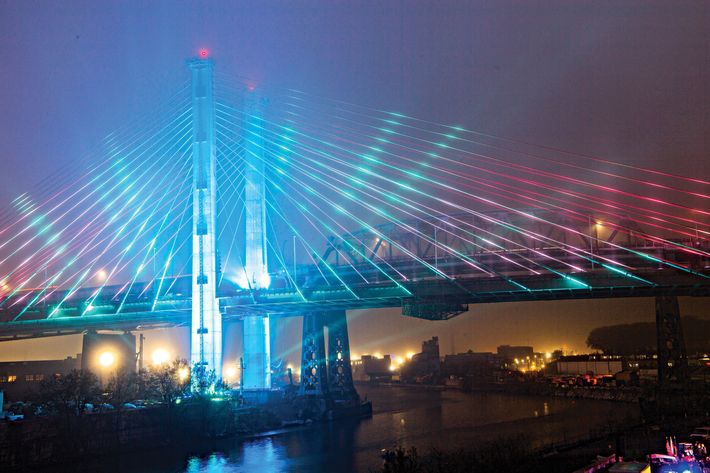 Because Trump missed his gig as our official municipal asshat — easier than being the president, apparently: "I loved my previous life. Actually, this is more work than my previous life. I thought it would be easier."
Because it was the first day of the annual Sakura Matsuri cherry-blossom festival at the Brooklyn Botanic Garden.
Because the weather finally turned.
MAY
Lucky Lotto shirt; Cellino v. Barnes; oh, Lorde; McShiny, ahoy!
Because the NYC Ferry made its inaugural ride — for $2.75 — from the Rockaways to lower Manhattan.
Because second-graders had named the city's new ferries McShiny, Lunch Box, The Friendship Express, and Owl's Head.
Because a hypnotic Anish Kapoor whirlpool sculpture was unveiled in Brooklyn Bridge Park.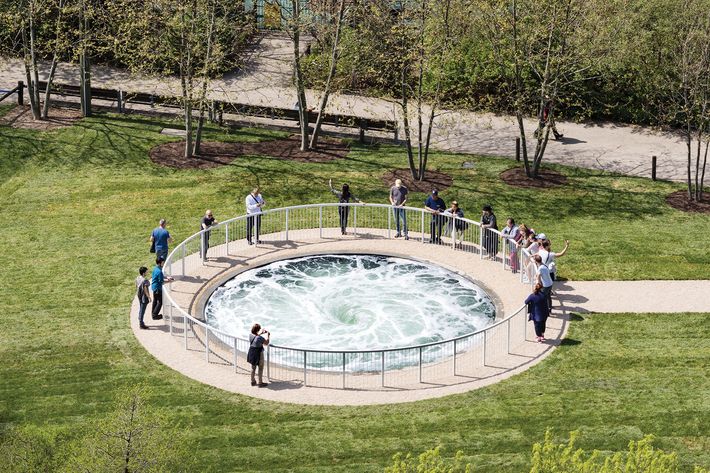 Because in Bushwick, the scruffy DIY playhouse Secret Project Robot reopened in its new location.
Because on Cinco de Mayo at Guac Tacos + Tequila on Avenue B, you could buy five shots and get a free large guacamole. Hopefully you did this with a friend.
Because who could resist the frisson between SNL's Leslie Jones and Colin Jost, her "sexy vanilla muffin," her "tall glass of egg whites," her "delicious coconut milkshake." (They're on one of our three covers.)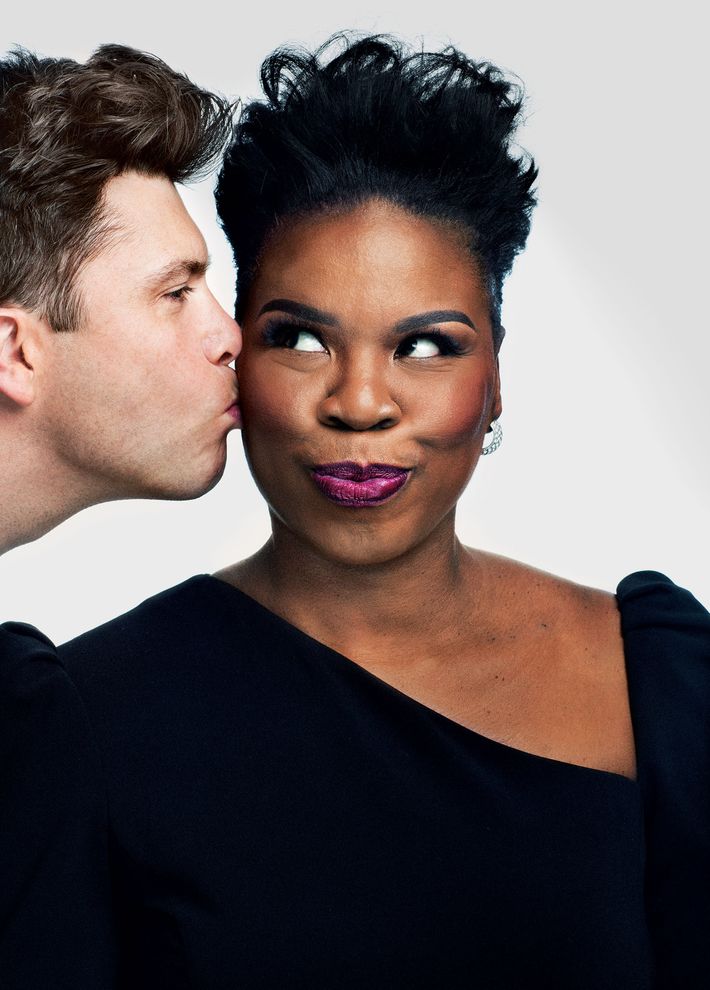 Because the Met Opera threw a five-hour gala celebrating 50 years at Lincoln Center, with baritone Dmitri Hvorostovsky — despite a brain tumor — roaring through "Cortigiani" from Rigoletto.
Because Jennifer Lopez showed she could still jump a turnstile while filming Shades of Blue in Queens.
Because Gulliver's Gate, a 50,000-square-foot world of miniatures, opened in Times Square; it's so intricate that you can even see mini-exhibits inside a mini-Whitney.
Because personal-injury lawyers Cellino and Barnes split up and sued each other, casting doubt on the fate of that irksomely iconic jingle.
Because during the Penn Station crisis, a Long Island bar let riders trade their tickets for cocktails.
Because cops announced that arrests of Times Square costumed characters had plunged 82 percent since the city penned them into "activity zones."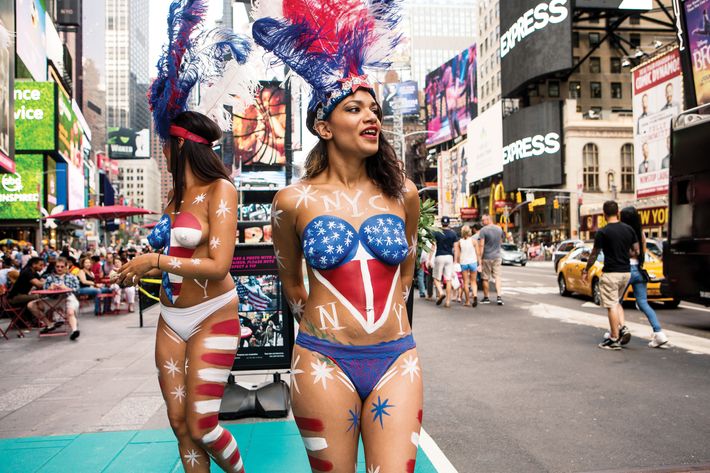 Because when City Aging Commissioner Donna Corrado reminded her staff to flush after going No. 2, the email was leaked to the Post, which declared: "It was a crappy thing to say."
Because the city was full of typically self-centered, always-too-busy New Yorkers taking Mom to brunch.
Because of this cover: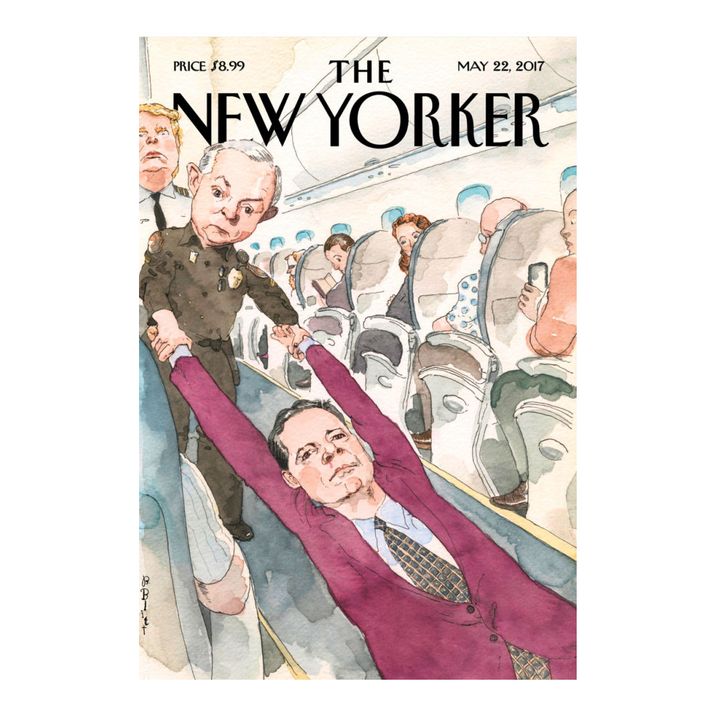 Because three years after a near-fatal car accident, Tracy Morgan was funnier than ever: His Netflix special, Staying Alive, started streaming.
Because Robert Mueller was appointed and began to assemble a badass team for the Russia investigation — including people like Zainab Ahmad, who used to prosecute terrorists in Brooklyn.
Because in 1984, a Long Island farmer turned real-estate investor bought a Jean-Michel Basquiat for $19,000; his heirs sold it for $110 million.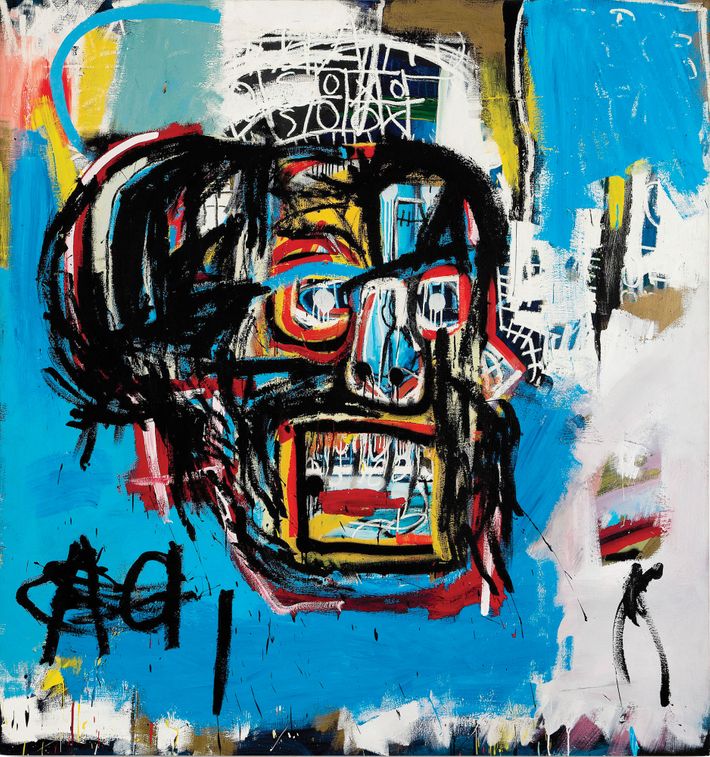 Because the news broke that Trump had told  Russia's foreign minister and ambassador that firing former FBI director James Comey removed "great pressure."
Because the reopened Campbell Apartment was again slinging martinis in its plush Grand Central aerie.
Because AIDS Walk New York — revved up by the threat of Obamacare repeal — raised millions.
Because ABT's David Hallberg returned to the stage after a two-and-a-half-year absence recovering from an injury — and will be Romeo to Isabella Boylston's Juliet this spring. (They're also on one of our three covers.)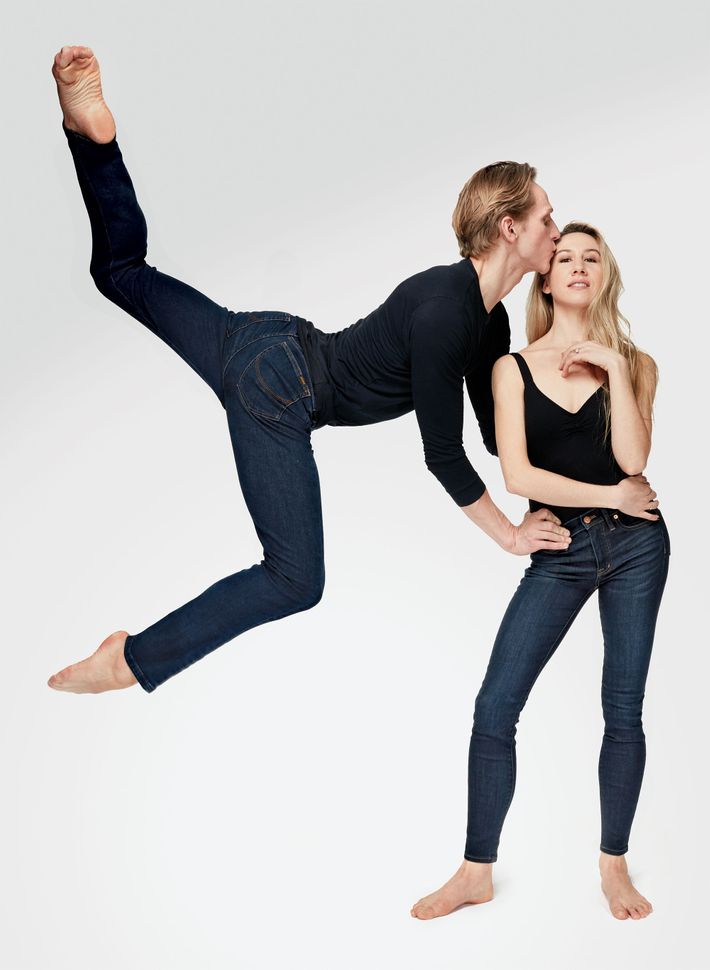 Because a retired security guard found a $24 million N.Y. Lottery jackpot ticket in an old shirt two days before it expired.
Because Fleet Week began. (Hello, sailor!)
Because half of the 200 New Jersey eighth-graders on a trip to D.C. refused to pose with House Speaker Paul Ryan Because of his unwillingness to criticize Trump.
Because the Coney Island Mermaid Parade was saved from financial ruin by the intervention of a real-estate investor and the Coney Island Brewing Company.
Because city beaches officially opened.
Because you could Sunday day-drink at the 78-foot-long outdoor Garden Bar in the Seaport.
Because Lorde popped into a Manhattan Liquiteria, ordered a Blue Velvet, and hooked the cashier up with free tickets to Governors Ball.
Because when an hourslong E-train delay caused nursing student Jerich Marco Alcantara and his family to miss his Hunter College graduation, fellow riders staged a commencement: One pulled up a diploma on his phone; another played Green Day's "Good Riddance (Time of Your Life)."
Because after the Mets lost to the Brewers, Mr. Met flipped the bird to a hectoring fan.
JUNE
Debbie Harry's a Mermaid; Public (Sex) Hotel; humpbacks, ahoy!
Because the New York City Ferry's South Brooklyn route started — Bay Ridge to Wall Street Pier 11 in 41 minutes!
Because Cooper Union grad and director Patty Jenkins reinvented Wonder Woman.
Because Gray Davis, an American Ballet Theatre dancer, leaped onto the tracks to save a man who'd fallen off the platform at 72nd Street.
Because humpbacks are back off New York's coast.
Because we've all been there: Kit Harington fell asleep at the Boom Boom Room.
Because the Public Hotel opened on the LES with floor-to-ceiling windows — enabling neighbors to view assorted sexual shenanigans.
Because Harlem state senator Brian Benjamin introduced a bill to forbid brokers from renaming neighborhoods to entice the gentrifiers. 
Because New York's public pension system became the first in the country to fully divest from private-prison companies.
Because performance artist John Kelly brought his campy, poignant Joni Mitchell show to Joe's Pub. 
Because Brooklyn pizza favorite Emily crossed the East River: West Villagers could pig out on a cherry-pepper-and-ranch-dressing pie.
Because Aaron Judge hit what would be the longest home run in the MLB in 2017.
Because Senator Chuck Schumer made a parody video of the wildly deferential comments showered on Trump at his first Cabinet meeting.
Because city officials announced that we'll be able to text 911 by early next year.
Because it was opening night of BAM Cinema Fest, featuring just about every good indie this year, from The Big Sick to A Ghost Story.
Because Derek DelGaudio's awesome magic show was extended for two months at the Daryl Roth Theatre.
Because a conservative activist who rushed the stage at the Trump-inflected Julius Caesar in Central Park was booed off by audience members.
Because Debbie Harry was the Queen Mermaid at the Coney Island parade.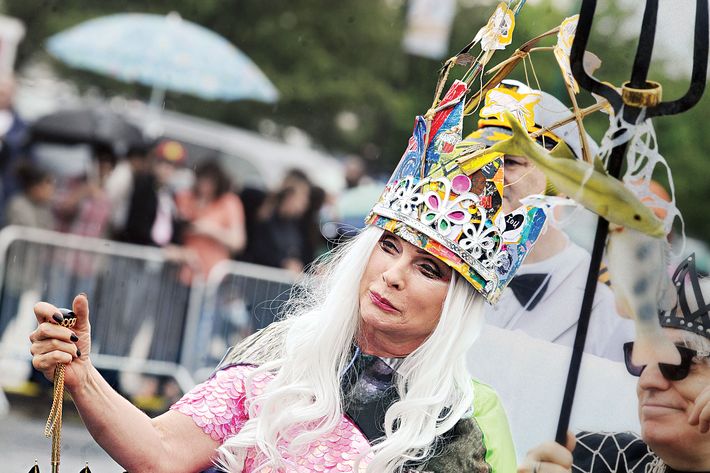 Because it was the first weekend for the Brooklyn Flea in Soho.
Because Madonna reportedly replaced her 20-something "boy toy" Aboubakar Soumahoro with 30-something model Kevin Sampaio.
Because after a man photographed a shark that washed up on Rockaway Beach, he helped it back to oceanic safety.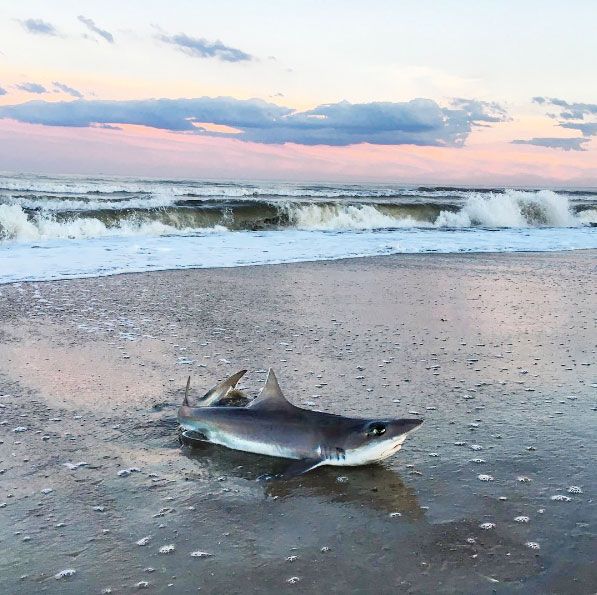 Because of this Post cover: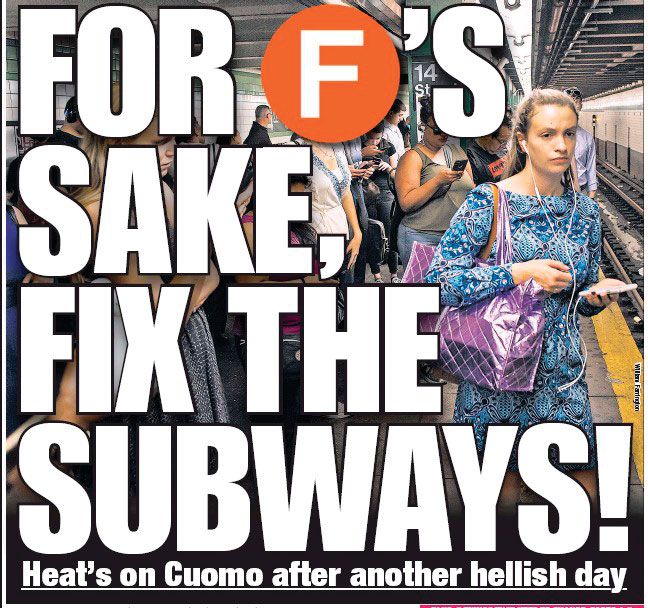 Because the Knicks drafted a point guard who plays D: Frank Ntilikina.
Because Queer|Art|Pride, showcasing new LGBT filmmakers, opened at the Wythe Hotel.
Because Williamsburg hosted the 13th annual Bicycle Fetish Day block party.
Because the Gay Pride Parade was today.
Because the Coney Island Cyclone turned 90.
Because artist Aman Mojadidi installed three old-style telephone booths in Times Square where you could pick up the receivers to hear oral histories of immigration.
Because school was out for summer!
Because NYC public pools officially opened.
Because the New-York Historical Society exhibit "Eloise at the Museum" opened.
JULY
Bald eagles in love; Tucker Carlson, faced; dog saves deer.
Because top free agent Kevin Shattenkirk, a New Rochelle native, signed with the Rangers for less money than he could have gotten elsewhere.
Because clothing label the Outrage sold "I Like My Politics Thigh High" shirts with Teen Vogue's Lauren Duca, donating the proceeds to Planned Parenthood in Tucker Carlson's name.
Because the State Department of Environmental Conservation reported a record 323 couples of breeding bald eagles.
Because in a rapidly changing (and NYU-ing) Greenwich Village, Cornelia Street Cafe marked its 40th year.
Because a "suspicious package" that prompted an evacuation along West 21st turned out to be a missile-shaped time capsule from '80s nightclub Danceteria.
Because the Eastern District U.S. Attorney just busted Hobby Lobby for smuggling ancient artifacts.
Because an art installation of 7,000 yellow pinwheels spread over two and a half acres of Prospect Park.
Because the Drilling Company put on its annual Shakespeare festival in a LES parking lot.
Because Francophones stormed 60th Street for Bastille Day, with slam poetry by French-language rappers. Yo, joyeux anniversaire!
Because Chris Christie's audition as a WFAN sports commentator went about as you'd expect. After Mike from Montclair called him a "fat ass and a bully," the gov called Mike a "bum and a communist."
Because New York is the proud shvitzing capital of America, according to a study plugged by a fan company.
Because the city poured $32 million more into rat control. We're still betting on Remy.
Because locals protested a Starbucks planned for St. Marks and Avenue A. Bedford + Bowery suggested: "Hell no, we won't Frappucino."
Because Brazilian artist Hélio Oiticica's deliriously satisfying show at the Whitney included such tactile pleasures as walking barefoot through soft (and clean!) sand.
Because on the 50th birthday of From the Mixed-up Files of Mrs. Basil E. Frankweiler, the Met fêted the fictional siblings who ran away from home to camp out in the world's best museum.
Because Storm the dog saved a drowning deer off Long Island.
Because "mail rat" one-upped "pizza rat," stashing a Bed-Stuy woman's letters under her house.
Because a Brooklyn councilman announced he would fulfill a promise to Voletta Wallace and have a Brooklyn basketball court renamed to honor her son, Christopher — a.k.a. Notorious B.I.G.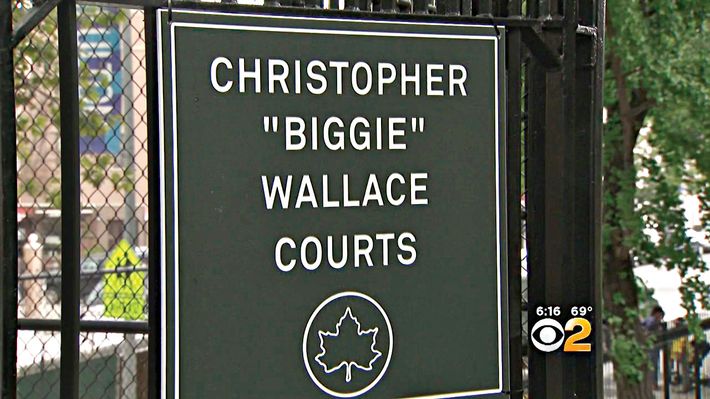 Because New York committed to "radically affordable" housing — as opposed to "unaffordable affordable" housing — with a $1.65M grant to nonprofits that acquire and manage land with tenants.
Because the City Council passed a bill that would guarantee, within five years, legal representation to all low-income tenants who are facing eviction.
Because the Met Breuer opened a show of the zany '80s work of Italian architect and designer Ettore Sottsass.
Because the Museum of the Moving Image opened a permanent Jim Henson exhibit, including 47 original puppets (Kermit the Frog, Miss Piggy, Elmo, Cookie Monster, et al.).
Because when the Daily News asked Luis Galdan, a Panama native who was barbecuing in Brooklyn's Prospect Park, about a spate of squirrel attacks there, he said, "I'm a big man. I can kill it and eat it. Why not? We eat them back home."
Because former Jet Marvin Washington sued Attorney General Jeff Sessions to decriminalize marijuana — he wanted to qualify for federal grants for a business providing weed to football pros suffering from chronic pain.
Because the MTA announced the start of "clearer and more timely" explanations for subway delays, putatively mothballing that maddening catchall: "We are being held momentarily by the train's dispatcher."
Because Larry David revealed he and fellow Brooklyn boy Bernie Sanders are distant relatives.
Because what turned out to be Tom Petty's final concert in New York was a joyous sing-along.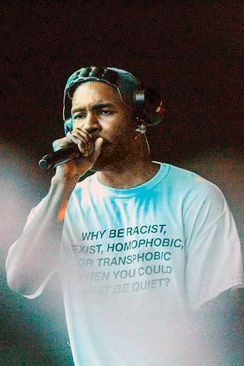 Because of Frank Ocean's surreal, breathtakingly intimate performance at Panorama Festival on Randalls Island.
Because the Bolshoi Ballet came to Lincoln Center and tamed The Taming of the Shrew.
Because after announcing at Panorama Festival that the gig was its final hometown show, A Tribe Called Quest teared up onstage.
Because the Yankees went all-in — and it paid off at playoff time.
AUGUST
Sotomayor, Yankees fan; other Yankees fans get busy; true love on the M14D.
Because according to a real-estate report, having an "A-list celebrity" move into your neighborhood will increase your property value by 127 percent.
Because Chelsea Manning, collaborating with artist Heather Dewey-Hagborg, opened an exhibit at Fridman Gallery of 3-D-printed portraits made from samples of her DNA, taken while she was incarcerated.
Because Brooklyn is too tough for El Chapo, whose lawyers said that Mexican officials had agreed that their client would be extradited only to Texas or California.
Because the New York and Brooklyn libraries made 30,000 movies available for free streaming to anyone with a library card.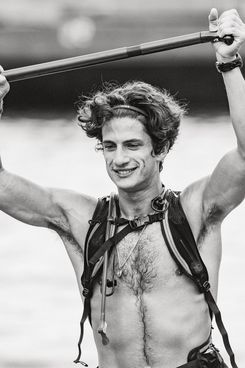 Because Kennedy progeny Jack Schlossberg went shirtless while circum-navigating Manhattan on a stand-up paddleboard to raise money for charity.
Because fierce soccer rivals NYCFC and the Red Bulls sold out a match at Yankee Stadium. (NYC won 3–2.)
Because a tipping-related dispute between Kendall Jenner and Baby's All Right culminated in the bar's retort: "I'm not upset that you lied to me, I'm upset that from now on I can't believe you."
Because Delta Air Lines began construction on its new terminal at La Guardia.
Because of "Pool for U," a start-up in Lakewood, New Jersey that's billed as  "Airbnb for pools."
Because a market report showed Brooklyn rents had dropped — by only 1.1 percent, but still!
Because Dogumenta, America's first art show for dogs, debuted at Brookfield Place with treats, bowls of water, and a wall for peeing.
Because Celebrate Brooklyn closed out its season with Youssou N'Dour.
Because while the Yankees didn't get lucky against the Red Sox, a young couple in matching jerseys did: They dry-humped their way home from the game — a subway spectacle captured on a video that is kind of gross and kind of adorable.
Because a 15-foot-tall inflatable "Trump rat," the handiwork of artist Jeffrey Beebe, appeared down the street from Trump Tower hours before the president was set to arrive.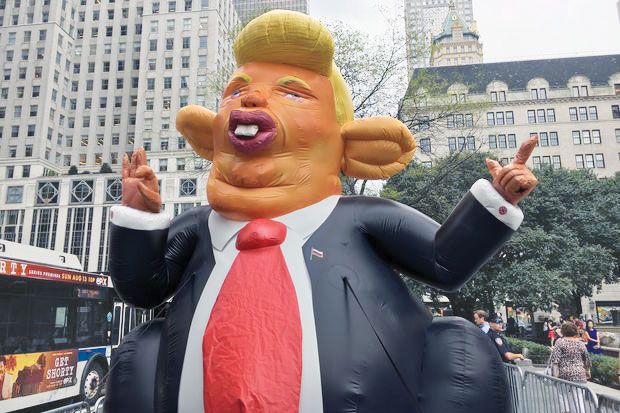 Because Kevin Cook's Electric October retells the story of the 1947 Yankees–versus–Brooklyn Dodgers World Series — "the most exciting ever," according to Joe DiMaggio.
Because regulars at Cafe Buunni in Hudson Heights worked on the café's fifth anniversary to give employees a "beach day."
Because the New York Botanical Gardens stayed open until 10:30 p.m. on Thursdays so visitors could see Dale Chihuly's glass sculptures illuminated at night.
Because the Times broke the news that Steve Bannon had been fired.
Because a photographer beat out the lifeguards to save a girl from drowning at Coney Island.
Because a couple who met on the M14D wed aboard a bus 13 years later.
Because we gathered together outside on the sidewalk to watch the eclipse.
Because there were free sunscreen dispensers at Rockaway Beach.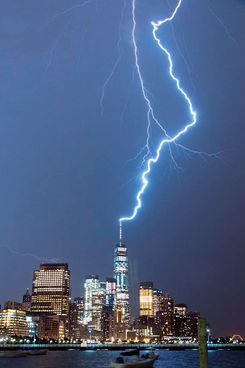 Because lightning hit One World Trade 12 times — and looked very cool.
Because when the City Council voted to open an Office of Nightlife, it tweeted out a Kevin Bacon GIF from Footloose.
Because the Department of Education announced it was going to bring "comfort dogs" to more schools. Now, who's the teacher's pet?
Because Spike Lee's Michael Jackson–themed block party in Bed-Stuy moon-walked through its ninth year.
Because volunteers in Bushwick earned one drink for each bag of garbage collected (at what brokelyn.com anointed "Get Trashed Collecting Trash").
Because these are the new booty-text anti-STD ads from the city: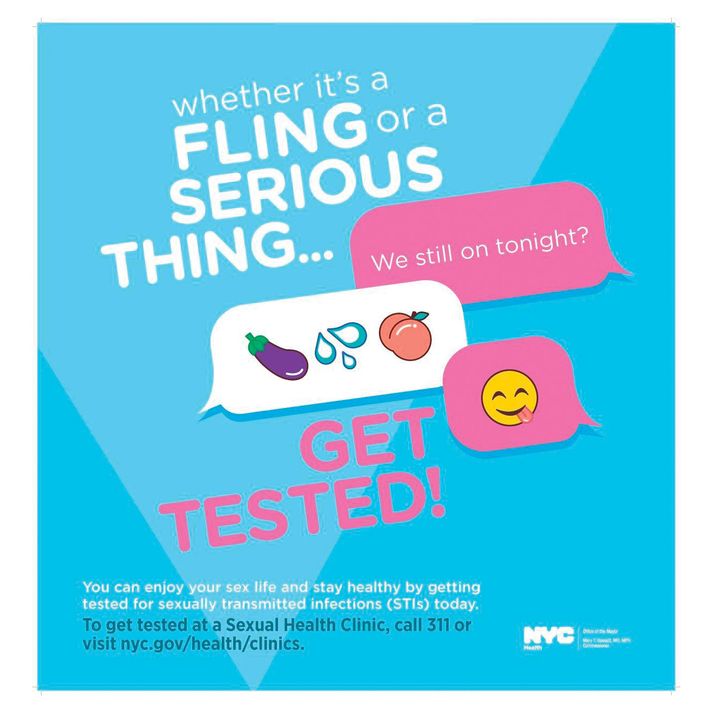 Because a $1.5 million playground opened in North Flushing's Bowne Park — a turtle-themed spray shower honored the local Testudines population.
Because someone tried to smuggle meth into New York in penis candles.
Because Justice Sonia Sotomayor wore her robes to watch the Yankees from the right-field section that was dubbed "Judge's Chambers."
SEPTEMBER
Alan Cumming, barkeep; Mayor de Blasio, punk; Will & Grace, back; Summer of Hell, over.
Because the city said Dumbo's cobblestoned streets won't be paved over after all.
Because it was the West Indian American Day Carnival's Panorama competition, in which steel-drum bands vie for a crown.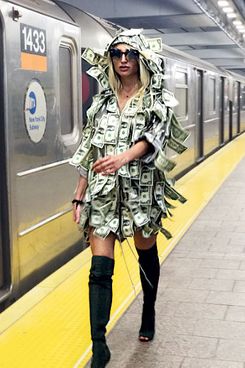 Because an Argentine Playboy model strutted through the subway in a dress made of cash, urging people to peel off money as needed.
Because the ASPCA relocated dogs to New York after Harvey swamped Houston.
Because the Summer of Hell, which really wasn't so hellacious, ended (Penn Station returned to … normal).
Because Telfar Clemens, who threw a party in a midtown White Castle in 2016, designed its new uniforms.
Because lunch was now free at NYC public schools.
Because the FDNY got a women's calendar, too.
Because Alexander Wang made a runway out of city streets, with three separate shows — one in Bushwick with a bouncy castle.
Because public pools and beaches were open an extra week this year.
Because at the Tribute in Light 9/11 memorial, Audubon volunteers helped save birds confused by the beams.
Because Edith Windsor in 1963 found the love of her life at a Village restaurant and went on to be the lead plaintiff in the 2013 Supreme Court case that overturned DOMA; she died in Manhattan at age 88.
Because outcry was so great over a start-up that intended to replace bodegas with glorified vending machines that the tech bros would apologize.
Because Citi Bike expanded to 140 new stations, including in Harlem and Crown Heights.
Because Alan Cumming's Club Cumming had its "hard opening" in the space that once housed the late great E.V. gay bar Wonderbar.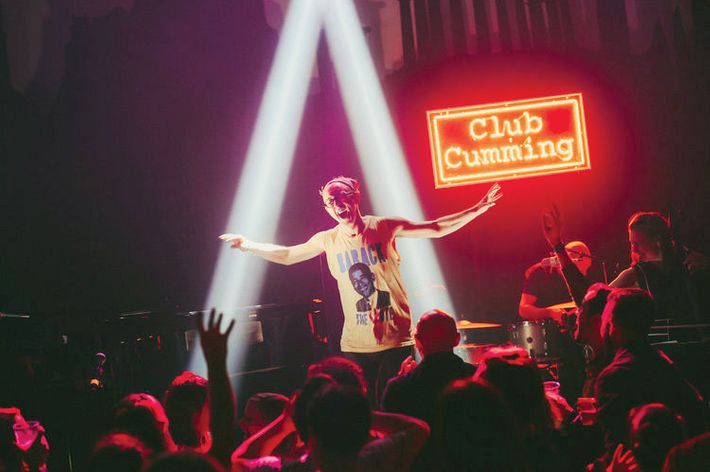 Because Nicki Minaj performed in 82-degree heat at the Meadows Festival in a patchwork fur coat.
Because "Adoptapalooza" brought hundreds of adorable pets to Union Square.
Because you could see painter Lisa Brice "wrest female nudity from the grasp of art history's men" at Salon 94.
Because de Blasio, flanked by Marky Ramone, signed a bill establishing the "nightlife mayor," then bragged about seeing the Clash at Bonds Casino in 1981.
Because the city announced a plan to install 50 places to plug in your future electric car by 2020.
Because Grand Central's celestial ceiling was briefly transformed to show the faces of female scientists.
Because the Wu-Tang Clan released a Martin Shkreli dis track, "Lesson Learn'd."
Because Interpol played Turn On the Bright Lights straight through at Forest Hills Stadium on the album's 15th birthday.
Because the Mets got fans to bring Puerto Rico donations to Citi Field.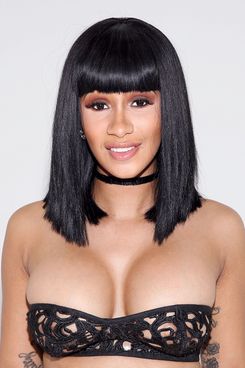 Because Cardi B was the first solo woman rapper with a No. 1 song since Lauryn Hill.
Because our billionaire divorces are petty spectacles: Harry Macklowe's estranged wife accused him of stealing space from her apartment for his adjacent unit.
Because Audrey Hepburn's Breakfast at Tiffany's script sold for $847,000.
Because Will & Grace was back on the air.
Because Torres released Three Futures, a record extolling ladyspreading.
Because the UWS got the okay for city rodent-control money (after reports of rats leaping into strollers).
OCTOBER
Strippers on strike; Rikers pizza parties; Kosciuszko implodes; so does the Cabaret Law.
Because the ugly, old Kosciuszko Bridge was torn down. The sparkly new one kept the hard-to-spell name, though.
Because Bethenny Frankel chartered four planes to get supplies to Puerto Rico.
Because after Trump withdrew from the Paris climate accords, the city released its plan to honor the deal.
Because a Manhattan woman sued Tootsie Roll Industries: Her Junior Mints box didn't have enough mints; she'd been "tricked into paying for air."
Because Times reporters Jodi Kantor and Megan Twohey finally exposed Harvey Weinstein for what he is.
Because Cuomo said NYC "will not go back" on requiring employers to cover contraception, despite Trump's rollback.
Because a man shouting the N-word on an L train was pelted with a cup of soup.
Because before a restoration of Brooklyn's Paramount Theater, it used a one-ton Wurlitzer organ in a concert of Gershwin and Rodgers hits.
Because the VR exhibit "Celestial Bodies" at the Museum of Sex was called a "shared infinite pole dance in space." 
Because Ronan Farrow broke new Weinstein ground in The New Yorker.
Because bartender Austin Tyler Rogers won his 12th straight game of Jeopardy!, pocketing $411,000.
Because you can't miss "Good Fences Make Good Neighbors," Ai Weiwei's exhibition on the migration crisis, with works in every borough.
Because Kehinde Wiley is painting Obama's official portrait.
Because the Vietnam exhibit at the New-York Historical Society includes the Pentagon Papers — at a very good time to admire whistleblowers.
Because a Hindu group held a beach-cleanup event at Jamaica Bay.
Because after taking a helicopter ride over New York, autistic artist Stephen Wiltshire presented a stunningly detailed, vast drawing of the city he'd made from memory.
Because Alec Baldwin won an Emmy for his SNL Donald.
Because a councilman wants to rename the W'burg Bridge for Sonny Rollins.
Because city libraries forgave children's fines.
Because after Hurricane Maria, Jimmy Dowd, an owner of a Rockaway surf shop, raised thousands for a Puerto Rico–based artist who, five years earlier, had raised money for Dowd's shop after Sandy.
Because at the Tompkins Square dog parade, a pup wore Kellyanne Conway's Gucci–cum–Revolutionary War look.
Because the new Correction commissioner kept a policy of pizza parties for well-behaved Rikers inmates.
Because de Blasio revealed plans to make Prospect Park car-free.
Because Oedipus El Rey got refreshed at the Public, which set it in South Central L.A.
Because Diller Island was resurrected.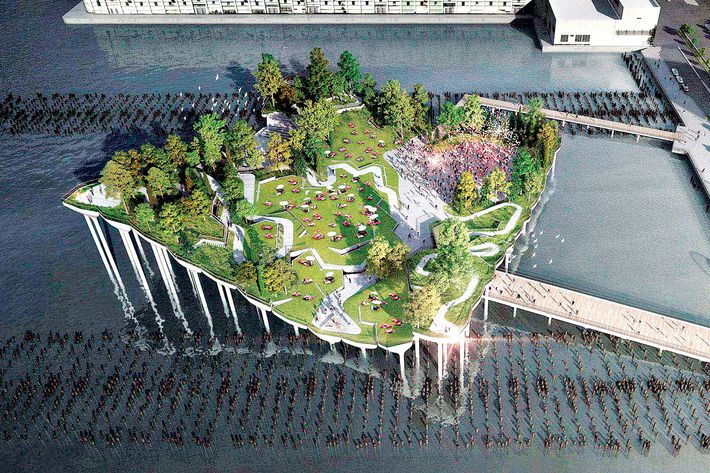 Because the Bronx Zoo released video of a snow leopard born over the summer.
Because NYC strippers were on strike, demanding equal treatment with what "Page Six" called "gyrating-but-clothed bartender babes."
Because after cops shut down Bike Kill, the annual mutant-art bike battle and party relocated from Bushwick to a dead-end street near Home Depot in Bed-Stuy.
Because per urban-planning group Arcadis, the city's public transit ranked No. 1 in the U.S. for sustainability.
Because after declaring bankruptcy, the Big Apple Circus returned for a 40th season.
Because after a century, the City Council repealed the Cabaret Law, which had made dancing illegal in most bars.
NOVEMBER
Worst landlords outed; Lauer and Rose ousted; Soho hotel de-Trumped.
Because this is the first full month when New York employers can't ask about previous salaries. 
Because an evening vigil on the West Side's river front aimed to bring New Yorkers together after the bike-lane attack.
Because downtown cool-girl Greta Gerwig's Lady Bird opened to rave reviews.
Because Maccarone gallery opened "Angel Youth":  stunning Jack Pierson photos.
Because Shalane Flanagan became the first American woman to win the NYC Marathon in 40 years, in 2:26:53.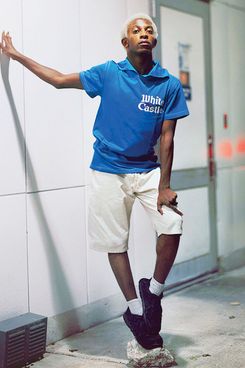 Because after designing those White Castle uniforms, Telfar Clemens won a CFDA/Vogue Fashion Fund award.
Because cats had some competition: A video on Reddit caught a raccoon pacing the aisles of a New York bodega.
Because the Met Gala names new theme: "Heavenly Bodies: Fashion and the Catholic Imagination." That will be three Hail Marys for that dress.
Because Park Slope's Fifth Avenue BID installed cigarette-recycling boxes — butts are melted into plastic, and leftover ash and tobacco are composted.
Because the MTA made subway announcements gender-inclusive: "Ladies and gentlemen" gave way to "Riders," "Passengers," and "Everyone."
Because you could now have breakfast at Tiffany's: The store opened a café.
Because Bushwick artist Hunter Fine set up the first Squeakeasy — a "secret bar for rats" — in the East Village.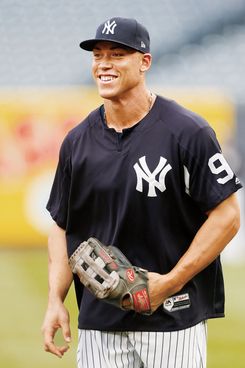 Because Yankees phenom Aaron Judge was named A.L. Rookie of the Year, despite that bad shoulder.
Because the NYC Public Advocate's Office released the new "100 Worst Landlords" list, steering us away from peril — and, just maybe, raising pressure on dastardly property owners.
Because the San Remo Cafe became a Star Wars pop-up bar — droids drink free.
Because a suit tailor for women, Suistudio, opened its first New York shop. 
Because Vox employees announced a union drive just two weeks after DNAInfo and Gothamist were shuttered after unionizing.
Because you could see a Rodin show at the Brooklyn Museum — and at the Met. 
Because when scaffol ding collapsed in Soho, passersby helped dig people out.
Because Charlie Rose was exposed; PBS and CBS would fire him the next day.
Because according to the Times, traffic deaths declined so far in 2017 — e.g., there'd been 41 fewer pedestrian deaths than at this time last year. 
Because the Trump name is coming off the Soho hotel.
Because there's nothing like being in the deserted city on Thanksgiving. 
Because there were no reported Black Friday brawls in our fair city.
Because Susan Sontag's Debriefing: Collected Stories featured her much-admired "The Way We Live Now," about gathering around a friend dying of AIDS.
Because the Transit Museum and the MTA redeployed Depression-era trains festooned with ceiling fans and original ads from the time period.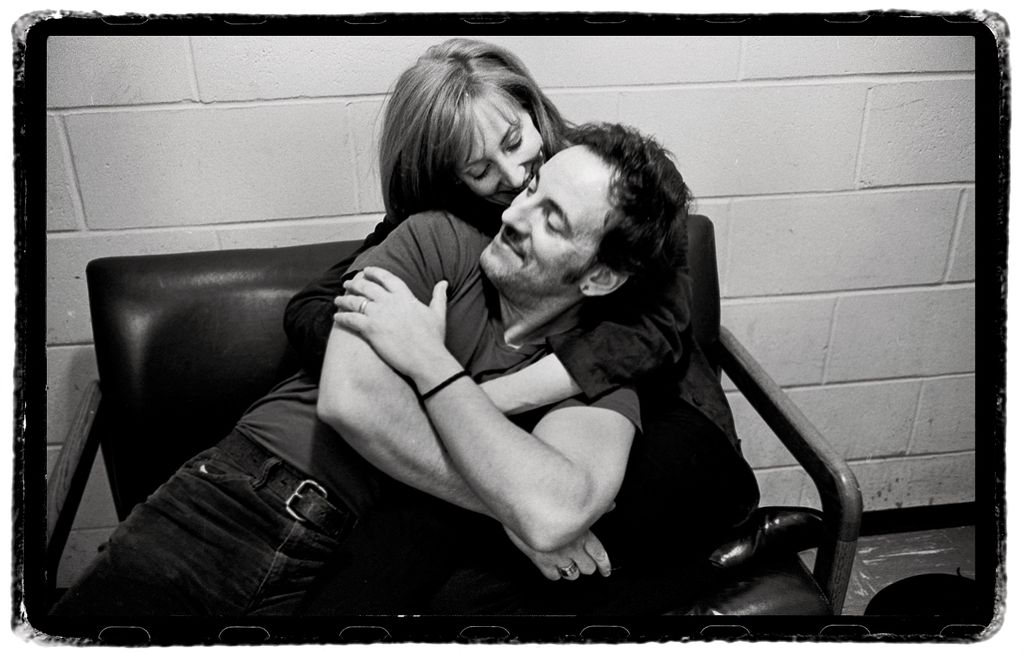 Because after 26 years of marriage, Bruce Springsteen and Patti Scialfa still sing love songs to each other on Broadway — and their run was extended for four more months.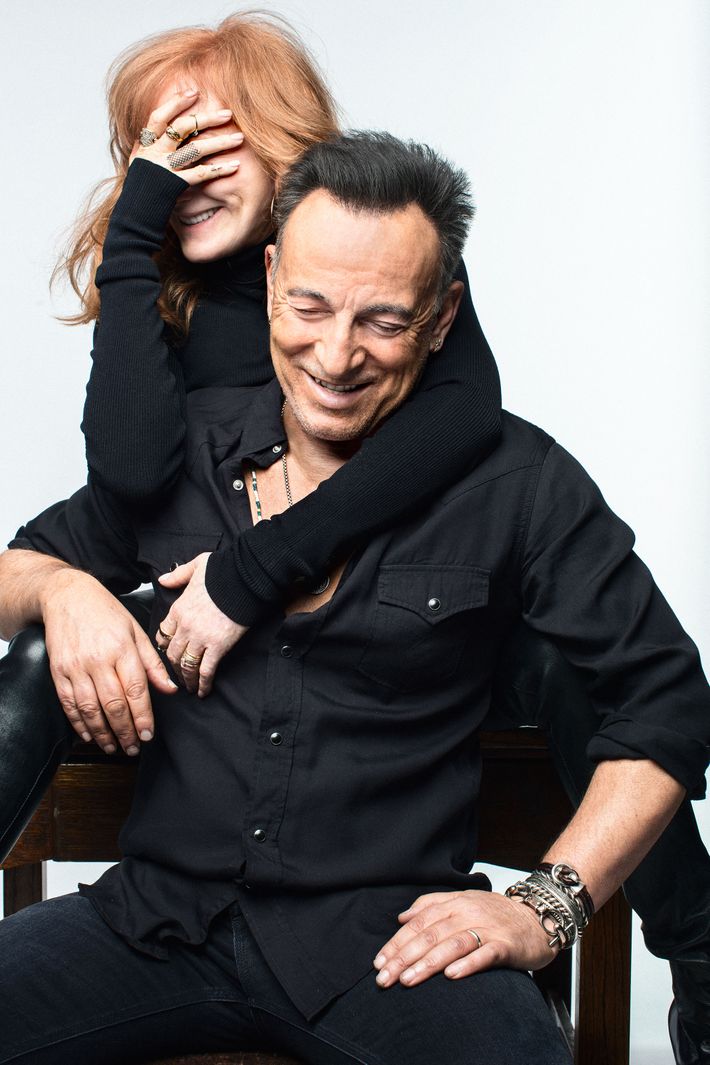 Because Legal Aid lawyers protested after ICE agents arrested a client at Brooklyn Criminal Court.
Because the Rockefeller Center Christmas tree was lit. Oh, and, Matt Lauer was absent from Today.
Because the murder rate had declined 17 percent over this time last year.
DECEMBER
Rabbis top Jane Austen; SantaCon brought to heel; Eli's back!
Because this was the first weekend to visit the Met's David Hockney exhibition.
Because streetwear label Only NY launched a collaboration with … the MTA.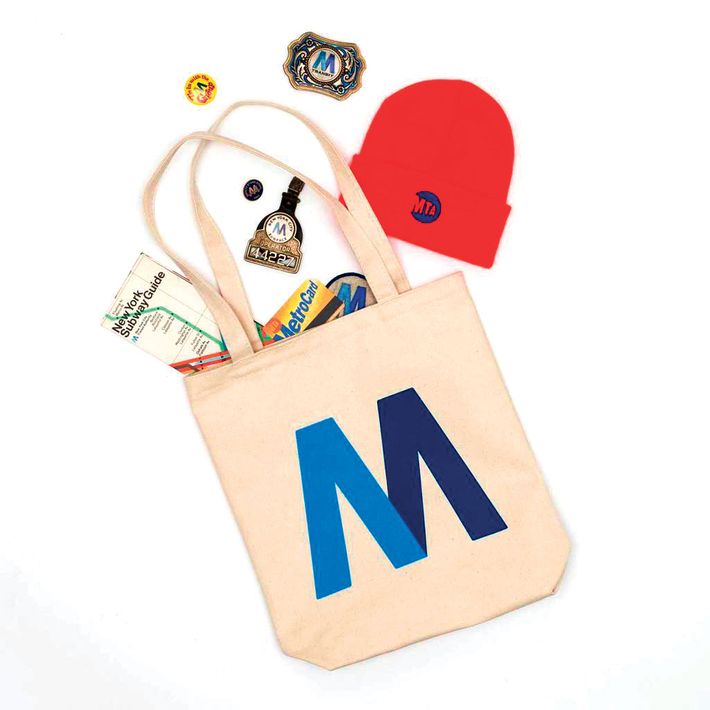 Because New York rabbis did Jane Austen one better and held a triple wedding for Israeli couples who aren't considered Jewish in their native country (for reasons such as sexual orientation and remarriage). 
Because after five years, Cash Cab was back, baby.
Because Helmut Lang launched a special taxi-themed collection with an ad campaign starring actual cabdrivers.
Because in a post–Carmelo Anthony run of actually being decent (so far), the Knicks beat the Grizzlies. (And Kristaps Porzingis is ballin' like one of the best.)
Because the inaugural cat-film festival happened at the SVA Theatre.
Because Suddenly, a gritty Israeli puppet dystopia, played at BAM.
Because it was SantaCon, and coincidentally NJ Transit and the MTA banned booze onboard for the day.
Because Eli Manning returned to his rightful place as the Giants' starting quarterback.
*This article appears in the December 11, 2017, issue of New York Magazine.