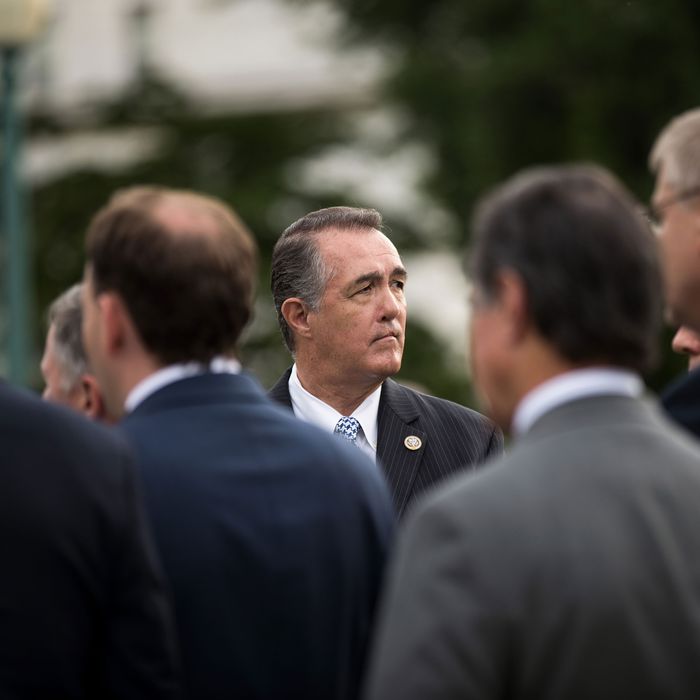 Trent Franks.
Photo: Drew Angerer/Getty Images
Arizona representative Trent Franks, who announced Thursday that he would resign from Congress at the end of January, abruptly left office on Friday.
The change of course came as a clearer picture began to emerge about Franks's misbehavior, which was first reported as conversations with aides about surrogacy. Turns out, according to multiple reports, that the eight-term congressman wanted to do more than talk to aides about getting pregnant.
Two female staffers, according to Politico, say Franks asked them about serving as surrogates for him and his wife. Sometimes that asking turned into pressuring. And the whole time, it was unclear whether he wanted the hypothetical child to be implanted via in vitro fertilization or the old-fashioned way. As Politico put it, the aides "fretted Franks wanted to have sex to impregnate them."
The Associated Press adds that Franks offered one staffer $5 million to carry his child. The congressman is worth about $33 million thanks to his lucrative oil-company holdings, which have only increased in value since he took office.
"During my time there, I was asked a few times to look over a 'contract' to carry his child, and if I would conceive his child, I would be given $5 million," she said, adding that she refused to look over the contract and has never seen a copy.




The woman said the requests shocked her, and made her feel afraid that if she didn't agree, she would face professional consequences. She said she spoke to another aide in the office, who had also been approached about surrogacy.
According to Politico, the congressman also "tried to persuade a female aide that they were in love by having her read an article that described how a person knows they're in love with someone." How romantic.
One of the aides who rebuffed Franks also reported that she felt retaliated against by the congressman, who cut off her access to him after she declined his request to impregnate her.
Franks's accelerated resignation on Friday came, he said in a statement, after his wife fell ill. "Last night, my wife was admitted to the hospital in Washington, D.C., due to an ongoing ailment," the statement said. "After discussing options with my family, we came to the conclusion that the best thing for our family now would be for me to tender my previous resignation effective today, December 8th, 2017."
Franks resignation makes it three lawmakers who have stepped down or announced their intention to step down this week. On Tuesday, it was Representative John Conyers. On Thursday, Senator Al Franken. Who will it be tomorrow?