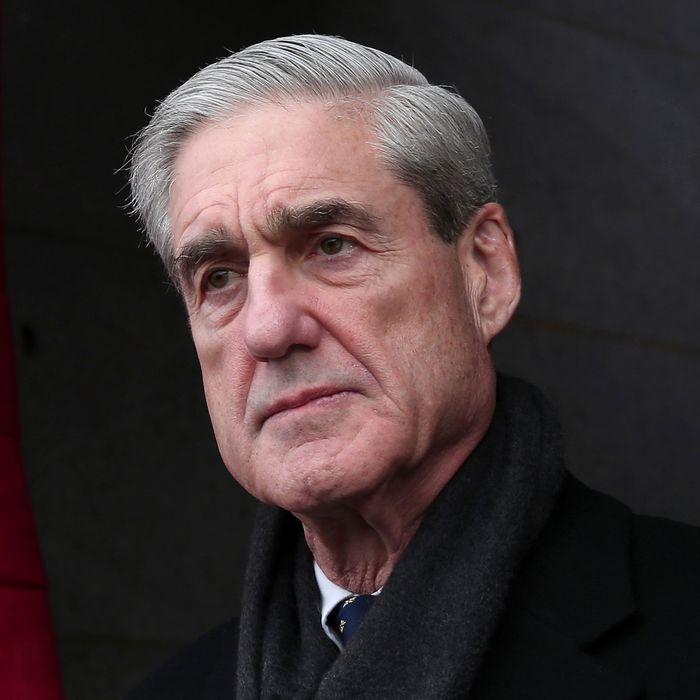 Mueller comin'.
Photo: Win McNamee/Getty Images
Bloomberg reported on Tuesday morning that Special Counsel Robert Mueller issued a subpoena to Deutsche Bank, Germany's largest lender, several weeks ago. The bank agreed to submit documents "on its relationship with [President] Trump and his family," which go back almost 20 years, according to an anonymous source.
Jay Sekulow, one of Trump's personal lawyers, denied anything of the sort. "We have confirmed that the news reports that the Special Counsel had subpoenaed financial records relating to the president are false," he told Reuters in a statement. "No subpoena has been issued or received. We have confirmed this with the bank and other sources."
On Wednesday, the Wall Street Journal provided more context on the request, reporting that the subpoena concerned "people or entities affiliated with" the president, not Trump himself.
The move could nevertheless be significant on multiple levels. For one thing, it shows that Mueller has succeeded where Democratic lawmakers have failed: getting Deutsche to cough up details about the roughly $300 million Trump owed the bank for real-estate dealings before he ran for president. Democrats like Congresswoman Maxine Waters had questioned whether those loans had any connection to Russia, but the bank had rebuffed all requests until now, citing confidentiality laws.
The $300 million includes a $170 million loan Trump took out to complete a hotel in Washington, two mortgages against his Trump National Doral Miami resort, and a loan against his tower in Chicago.
Deutsche also issued a huge loan to Jared Kushner, Trump's son-in-law, to help refinance a Manhattan property a month before the 2016 election
Deutsche's connections to Russia aren't merely hypothetical: The bank has previously paid $670 million to U.S. and U.K. regulators over its role in a Russian money-laundering scheme, but a Department of Justice inquiry into a $10 billion scheme has stalled for unclear reasons.
An internal review conducted by Deutsche Bank showed no connection between those transactions and Trump, but now Mueller's squad of investigators will make their own judgment.
Perhaps more significantly, though, Mueller's pivot into Trump's financial background has the potential to make the special counsel's job security even more precarious. The president's line on Mueller's investigation has long been clear: Stick to looking into election meddling, clear me of personal wrongdoing, then go away. In an interview with the New York Times in July, Trump, asked if Mueller's investigation would cross a "red line" if it expanded to look at his family's finances beyond any relationship to Russia, Mr. Trump said, "I would say yes. I think that's a violation. Look, this is about Russia."
Mueller, of course, is looking for a Russia connection with this subpoena, but Trump and his lawyers are unlikely to be sympathetic to that interpretation, and will likely cast it as an unreasonable intrusion into the president's personal life — part of the "witch hunt" the president keeps decrying.
Ty Cobb, one of Trump's lawyers, has (foolishly) assured him that Mueller's investigation was on the verge of wrapping up any day now. But with the indictment of Michael Flynn last Friday — which signals more trouble on the way – and now the Deutsche Bank subpoena, those assurances are probably wearing thin. Mueller isn't going anywhere unless Trump takes drastic action, so it may be time to start thinking again about how, exactly, that drastic action might work.
This piece and its headline has been updated to reflect more reporting about the nature of the subpoena.