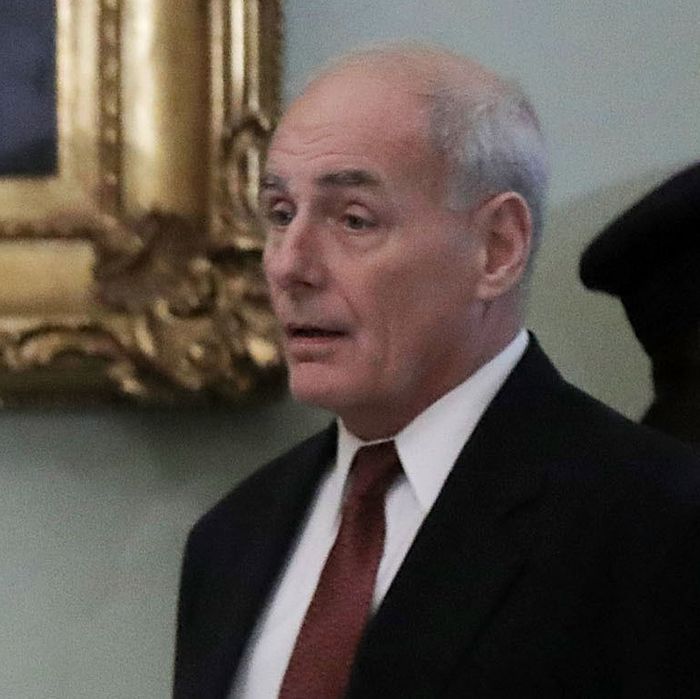 Donald 'the Menace' Trump and John 'Mr. Wilson' Kelly.
Photo: Chip Somodevilla/Getty Images
White House chief of staff John Kelly's celebrated efforts to corral his notoriously undisciplined boss may not be 100 percent effective, according to an unsurprising new report in The Wall Street Journal. Apparently, President Trump has been known to summon aides to his private quarters at night to give them assignments, which he then asks them to keep secret from Kelly.
The Journal also reports that, according to several anonymous sources, Trump sometimes dodges his official call schedules so he can sneak in advice from friends outside the White House. That is, again, to avoid Kelly and Trump's other minders' attempts to control who the president talks to and what information he receives. From the other end, Trump's friends have reportedly been getting around Kelly by passing messages to Trump through the First Lady, who has, according to the Journal, "taken on a more central role as a political adviser" since moving into the White House over the summer.
The White House didn't comment on the story, but staffers maintained that Trump and Kelly continue to get along and work well together. Melania Trump's spokesperson, on the other hand, called the reports "more fake news." But a more accurate categorization would probably be: "more leaked news that characterizes the president as a mischievous little boy treating the White House as his clubhouse and his advisers like substitute teachers."