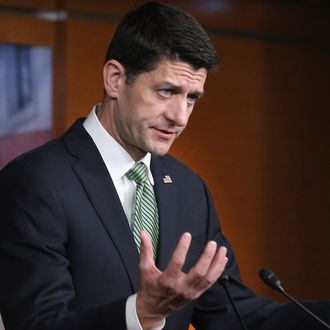 Paul Ryan is nabbing more money for the Makers.
Photo: Mark Wilson/Getty Images
Since they are giving business owners and wealthy heirs a massive tax break, Republicans have shied away from also cutting the top tax rate. However, the Washington Post reports that the compromise bill between the Senate (which cut the top individual tax rate from 39.6 percent to 38.5 percent, and the House, which kept the top tax rate at 39.6 percent, will be … 37 percent.
You may notice that isn't a compromise at all. It seems Republicans got itchy to use their one big chance at government control to give rich people the biggest possible tax cut they could design.
Remember, Steve Bannon had previously floated an increase in the top tax rate as a symbolic nibble at the wallets of rich people, to give Republicans a bit of cover for their corporate tax cuts. Not only have they ignored this approach, they now seem to be going the other way. The bill is horribly unpopular anyway — might as well get all the cash you can get out of it.