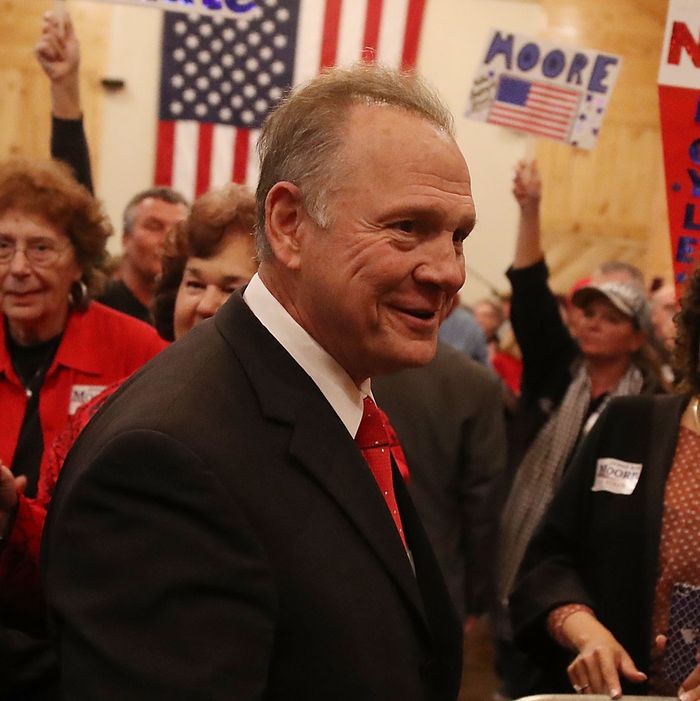 Moore's final rally did not disappoint.
Photo: Joe Raedle/Getty Images
Have you ever traveled down a dirt path in rural southeast Alabama in December and arrived at a barn in the woods to find Steve Bannon, Representative Louie Gohmert, Sheriff David Clarke, Roy and Kayla Moore, a woman performing an interpretive dance in front of a tree, and several inflatable alligators?
Me neither. At least, I hadn't until Monday evening, the night before the special election to fill the United States Senate seat vacated by Attorney General Jeff Sessions, when Moore and his wife came out of hiding in Midland City to talk about how much he hates the media and also how he has many black friends and one Jewish lawyer.
Moore, a far-right social conservative and the Republican candidate in the race, is a former chief justice of the state Supreme Court (twice removed for refusing court orders) currently best known for his alleged habit of dating, attempting to date, or assaulting teenage or underage girls in the '70s and '80s.
But despite a cascade of press so negative that rather than discuss it, people here tend to lock eyes and turn pale in nauseated understanding, the race is close. Early on Tuesday morning, Moore maintained an average lead of 2.2 points over his Democratic opponent, Doug Jones.
A meager single-digit lead isn't enough to retire from the campaign trail altogether, though Moore certainly tried that. He told the crowd assembled in the barn that as reporters tried to locate him over the weekend to ask him questions about this endeavor for which he's volunteered, he was actually out of town, or as he phrased it, "out of this mess" because he had something more important to do: "Take my wife and relax at West Point."
Wearing a BeDazzled red cardigan with her bleached hair falling icicle-like around her shoulders, a relaxed Kayla Moore spoke on behalf of her husband, who loomed closely behind her. She read from yellow-lined note paper her prepared complaints about the media, which she said has dishonestly attempted to characterize Moore as intolerant. "While they're here" she said, she wanted to "set the record straight."
"Fake news will tell you that we don't care for Jews," she said. "One of our attorneys is a Jew. We have very close friends that are Jewish and rabbis and we also fellowship with them."
She added, "Fake news would also have you think that my husband doesn't support the black community. Yet my husband appointed the very first black marshal to the Alabama Supreme Court. We have many friends that are black and we also fellowship with them in church and in our home."
Roy Moore took to the stage next, dressed in a dark suit and red tie that failed to mask a distinct and unusual presence. His body movements seemed almost wooden, and the expression on his face was as though he'd been crawling around the stage in the dark and then the lights suddenly flickered on. He mumbled and spoke fast which, combined with his heavy accent, made it almost plausible that the speech was delivered partly in tongues.
"I'm going to tell you, if you don't believe in my character, don't vote for me," he said, I think.
Although Moore is more difficult to get ahold of these days, the evening's boldfaced name was Bannon. After all, it was called the "DRAIN THE SWAMP RALLY" according to the press release, held at Jordan's Activity Barn on Country Road 59 South — a literal barn, it turned out.
Bannon has supported Moore since the primary, when doing so had the attention-generating effect of putting him in opposition to his former boss, President Donald Trump, who endorsed Luther Strange.
And Bannon stuck by him as the allegations regarding his past personal behavior began to mount. Meanwhile, many Republicans said Moore should resign if the accounts are true, called the women's claims credible, and threatened to expel him from the Senate if he's elected.
Ivanka Trump went as far as to say, "There is a special place in hell for those that prey on children" — a line Bannon seemed to mock in his remarks from the stage on Monday.
Standing beneath one of several extremely out-of-place chandeliers and wearing a camo jacket over what I can only assume were his customary 400 dress shirts, Bannon smirked. He said, "There is a special place in hell for Republicans who know better."
Throughout the election, Bannon has used Breitbart News, the website where he's chairman, to attempt to discredit Moore's accusers and promote his candidacy with polls provided to them from a pro-Moore super-PAC, and exuberant coverage from his scribes. For weeks, they seemed in the wilderness. But then last Monday, the president came around and endorsed their guy. Other top Republicans followed suit.
From the stage, where Bannon paced around holding a microphone like he was performing standards in the Catskills, he ribbed and lanced the media, calling out The Guardian, a British newspaper, by name. And he also delighted in utilizing a classic Trump applause line — "Lock her up!" — which is no less welcome at Republican events in Alabama now that four officials from the Trump campaign, transition, and White House have been charged by the Special Counsel Robert Mueller.
A man in the audience held a sign that read, "WHO'S YOUR #1 NEWS DADDY BREITBART! NOT FAKE."
Outside of the barn, someone with attention for detail constructed a swamp out of tarp, sticks, houseplants, and plastic alligators. A Breitbart employee told me there would be dry ice for some dramatic flair, but I never saw any.