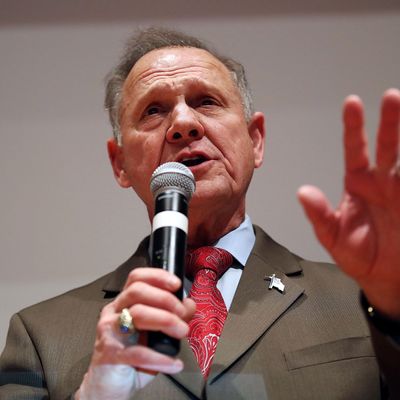 The original strategy, "wait on God," was taking too long.
Photo: Joe Raedle/Getty Images
Most experts have concluded that Republican Roy Moore lost the special Senate election in Alabama earlier this month because he faced multiple allegations of sexual misconduct toward underage girls (though some think his history of theocratic extremism didn't help). Moore — who has refused to concede the race everyone else has considered over since 10:30 p.m. on December 12 — has an alternate theory: He is the victim of rampant voter fraud.
Late on Wednesday, Moore filed a complaint in the state circuit court in Montgomery, Alabama's capital, seeking a temporary restraining order to prevent Democrat Doug Jones from being certified as the election's winner. Moore's attorneys argue that if Alabama officials certify the results as planned during a 1 p.m. meeting on Thursday, he will "suffer irreparable harm" and be "denied his full right as a candidate to a fair election."
Jones received 49.9 percent of the vote to Moore's 48.4 percent, which is a gap of 1.54 percent or about 20,715 votes. Nevertheless, on election night Moore suggested that there would be a recount — which is only triggered in Alabama when the results are within half a percentage point — and claimed military ballots might sway the race, though only 8,700 Alabamans are currently serving.
Now Moore claims that voting irregularities on various fronts cost him the election (and says he took a polygraph test that showed the sexual-misconduct accusations were bogus). Per the New York Times:
Mr. Moore's court filing ran for dozens of pages, and it argued that returns in Jefferson County, the state's most populous county, "confirmed election fraud." It also said that turnout in the county was suspiciously high; it suggested that Mr. Jones had benefited from voter intimidation; and it argued that Mr. Moore's opponents had spread "lies and fraudulent misrepresentations."
"This is not a Republican or Democrat issue as election integrity should matter to everyone," Moore said. "We call on Secretary of State [John] Merrill to delay certification until there is a thorough investigation of what three independent election experts agree took place: election fraud sufficient to overturn the outcome of the election."
One of the experts Moore cites is Richard Charnin, who says the probability that the election results are accurate is "less than one in 15 billion." Charnin runs a blog devoted to "JFK conspiracy and systemic election fraud analysis," and is known for pushing dubious voter-fraud claims, like that George W. Bush stole the 2004 election from John Kerry, Bernie Sanders is the rightful winner of the 2016 Democratic primary, and President Trump actually beat Hillary Clinton in the popular vote, not just the Electoral College.
Alabama officials have repeatedly said they found no evidence of voter fraud, and President Trump acknowledged that Moore lost on election night. It's unclear when a judge will consider Moore's complaint, but Alabama secretary of State John Merrill, a Republican who voted for Moore, seemed confident that nothing will come of it.
"It is not going to delay certification and Doug Jones will be certified (Thursday) at 1 p.m. and he will be sworn in by Vice-President Pence on the 3rd of January," Merrill told the Associated Press.