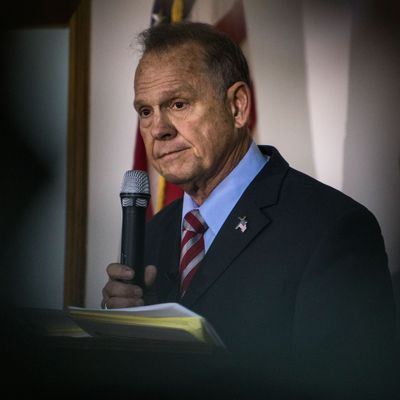 No Moore.
Photo: Joe Buglewicz/Getty Images
It's official: Doug Jones will be the next senator from Alabama.
State election officials certified his win Thursday after a judge rejected a last-ditch challenge by his opponent, the mall-prowling demagogue Roy Moore. Despite losing the election by 21,924 votes, Moore argued in a lawsuit filed Wednesday night that there was "election fraud sufficient to overturn the outcome of the election." The suit said today's certification should be delayed until those claims could be investigated.
But those claims were almost universally dismissed, even by Moore's supporters. Secretary of State John H. Merrill, a Republican who voted for Moore, says there's no evidence of voter fraud. On Thursday, he was one of the three officials who certified Jones's win. The Democrat will soon head to Washington for his swearing-in on January 3.
Moore, however, is not going away. He still refuses to concede the loss and continues to assert that "this is a fraudulent election." Though he insists "election fraud experts across the country" agree with him, his lawsuit uses some less-than-reputable sources to back up the claim, AL.com's Kyle Whitemire reports.
In his complaint, he cites independent election experts, including a JFK assassination conspiracy theorist, an electrical engineer and a failed candidate for Congress. He attaches Breitbart articles as evidence and leans on erratic and inconsistent pre-election polling to refute the only poll that mattered. He gives credence to voter fraud rumors that the Alabama Secretary of State – who supported him politically before the election – has already investigated and proven false.
"I have stood for the truth about God and the Constitution for the people of Alabama," Moore said in a statement Thursday. "I have no regrets. To God be the glory."
Moore's refusal to accept defeat will sound familiar to Alabamians, who may recall that he never conceded losses in the 2006 and 2010 Republican primaries for governor. And they may get to hear it again next year. There are already rumors that Moore will run for governor in 2018.