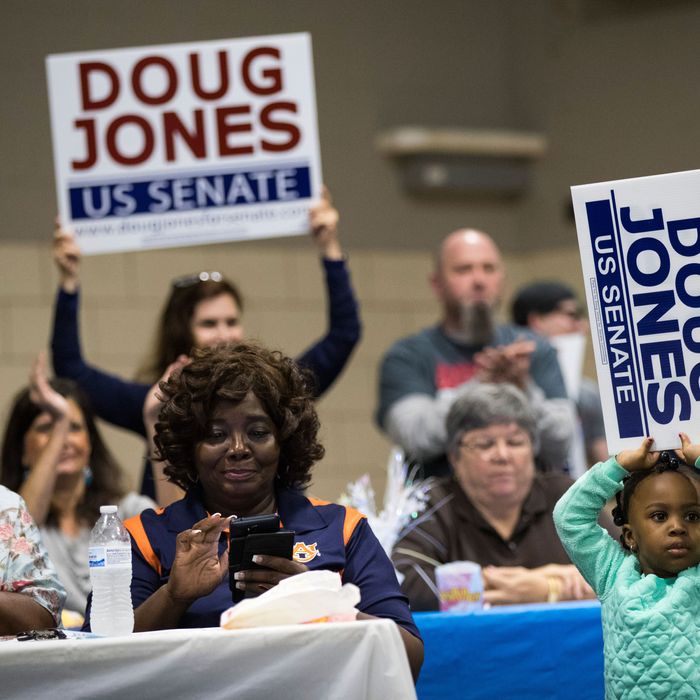 Doug Jones could still beat Roy Moore if African-Americans turn out in decent numbers to vote.
Photo: Drew Angerer/Getty Images
The conventional wisdom about Alabama's special Senate election next week is that Republican candidate Roy Moore will survive accusations of sexual misconduct and win the election. His fellow Republicans (outside Alabama, anyway) initially distanced themselves from the judge as though he were an Old Testament leper, and much of the political chatter revolved around schemes to run a GOP-backed write-in campaign against Moore, or even refuse to seat him if he won. Even Donald Trump, not known for fine sentiments involving behavior toward women, at first gave the judge a wide berth.
But all of that has changed. The Senate GOP's campaign arm has restored funding for Moore. Trump has openly endorsed him. And in Alabama itself, GOP support for Moore never eroded that much. He's no longer competing with the idea of a viable write-in candidate (random Some Dude candidate Lee Busby has not made much of a splash). And a month after the Washington Post published the first of many allegations that Moore had an unsavory interest in teenage girls back in the day, it now seems that most of Alabama's Republican voters either don't believe the allegations, don't care about them, or would explicitly prefer a sexual predator to a Democrat.
Said Democrat, Doug Jones, has run a reasonably competent campaign, and has exploited Moore's career-long struggle as a fundraiser to massively outspend the Republican on ads by upwards of a ten-to-one margin. But the partisan composition of Alabama (a state where no Democrat has won a gubernatorial or Senate race since 1998) means Jones can't win without either major Republican defections or strongly favorable turnout patterns. And Republican defections seem to be declining as the December 12 balloting approaches.
The objective foundation for the subjective sense that Moore is moving toward victory is in a plethora of polls. According to the RealClearPolitics polling average, Moore now leads by 2.3 percent. Jones led in that average as recently as November 25. Moore has led in seven of nine polls taken since November 20. And the story many polls seem to be telling is that Republicans are overcoming their doubts about Moore. Here's one pollster whose data showed Moore moving into a seven-point lead among likely voters earlier this week:
Strategy Research pollster Jon Gray said Moore's support seems to have stabilized.




"A lot of momentum coming in on Roy Moore's side," Gray said. "I think we're starting to see a change in the vote from a few weeks ago when Roy Moore was really losing Republicans across the board."
So are prediction markets showing Moore as a better than three-to-one favorite next Tuesday on solid ground?
Maybe, but it's not a sure thing.
As FiveThirtyEight's Harry Enten observes, polling for non-presidential elections — much less special elections — is a risky business, and some of the polls being released in Alabama are by outfits with a limited track record and/or dubious methodologies:
Senate polling has not been especially predictive over the past 10 cycles. Among the 2,075 Senate polls in the FiveThirtyEight database that were taken within 21 days of an election, the average error has been 5.1 percentage points. And that has been fairly consistent across cycles. The 2016 Senate polls featured an average error of 5.2 percentage points.
The only polling outfit with numbers from Alabama that meets FiveThirtyEight's "gold standard" for reliability, the Washington Post, showed Jones leading by three points among likely voters just a week ago. And variation in the polls is no surprise, since figuring out who is going to turn out for a single-contest election two weeks before Christmas is a classic polling nightmare, particularly since Roy Moore was a guy who embarrassed a lot of Republicans long before it was reported that he used to be in the habit of looking for love in all the wrong places, and may have even committed a felony or two.
While we probably won't solve the puzzle of GOP turnout for Roy Moore until the votes start coming in, perhaps the more important variable is Democratic turnout. And in Alabama, that largely means African-American turnout.
African-Americans represent about 27 percent of Alabama's registered voters. But proportional turnout among black voters in recent years has been largely confined to the two elections when Barack Obama was on the ballot (according to exit polls, African-Americans were 29 percent of the Alabama electorate in 2008 and 28 percent in 2012). Midterms are another matter (exact numbers are impossible to identify since Alabama's noncompetitive nature has made it a state exit pollsters skipped in 2006, 2010, and 2014). And if national patterns indicating that nonwhite voters do not turn out strongly in non-presidential elections hold true, then a special election should be an especially difficult environment for African-American turnout.
Alabama is also a stronghold for GOP voter suppression efforts aimed at minorities. It's no coincidence that it was an Alabama county that sued successfully to strike down key parts of the Voting Rights Act — itself passed in no small part in response to racist outrages in Alabama — in 2013. While the state did recently repeal a notorious post-Reconstruction ban on voting by anyone convicted of a crime involving "moral turpitude," the GOP officials who run elections in Alabama haven't made any effort to inform affected voters. And Alabama is a very restrictive state (requiring an excuse for voting by absentee ballot) when it comes to early voting, which has helped boost African-American participation in many other southern states.
Perhaps more important, the old-school political organizations that used to be effective in mobilizing Alabama's black voters are by most accounts moribund. As Pema Levy reports:
A Moore win with low African American turnout would shine a harsh light on the Alabama Democratic Party and the African American groups that failed to turn out the vote for Jones. Wayne Flynt, an Alabama historian and professor emeritus at Auburn University, calls the election "an incredible test case" for whether these organizations can still mobilize voters for the rare viable Democratic candidate. And if they can't, he says, it might be time to replace or reinvent them.




The same goes for the state's lackluster Democratic Party apparatus, says John Archibald, a columnist for the Birmingham News and AL.com. "It very well could be the nail in the coffin of the [Alabama] Democratic Party," he says, "and a rebirth."
Part of what makes it difficult to assess preparations for African-American get-out-the-vote efforts is that the Jones campaign is fearful of creating a white conservative backlash that could boost Moore's turnout. So it appears to be relying on ancient, creaky GOTV measures such as advertising on African-American radio stations and deploying black political figures (such as Georgia's Rep. John Lewis, the original hero of the Selma battle of 1965) in heavily African-American areas. You can expect a big push in African-American churches this coming Sunday as well. Last time Democrats won a gubernatorial race, in 1998, African-Americans across the Deep South turned out in unexpected numbers to give Democrats a series of upset wins. It could happen again.
Whether any of this will make a crucial difference remains to be seen. For one thing, aside from a low level of advertising, it's not like Moore has any kind of effective campaign organization by conventional standards. He's relying on the 100 percent name identification he's earned by decades of wildly controversial behavior, and a hard core of conservative Evangelical supporters who have backed him even in his unsuccessful political ventures (like his failed gubernatorial campaigns in 2006 and 2010).
All in all, unless there's some breaking-news trend at the last minute that puts this race away, we'll have to wait until Tuesday to find out if Roy Moore has survived his reputation as a religious fanatic along with disturbing evidence of ungodly conduct. It's an election likely to set, rather than follow, any precedent.