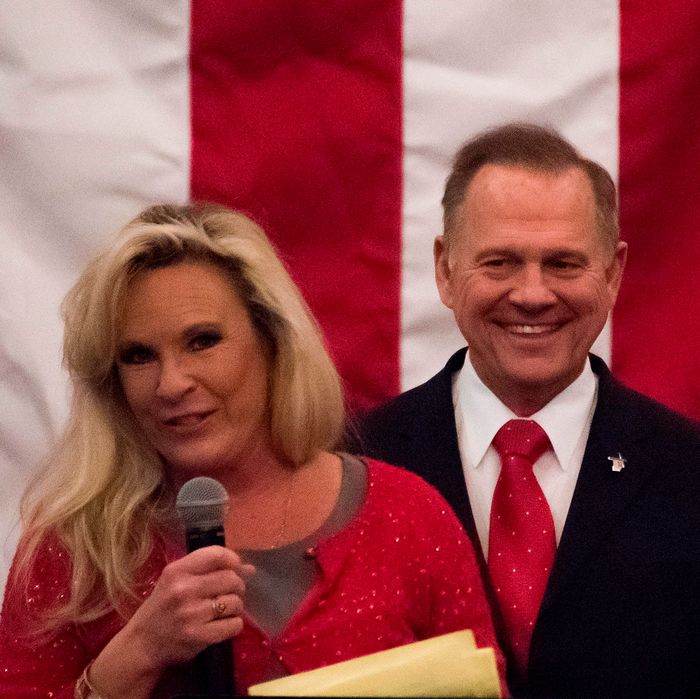 Some of our best friends don't understand why this isn't a good defense.
Photo: JIM WATSON/AFP/Getty Images
Roy Moore's stance on Jewish people probably isn't at the top of anyone's list of reasons not to vote for the Alabama Senate candidate. Yet on the eve of Tuesday's election, his wife, Kayla Moore, attempted to shoot down one of the lesser-known allegations against her husband.
"Fake news would tell you that we don't care for Jews," Kayla Moore said Monday night while introducing her husband at a rally in Midland City, Alabama.
"I tell you all this because I've seen it all, so I just want to set the record straight while they're here," she said, gesturing to members of the media.
"One of our attorneys is a Jew," she continued, pausing for cheers and laughter from the crowd.
"We have very close friends that are Jewish, and rabbis, we also do fellowship with them."
Roy Moore was accused of anti-Semitism last week after he suggested that billionaire and Democratic donor George Soros, who is Jewish, is going to hell. "He's still going to the same place that people who don't recognize God and morality and accept his salvation are going," Moore said. "And that's not a good place."
Earlier in the campaign, someone tried to cast doubt on the claims that Moore preyed on underage girls by posing as fake Washington Post reporter "Bernie Bernstein" in robocalls to Alabama voters. Anti-Defamation League CEO Jonathan Greenblatt called it an anti-Semitic dog whistle.
Kayla Moore argued that reports suggesting her husband "doesn't support the black community" are "fake news" as well, since he "appointed the very first black marshall to the Alabama Supreme Court," and they have "many friends that are black."
"We have many friends that are black and we also fellowship with them in church and in our home," she added.
So anyone who interpreted Moore's arguments against the 14th Amendment as racist is sorely mistaken.
The most damaging allegations against Moore were addressed at the rally as well; Bill Sailing, who served with Moore in Vietnam, described the time they went to a brothel with child prostitutes. Sailing explained a third man took them to what he described as a "private club," and when they realized what was going on they immediately left.
"There were certainly pretty girls. And they were girls. They were young. Some were very young," Sailing recalled. He said Moore was shocked and told him, "We shouldn't be here, I'm leaving."
So in conclusion, Moore isn't anti-Semitic because he has a Jewish lawyer, he isn't racist because he has some black friends, and there's no way he harassed and assaulted multiple teen girls because one time he passed up an opportunity to prey on children.