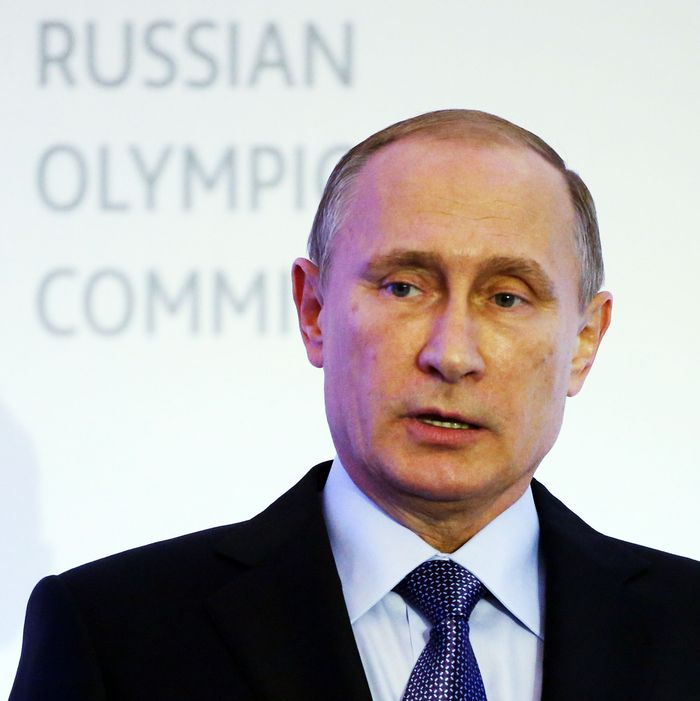 "You know, I'm not gonna overreact, just this once."
Photo: Sasha Mordovets/Getty Images
Russia may have successfully installed a stooge in the White House, but it is NOT going to get away with winning a curling bronze medal in Pyeongchang next year.
The International Olympic Committee banned the country from competition at the Winter Olympics in South Korea in February, an unprecedentedly harsh punishment that is sure to incur the wrath of judo master (and Russian president) Vladimir Putin. At the very least, Russia will appeal the decision.
Russian athletes with a history of clean testing can still petition to compete in the Games, but if they do compete, they must wear neutral uniforms (sure to become collectors' items), and any medals they obtain will not be credited to Russia. Russian athletes have long been among the most dominant at the Winter Olympics, excelling in events like figure skating and cross-country skiing. The 2014 Winter Olympics were hosted in Sochi, Russia, just before Vladimir Putin invaded Crimea.
But it turns out that during those games, Russia was engaged in a vast, complex scheme to circumvent Olympic doping tests and rules to ensure that the country triumphed on its home turf. The scale of the problem was uncovered by rigorous reporting, a prominent whistleblower, and a documentary that managed to infiltrate the country's state-run doping system, which positioned itself as exactly the opposite. The IOC investigated for 17 months, and found "systematic manipulation of the anti-doping system in Russia."
Putin, who is not known for his equanimity in the face of attack, has not yet publicly responded. But it's only a matter of time before President Trump finds a positive spin on his friend's state-sponsored steroids program and attacks the very idea of the Olympics on Twitter.