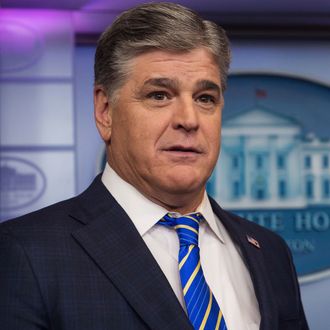 Sean Hannity.
Photo: Nicholas Kamm/AFP/Getty Images
Somebody, anybody, please go help Sean Hannity. He is clearly a little confused today. Earlier on Thursday, the Fox News host tweeted at "fake news CNN" linking to a story about Attorney General Jeff Sessions seeking more info from the FBI on the Uranium One deal. He also tagged "conspiracy tv" NBC News, telling the organization to "read and learn." Except chances are good that they already had. Since, well, the link he shared came from NBC News.
Hannity's ratio — the number of replies to a tweet compared to the number of faves and retweets — is, unsurprisingly, not great. Everybody and their mother — and Select All — has been eager to point out the perfect stupidity of his goof.