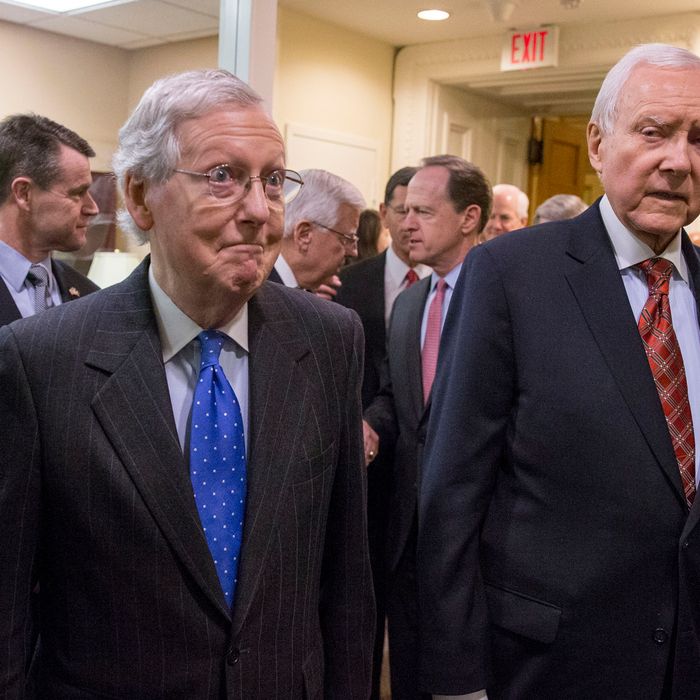 Mitch McConnell and Orrin Hatch.
Photo: Tasos Katopodis/Getty Images
As expected, the Senate approved the GOP's regressive changes to the tax code late Tuesday night. Despite some earlier wavering by a couple of Republicans, the senators ultimately voted along party lines, 51-48, with John McCain absent because he is at home recovering from cancer treatment. The Senate vote happened shortly after the House passed its own version of the bill, which will give huge, permanent tax cuts to corporations and the ultra-rich while temporarily lightening the tax burden of the middle-class. "From a Republican point of view, this is as good as it gets and we're more than happy to take our argument [for the tax bill] to the American people in an election contest," said Senate majority leader Mitch McConnell.
But the process isn't quite over, thanks to a screwup emblematic of the Republicans' slapdash effort to put together their tax plan. It turns out that the House bill contained three items that violate Senate rules about the types of budget legislation that can be passed with a simple majority: a provision that would have allowed people to use 529 savings accounts for homeschooling expenses; an exemption shielding certain colleges from an excise tax on their endowment income; and the bill's name, the Tax Cuts and Jobs Act. Because the House and Senate are required to pass identical pieces of legislation, the House will have to vote on the Senate-compliant version of the bill on Wednesday. The outcome of the second vote will almost certainly be the same as the first.
Once the House re-votes, the only thing the bill will need to become a law is President Trump's signature. He's expected to sign off on it by Christmas.