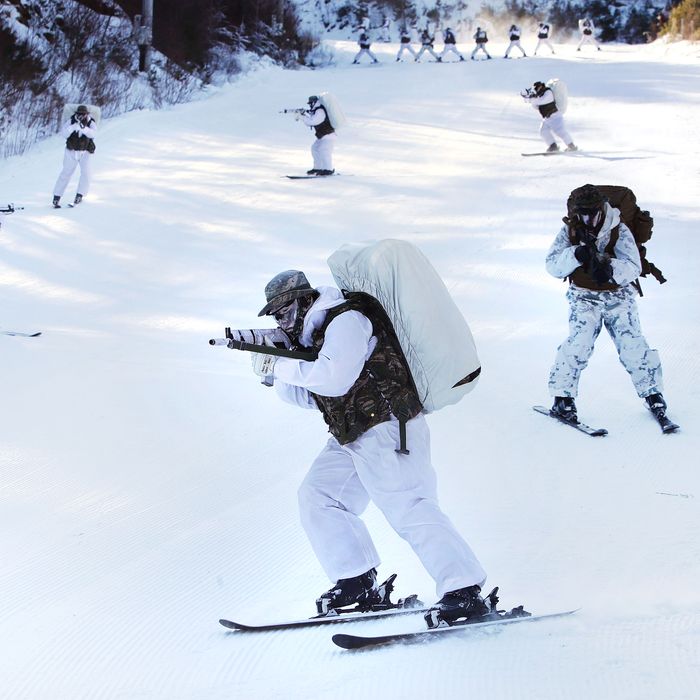 A winter military training exercise in South Korea.
Photo: Chung Sung-Jun/Getty Images
The South Korean government has asked the U.S. to delay the next round of joint military exercises until after next year's Olympics, President Moon Jae-in told NBC News Tuesday. The move, which Moon said the U.S. is considering, would likely be seen as an olive branch by Kim Jong-un, allowing all of those attending the Olympics in February and the Special Olympics in March to be reasonably sure that they won't die in a nuclear inferno.
Moon also called on Pyongyang to scale back its nuclear and missile tests ahead of the Games. "If North Korea stops its provocations leading up to the Pyeongchang Olympics, it will greatly help in holding a safe Olympics," he said.
The 2018 Winter Games will be held 50 miles from the DMZ in Pyeongchang, a sleepy mountain town that was initially confused with the North Korean capital by some International Olympic Committee members. The opening ceremony will take place on February 9, and despite safety concerns from several participating countries, none will be keeping its athletes at home.
"We will consider it our top priority to ensure the safety and security of each and every national team, the Olympic family, and all the spectators visiting Pyeongchang during the Games," Park Enna, a foreign ministry official, said in October. Among the countries that have voiced concerns about security in South Korea are France and the U.S.
Earlier this month, U.S. ambassador to the U.N. Nikki Haley said it was an "open question" whether the U.S. would participate in the Olympics. The White House clarified shortly after that the U.S. will be there. "The U.S. looks forward to participating in the Winter Olympics in South Korea," White House press secretary Sarah Sanders tweeted. "The protection of Americans is our top priority and we are engaged with the South Koreans and other partner nations to secure the venues."
Delaying the spring military drills, which involve 17,000 U.S. troops and 300,000 South Koreans, is yet another move to ensure security during the event, and in turn, sell a few more tickets. As of last month, ticket sales for the games were seriously lagging, with only one-third of the allotment sold.