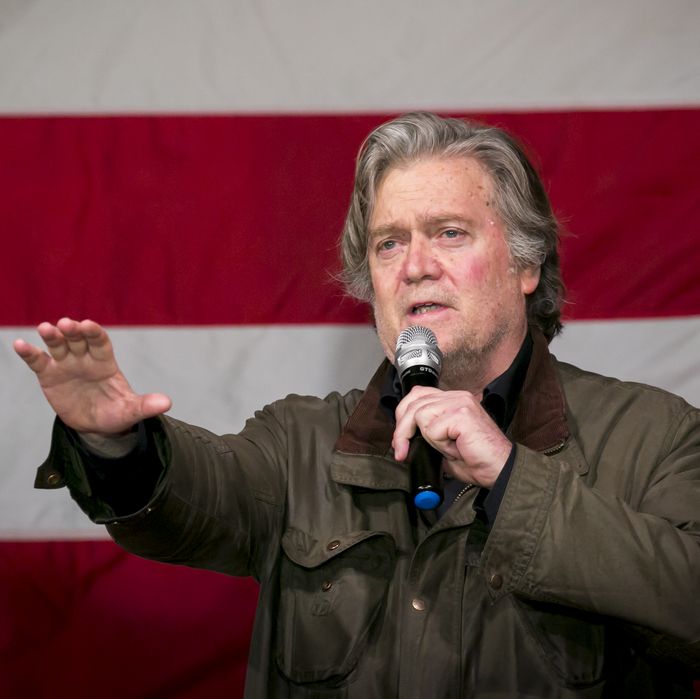 Hold on — there are a lot of Mormons in Utah?
Photo: Bloomberg/Bloomberg via Getty Images
Steve Bannon declared last week that he intends to "send shockwaves" to political and media elites by electing Roy Moore (who's accused of sexually assaulting underage girls) using the same strategies he employed to put Donald Trump (who's been accused of sexual misconduct by 16-plus women) in the White House. In recent days there have been reports — echoed by Bannon's own Breitbart News — that Bannon would also like to keep Mitt Romney from running for the Senate in 2018. He's even considering endorsing incumbent Utah senator Orrin Hatch, though Hatch has been in the D.C. establishment since 1976.
While Bannon is often portrayed as a genius strategist, the former White House official should probably do some more research on Utah before delving into the 2018 Senate race. At a Moore rally in Fairhope, Alabama, on Tuesday night, Bannon lobbed a vicious attack at Romney and his family, saying, "Judge Roy Moore has more honor and integrity in his pinky finger than your entire family."
Why exactly is the possibly-too-upstanding 2012 GOP presidential nominee worse than an alleged sex predator who was twice removed as Alabama Supreme Court chief justice for refusing court orders? Because Moore served in Vietnam while Romney received deferments, as he completed college and served as a Mormon missionary in France.
"You hid behind your religion. You went to France to be a missionary while men were dying in Vietnam. Do not talk about honor and integrity," Bannon said.
"You ran for commander in chief and had five sons — not one day of service in Afghanistan or Iraq. We have 7,000 dead and 52,000 casualties, and where were the Romneys during those wars?" he continued.
After attending West Point, Moore was sent to Vietnam, where he commanded a military-police company tasked with supervising a stockade in Da Nang. According to The Atlantic, "By his own account Moore was so much disliked that he feared being killed by his own troops, and slept on a bed of sandbags so that he couldn't be fragged by a grenade rolled under his bed."
Bannon served seven years in the Navy during the late 1970s and early '80s. He then helped elect a president who avoided Vietnam service thanks to deferments for education and "temporary" bone spurs.
It appears Bannon took the shot at Romney because when Trump, Mitch McConnell, Orrin Hatch, and the Republican National Committee recently decided that they'd prefer an alleged molester in the Senate to a Democrat, Romney reiterated his opposition to Moore.
Arizona senator Jeff Flake said he agreed with Romney and, on Tuesday, even wrote a check to Doug Jones, the Democratic candidate in Tuesday's Alabama special election.
Romney and Flake drew attention to divisions within the GOP, but attacking them is by no means necessary to the cause of electing Moore. Though McConnell confirmed on Tuesday that Moore can expect an immediate ethics probe if he's elected, he and many other top Republicans now argue that Alabamans are free to elect a man accused of wooing teenagers to represent them in Congress — and it seems that's what they'll do. While turnout could still sway the election, Real Clear Politics polling average has Moore ahead by 2 points.
Attacking Romney probably won't have any effect on the Alabama race, but it may come back to bite Bannon's preferred candidate in Utah. It's unclear if the 83-year-old Hatch will run for reelection, or if Romney would launch a primary challenge. However, a recent poll showed that three of four Utahans want Hatch to retire, and Romney would destroy him if the 2018 election were held today. And that was before Bannon highlighted Romney's moral stand against his own party.
Regardless of whether Hatch or Romney run, now Bannon's endorsement will be toxic to any candidate in Utah. The state is 63 percent Mormon, and presumably those voters — who aren't big Trump fans to begin with — do not see Romney's missionary work as a flimsy excuse to avoid Vietnam service. If Bannon does try to wade into the Utah Senate race, we'll probably see the concise sound bite in which he suggests Romney's Mormonism undermined his patriotism in plenty of campaign ads.