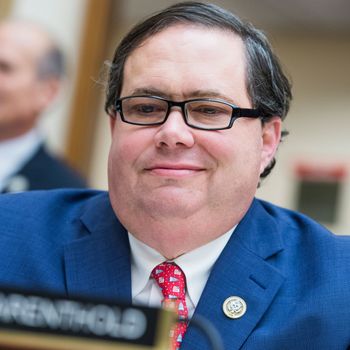 Bye Blake.
Photo: Tom Williams/CQ-Roll Call,Inc.
Texas congressman Blake Farenthold, who in the past several weeks has been accused of sexual harassment and overseeing a hostile workplace, will not seek reelection next year.
The four-term Republican was denying any wrongdoing as recently as Wednesday, when he held a Skype town hall and told constituents he did nothing "improper."
"I just want to let everyone know, I absolutely did not engage in any improper conduct," he said. Asked if he had plans to resign, Farenthold said, "There's no reason to resign when you haven't done anything wrong."
Technically, Farenthold still isn't resigning. He's retiring and finishing out the remainder of his term, which ends in January of 2019. But this was clearly a decision made hastily. The deadline in Texas for a candidate to remove his name from the primary ballot was Tuesday and Farenthold missed it, meaning voters will still have the chance to cast a vote for him in a March primary.
Farenthold's apparent change of heart came after reported pressure from House Speaker Paul Ryan, who said Thursday that the Texas Republican is making the "right decision."
Previously, Ryan had said there is "no substantial reason to believe" allegations from former Farenthold staffer Lauren Greene, who sued him in 2014 for repeated incidents of sexual harassment. That suit was settled with $84,000 of taxpayers' money. During the Skype town hall Wednesday, Farenthold said the settlement does not imply guilt and suggested that he would be making a donation to the government to make up for the settlement amount.
It appears, though, that Ryan couldn't stand by Farenthold after another former staffer revealed his habit of calling aides "fucktards."