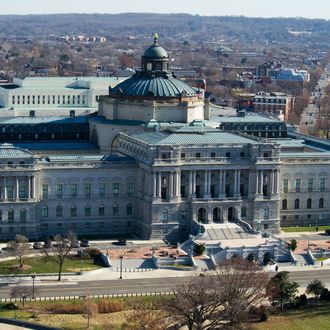 Where the bad tweets are housed.
Photo: Karen Bleier/AFP/Getty Images
The Library of Congress announced today that it is changing the way that it archives tweets, which it has been doing since 2010. Yes, in case you didn't know, the LOC reached an agreement with Twitter a few years ago to create an archive of every tweet ever posted since the site's inception. But now, that system is coming to an end, and instead, the Library will archive tweets selectively. In other words, tweets from our Fox News–addict president will probably make the cut, tweets from your Fox News–addict uncle probably won't.
There are three primary reasons, as outlined by the LOC. Firstly, there are a lot more tweets being posted now than there were in 2010 when the agreement with Twitter was reached. That increases storage and bandwidth costs considerably. Twitter doubling its character length presumably exacerbates this issue.
Secondly, the Library doesn't save multimedia, only text. So important videos and images posted to the service don't go to the archive, just the "pic.twitter.com/blahblahblah" media URL, which is next to useless.
The final reason is that the dragnet Twitter collection policy doesn't really fall in line with the Library's general, more selective policy. "Given the unknown direction of social media when the gift was first planned, the Library made an exception for public tweets. With social media now established, the Library is bringing its collecting practice more in line with its collection policies," the agency wrote.
You can't access the archive yet because the Library has not yet figured out how to do so. It must take into account "respect [for] the intent of the producers of the content; honor donor (Twitter) access requirements; and manage taxpayer-provided resources wisely." There is no timetable for enabling access.
The good news is that you no longer have to worry about your horrible jokes being preserved by the federal government for all eternity. The bad news is that starting on January 1, 2018, you can no longer get tweets like "I love pee pee poo poo" preserved by the federal government for all eternity, which is really funny to think about.