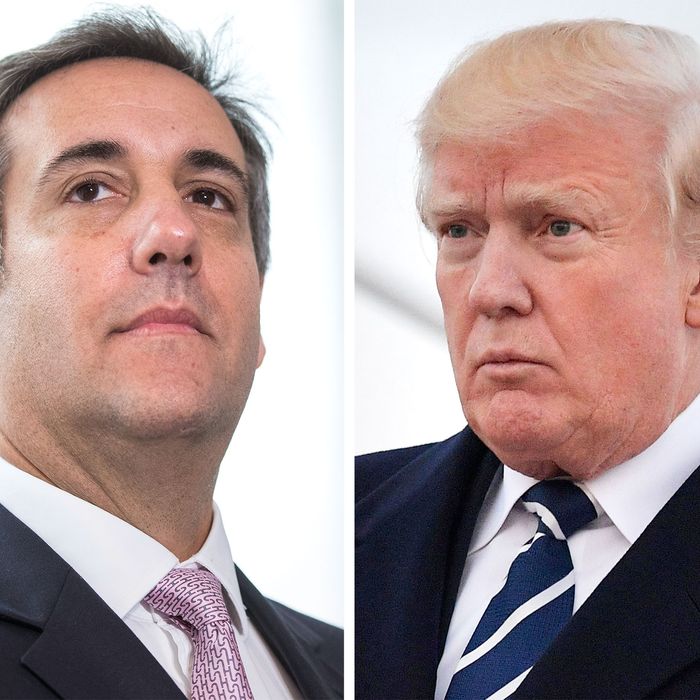 Michael Cohen, Donald Trump.
Photo: Tom Williams/CQ-Roll Call; Mandel Ngan/AFP/Getty Images
When news surfaced at the beginning of the year that British intelligence agent turned private investigator Christopher Steele had compiled a report on Donald Trump's ties to Russia, news reports immediately treated its findings as radioactive. The implications of Steele's reporting were spy-movie-unreal: Trump was the subject of Russian financial and even sexual blackmail, and he and his advisers had been openly colluding with Moscow.
Two details in particular made the dossier seem suspect. First, its report that Trump had paid Russian prostitutes to urinate on a bed that had been used by Barack Obama. And second, the report alleged that Michael Cohen, a Trump crony with Russian contacts, had met in Prague with Russian intelligence officials. The golden-showers detail, while unconfirmed, seemed too bizarre to be plausible. And Cohen shot down the Prague allegation forcefully. The report of his meeting was "totally fake, totally inaccurate," Cohen said, "I'm telling you emphatically that I've not been to Prague, I've never been to Czech [Republic], I've not been to Russia."
Cohen's denials helped shape skeptical coverage of the dossier. Here, for instance, in a New York Times story on the dossier, is the entire passage addressing its veracity:
There has been no public corroboration of the salacious allegations against Mr. Trump, nor of the specific claims about coordination between his associates and the Russians. In fact, some of those claims have been challenged with supporting evidence. For instance, Mr. Trump's longtime personal lawyer, Michael D. Cohen, produced his passport to rebut the dossier's claim that he had secret meetings in Prague with a Russian official last year.
But this hardly settles the question. A congressional investigation is digging into whether Cohen is telling the truth about the alleged visit to Prague. "Cohen's passport would not show any record of a visit to Prague if he entered the EU through Italy, traveled to the Czech Republic, and then returned to his point of EU entry," reports Politico, in a passage that's received less attention than merited. "A congressional official said the issue is 'still active' for investigators."
Most reporters have treated the say-so of Cohen, a Trump hanger-on laden with extremely shady associations, as implicitly more credible than the reporting of a British intelligence agent with years of expertise. That is probably a mistake.
And what about the bit about the prostitutes? The detail has been endlessly described as "salacious," placing it in the category of National Enquirer–type gossip of dubious veracity. We don't have any idea whether that detail is true. However, Brian Beutler made a fairly persuasive case that Trump has displayed during his presidency the exact same kind of pathological, self-destructive jealousy of Barack Obama (who had publicly humiliated Trump two years before the alleged incident).
As time goes by, more and more of the claims first reported by Steele have been borne out. In general, there is a split between the credibility afforded the dossier by the mainstream media and by intelligence professionals. The former treat it is gossip; the latter take it seriously. Unverified private reporting should not be taken as gospel truth, and no doubt some of the tips Steele picked up are false. But we should probably be giving far more weight to the possibility that the darkest interpretation of Trump's relations with Russia is actually true.