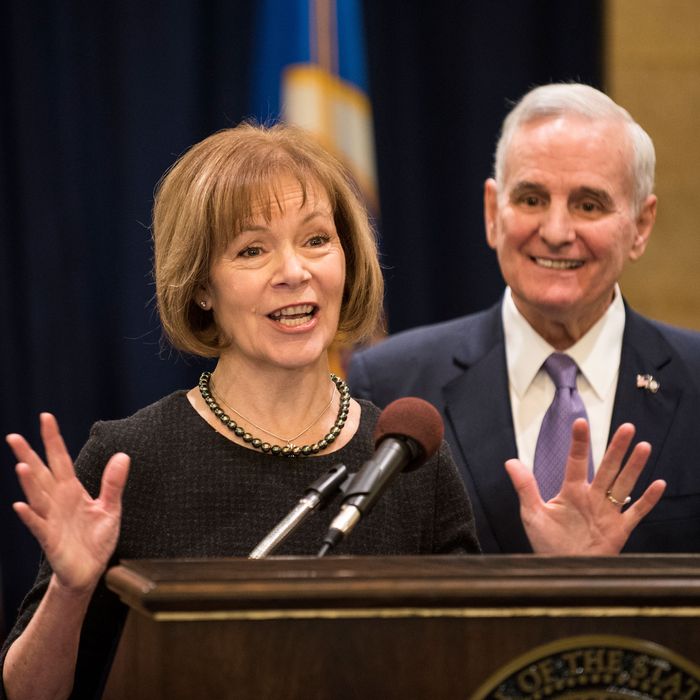 Minnesota Lt. Governor Tina Smith will replace Al Franken.
Photo: Stephen Maturen/Getty Images
Governor Mark Dayton has named a replacement for soon-to-resign senator Al Franken Wednesday, and as expected, it's Lieutenant Governor Tina Smith.
"Though I never anticipated this moment, I'm resolved to do everything I can to move Minnesota forward," Smith told reporters Wednesday. "I'm prepared to do this. I'm qualified to do this. I have a unique role to play here."
The 59-year-old Minneapolis resident is Dayton's former chief of staff, who worked at General Mills and Planned Parenthood before getting into politics. Once she takes her seat in Washington — and it's still not yet clear when Franken plans to leave — Smith will bring the number of women currently serving in the U.S. Senate to 22, an all-time high. She will also make Minnesota one of four states with two female senators, joining California, New Hampshire, and Washington.
While Dayton's selection of Smith was no surprise, her intention to be more than a "caretaker senator" is. When Smith first emerged as the front-runner to replace Franken, she was said to have no interest in running in next year's special election to fill the seat. Now, Minnesota Public Radio says she does.
That sets up an exciting Democratic primary next year that could include Representative Keith Ellison. But if Ellison does plan to run for the seat, he isn't letting on. "Tina Smith is the right person at the right time and has my full support both now and when she runs in the 2018 special election," he said in a statement Wednesday.
Republicans are also gearing up for the special election, which will take place alongside Senator Amy Klobuchar's reelection campaign. Despite Minnesota's reliably blue reputation, the GOP has good reason to make a run at the seat after Donald Trump lost the state by only 40,000 votes in 2016. And the Republicans already have an ideal candidate in mind: former governor and presidential candidate Tim Pawlenty, whom you might remember from the campaign ad "Courage to Stand," which, despite appearances, was not directed by Michael Bay.