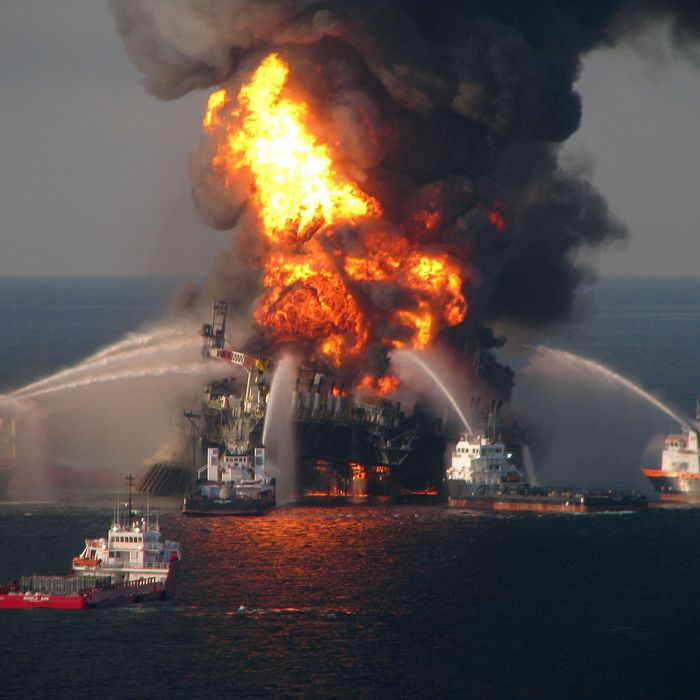 Let's just hope this doesn't happen again.
Photo: U.S. Coast Guard via Getty Images
In its latest flurry of anti-regulatory activity, the Trump administration is seeking to rescind rules put in place by President Obama after the catastrophic Deepwater Horizon oil spill in 2010, The Wall Street Journal reports:
The proposed rule would relax requirements to stream real-time data on oil-production operations to facilities onshore, where they currently are available to be reviewed by government regulators. It also would strike a provision requiring third-party inspectors of critical equipment — like the blowout preventer that failed in the Deepwater Horizon case — be certified by BSEE.
The Bureau of Safety and Environmental Enforcement says the changes would save the oil industry about $900 million over the next decade. And in this administration, the financial well-being of that sector tends to take precedence over everything: safety, the environment, baby seals, you name it.
The bureau is leaving in place a rule involving how much pressure drillers can maintain as they build a well. But in a quintessentially Trumpian flourish, it's removing the word safe from that regulation, because it found that the word "creates ambiguity in that it could be read to suggest that additional unspecified standards, beyond those expressly stated, may be imposed in the approval of proposed drilling margins."
As the old rule goes, when it comes to protecting life and land from potential environmental calamity, it's best to err on the side of recklessness.