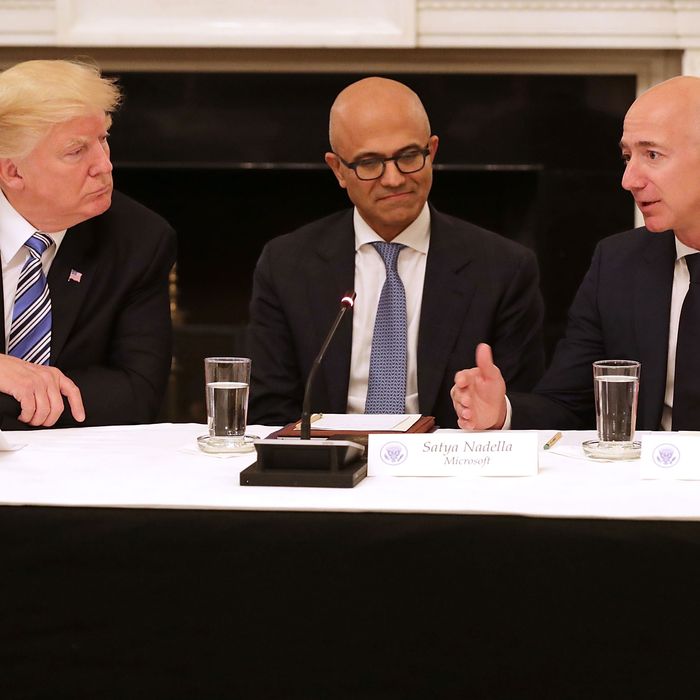 Trump with Amazon CEO Jeff Bezos (far right).
Photo: Chip Somodevilla/Getty Images
President Trump publicly criticized the U.S. Postal Service Friday morning, tweeting that it's getting fleeced by Amazon, which he claims is getting "richer" as USPS gets "dumber and poorer."
Trump's final point, that USPS should be charging Amazon more, is probably correct. The Postal Service delivers millions of Amazon packages every day, completing what is called the "last mile" of delivery. But it does so for only about $2 a package, resulting in a loss of $1.46 per box, according to a recent study by Citigroup. Of course, if Amazon's costs rose, so too would consumers', which means Trump wants you to pay more for your two-day toothpaste delivery.
Despite the per-package losses USPS takes, package delivery is a lucrative part of its business, especially given the rapid decline in sending mail. In its third-quarter fiscal-year report, USPS said revenues for the package portion of its business increased by 11 percent, while letter-mail volume, which makes up 70 percent of revenues, fell by 4 percent. Taken together, this resulted in a net loss of $2.1 billion for the quarter. All told, the Postal Service lost $2.7 billion for the fiscal year ending on September 30.
That's nothing new for USPS, which has lost money in 11 straight years. But some relief may be on the way: The cost of a stamp will go up by one cent in January, and regulators recently moved to allow bigger increases in order to bump revenues for the beleaguered agency.
But Friday's tweet was probably less about the health of the Postal Service than an attack on Amazon and CEO Jeff Bezos, both frequent Trump targets. It worked, too. Friday's tweet hit Bezos, the richest man in the world, where it hurts. Amazon's stock price has dipped by as much a 0.7 percent today.