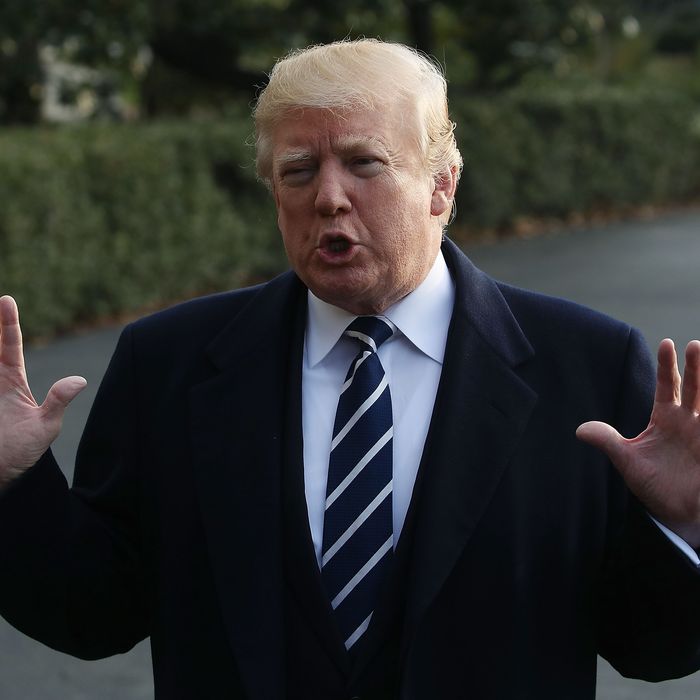 It's all good.
Photo: Mark Wilson/Getty Images
President Trump tried to appear unconcerned Saturday morning about the news that his former national security adviser Michael Flynn pleaded guilty to lying to the FBI and is now cooperating with Robert Mueller's investigation into Russia's 2016 election meddling.
Trump, speaking with reporters as he departed the White House for a fundraising trip to New York, was asked if he was worried about what Flynn might tell special counsel Mueller. "No I'm not. What has been shown is no collusion. No collusion. There has been absolutely no collusion," Trump replied, "So we are very happy."
Later Saturday, Trump also tweeted about his former adviser, insisting that while Flynn may have lied to the FBI, nothing he did during the transition was illegal, so there was nothing for Trump officials to hide regarding that time period:
Flynn is the first Trump administration official to be charged as part of Mueller's probe. On Friday, he pleaded guilty to lying to federal agents about conversations he had with the Russian ambassador to the U.S. last December, and admitted that he discussed those conversations with senior officials on the Trump transition team, reportedly including Trump's son-in-law, Jared Kushner. In all likelihood, Mueller has flipped Flynn to act as a witness against larger targets in the probe.
Whether Mueller eventually proves any kind of collusion, his probe appears to have finally reached Trump's inner circle. Whatever the president may say in public, he's probably worried — and he should be.
This post has been updated to include Trump's tweet about Flynn.